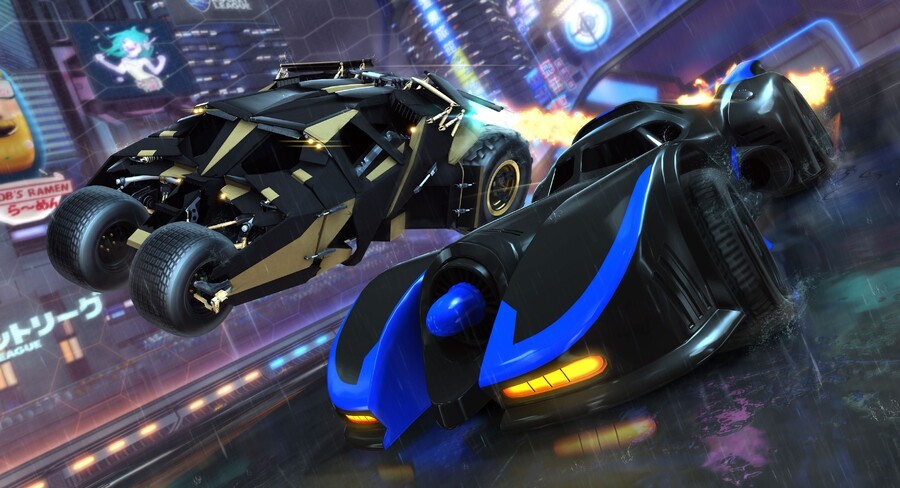 Rocket League continues to be one of the most popular titles on the Switch eShop, and it's about to get even popular as the much-anticipated new update is rolled out across all versions of the game. The new version 1.42 adds in the DC Super Heroes DLC, which includes:
Battle-Cars
''89 Batmobile'
'The Dark Knight Rises Tumbler'
Rocket Boost
'Speed Force'
Decals
'Aquaman' (Breakout)
'Batman' (Paladin)
'Cyborg' (Roadhog)
'Flash' (Venom)
'Green Arrow' (Hotshot)
'Green Lantern' (Merc)
'Superman' (Octane)
'Wonder Woman' (X-Devil)
Player Banners
'Aquaman'
'Batman'
'DC'
'Cyborg'
'Flash'
'Green Arrow'
'Green Lantern'
'Superman'
'Wonder Woman'
Wheels
Along with all these Justice League-themed vehicular add-ons, Psyonix has made a few tweaks, changes and bug fixes, including:
Map Rotation
Replaced 'Snowy' map variants with 'Stormy' versions
Mannfield (Stormy), Beckwith Park (Stormy), DFH (Stormy)
Spectator Mode
Spectators can now chat during matches
Competitive Season 6 Rewards
The appearance of the 'Season 6 - Diamond' Reward Wheels has been updated
Bug Fixes
Fixed a bug preventing players from being able to change Presets in the Endgame screen between matches
Division/Rank Up/Down animations now successfully display on the Endgame screen
https://www.youtube.com/watch?v=Kthv7D_zPcw

Are you still a Rocket League-er? Have you been working on your boost flips and over-the-top set-pieces? Comment below and share in the RL love...
[source rocketleague.com]