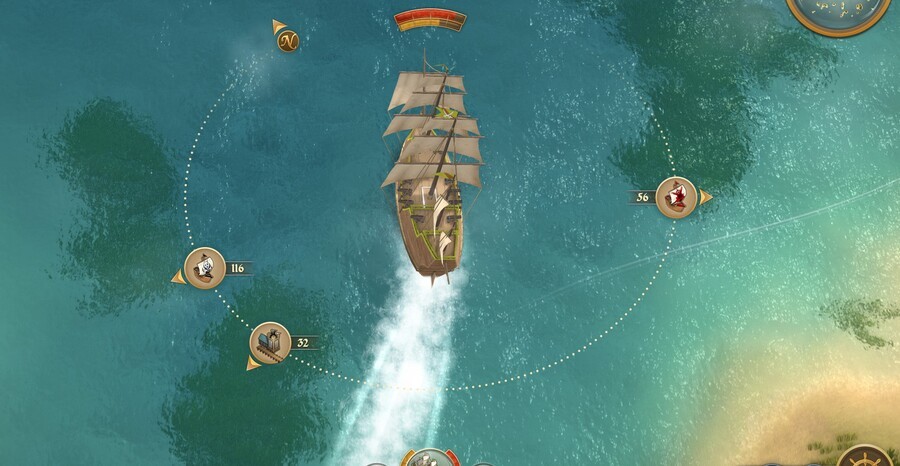 If Flinthook and Shantae And The Pirate's Curse have taught us anything, it's that there's no life quite like a pirate's life. And while the likes of Sea Of Thieves won't be gracing Nintendo Switch's waters anytime soon, a new sea-faring adventure could be setting sail for Ninty's handheld port. Say hello to Of Ships & Scoundrels.
German developer Korion Games is hoping to bring its once-browser based turn-based strategy title to PC and consoles - including Switch, naturally - and it's taking to Kickstarter to help complete development. With plenty of procedurally-generated maps you can build a kingdom of islands, upgrade and enhance your ships, cannons and buildings and take on pirates, local forces and even the occasional monster of the deep.
With its top-down perspective and a mixture of real-time sailing and turn-based combat there's a real Sid Meier's Pirates! feel about this little indie, and we're certainly on-board for more adventures on the virtual high seas. The developer has confirmed the game will eventually make it to consoles once it arrives on PC, but the stretch goal will ensure it hits all platforms simultaneously.
What do you make of Of Ships & Scoundrels? Do you think it has potential to be something special, or is it a bit too rough around the edges for Switch? Share your thoughts with us below...
[source kickstarter.com]