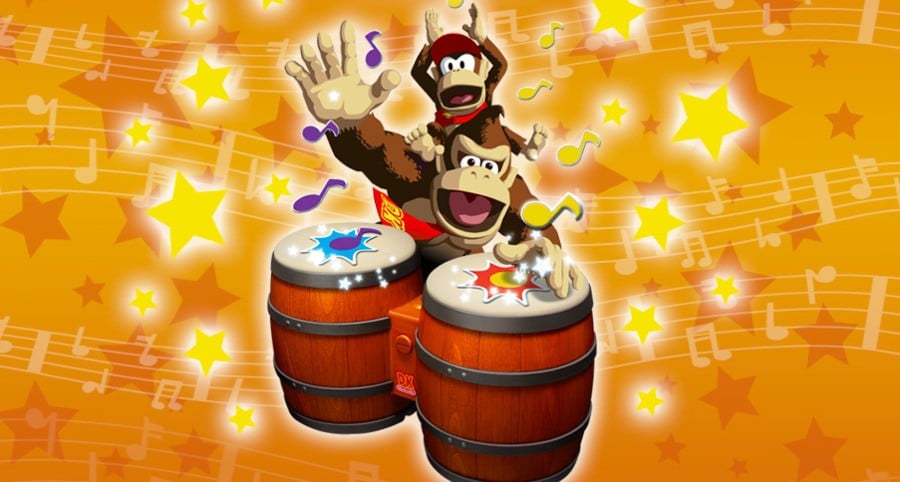 We've already seen how Nintendo Labo is leveraging the power of the Switch hardware in new and exciting ways, but it would seem that Nintendo isn't stopping there.
According to a new "extended input" patent filed by the company in August last year, the capabilities of the hardware - including the Joy-Con's clever IR camera - could potentially be used to power a wide range of input accessories. We could also be getting a new version of the iconic Donkey Konga bongo controller.
The patent was filed by Hitoshi Yamazaki, who has seventeen other patents with Nintendo - some held jointly with Shigeru Miyamoto himself.
INFORMATION PROCESSING SYSTEM, EXTENDED INPUT SYSTEM, AND INFORMATION PROCESSING METHOD 
In a state where an extended input device is secured to a data transmission device, an image capturing unit of the data transmission device captures an image of a light emitting unit that emits light, an image of which is allowed to be captured by the image capturing unit in accordance with a user input and/or a user operation, and data generated based on at least the captured image is transmitted to an information processing apparatus. The information processing apparatus executes an information process based on the transmitted data.
Along with the patent there are a series of images which show some of these ideas in action. The keyboard, for example, appears to work in a similar way to the Labo piano; the Joy-Con is placed inside the keyboard and when keys are pressed a visual signal is sent to the IR camera so it knows which letter to display on the Switch's screen.
Meanwhile, the drum controller appears to be an updated version of the GameCube original.
There's a lot to digest here so we'd recommend you take at look at the patent details yourself (click here and then search for 15/687771), and also keep in mind that just because a patent is filed, it doesn't mean that any actual products will be made as a result. This could just be a way of Nintendo safeguarding the system it has created with Switch - a system which makes experiences like Labo possible.
Another patent - filed in November - relates to the emulation of Game Boy software on non-gaming devices. The examples given in the patent include the back of a seat on an airline, or a mobile phone. This isn't the first time Nintendo has taken out such a patent, so don't get too excited about this one.
[source resetera.com]