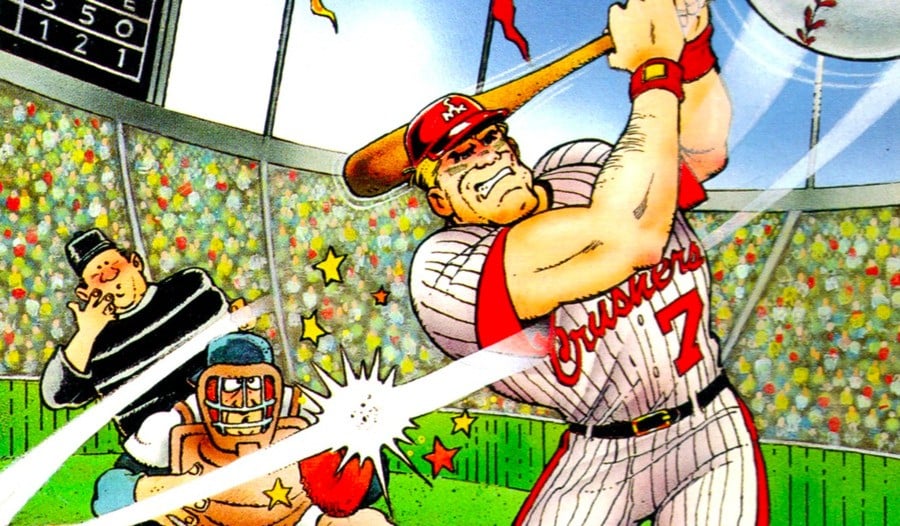 "Right! Try and get your heads round this, okay? Imagine the sun setting on the vast waters of Lake Victoria... A hundred thousand wildebeest grazing on the Masai Steppe, yeah? A misty, sleepy dawn rises to reveal Kilimanjaro in all its hypnotic majesty…"
Lovely stuff. Those are the poetic, naturalistic witterings of Steven. An investment banker. A yuppy. A character in legendary British television supercomedy Only Fools & Horses, Steven states that he has "gotta be up early in the morning, playing baseball" to which fellow dinner guest and comedy legend Derek Trotter chips in, "Oh, baseball! Yeah! No... I love it. I always watch it on Channel Four".
Originally screened on Christmas Day 1989, the mere mention of baseball to the millions watching is crucial because in the UK at the time, television station Channel 4  had exclusive rights to screen several US sports, including NFL football and baseball. Channel 4 had only broadcast in colour since 1982, so the platform was relatively new. Not only that, but this was one of the first times these sports had been beamed live, on a semi-regular basis, on a terrestrial television network. It meant that the popularity of NFL football and MLB baseball had soared and US sports were very much 'in' with the traditionally insular British public.
And I should know; the mid-'80s was around the time word began to filter around the school playground about which team you supported. Who is good? Who is bad? Who stayed up all night to the flicker of a 13" Matsui in their bedroom on the quietest volume in order to catch a glimpse of the Superbowl or the World Series? Purely for housekeeping purposes, I selected the LA Rams and New York Giants and the New York Mets respectively (though today I have a soft spot for the Oakland A's, Seattle Mariners and LA Dodgers, too). On Christmas Day 1987 I received a Giants jersey, an NFL rule book and copies of 4th and Inches and Hardball for my Commodore 64. That was it. I was hooked.
The Games They Cometh Fast
Baseball computer games have been around far longer than you think. In May 1963 (a mere 6 months before the assassination of JFK) The Ledger Star ran an article about a newly-developed 'computer program' for the IBM 1620. The first ever baseball simulation game. Work on the simulator began in 1961, but by the time of its demonstration in 1963 the game was polished and magnificent in both its simplicity for the end user to install, and its sheer complexity under the hood. Once loaded, the game would ask for a set of variables (player choice of batters, team name and so on). Once 'locked in' the program generates its own variables and begins to eerily mash the keys itself, automating the play by play. If you saw that in 1963 you'd likely be in need of a stiff drink to recover from the shock. 
Fast forward 20 years to 1983, and Nintendo releases the aptly-named Baseball for its new Famicom console. A small, but perfectly crafted (albeit heavily dated now) video game interpretation of the sport of baseball. I've always thought that baseball should be reasonably simple to translate across any video game platform. At the core is a straightforward game. Nintendo's Baseball welded together enough quality components to translate in to a solid, enjoyable game of baseball. Nothing more. And that was likely what gamers craved at the time.
According to official Famitsu Japan sales data, Baseball has sold 2.35 million copies (LTD). Compare that to Famitsu Japan sales for Super Mario World, which shifted 3.55 million copies (LTD) and you can see, when compared to a video game hailed as one of the very best ever made, it put in a solid performance at the tills. That is not all, for if we delve into the vaults of till rolls and ledgers for the past three decades, you will find that cheeky Konami PlayStation slugger Jikkyou Powerful Pro Yakyuu '99 Kaimakuban is the 106th fastest-selling video game of all-time in Japan. 106th. I can hear you choking on your cup of tea by the way. Yes.
When you look at the list of other fast sellers, this plucky slugfest is right in there amongst the titans of gaming history. Final Fantasy, Mario, Dragon Quest, Pokémon and so on. And right there in 106th place, selling 324,721 copies by July 22nd 1999, is the first game to break the procession. No, not GTA or some other AAA hyper-blockbuster, but a piddly baseball game.
Designated Hitters
Back to the 1980s and '90s and as the (golden?) age of the video game began, like Reggie Jackson's bell bottom trousers worn to his trade to the Yankees in 1977, to hit a fuller, richer stride. Along with the rare polished diamonds came the glut of garbage. And boy was there a lot of garbage when it came to baseball titles. From the dreadful ESPN Baseball Tonight, Hatayama Hatch no Pro Yakyuu News! Jitsumei Han and Human Baseball to the exquisite Ken Griffey Jr Presents MLB and Jikkyou Powerful Pro Yakyuu series, Nintendo sure gave their 'seal of quality' to some gems and absolute stinkers.
I loved this period of video game history. Everything was fresh, new, exciting. Developers could set up shop overnight, take a risk and produce something extraordinary. The rules were few and laissez-faire, and that lead to some beautifully original ideas that would seep into the pores of the Super Famicom in particular. Baseball games became more than just a simple bat and ball game, the concept would mutate into a puzzler, with the awesome Puyo Puyo-esque game Pro Yakyuu Nettou: Puzzle Stadium. Think NPB mascots battling with baseball's and catchers mitts for play pieces and you are pretty much there. This was a fun, addictive puzzler with some lovely combo mechanics chucked in for good measure.
Lest we forget the best-selling Family Stadium (aka 'Famista') series that has proved for decades to be a huge hit across multiple Nintendo platforms, including the 3DS. However, as time marched on ever forward, the breadth of baseball titles began to shrivel to a mere handful of tried and trusted titles. Looking at software sales figures for the GameCube for example, it's no wonder publishers moved these games away from Nintendo and over to the house of Sony. THE BASEBALL 2003 バトルボールパーク宣言 パーフェクトプレープロ野球, released on the GameCube in 2003, sold a mere 2,463 copies and charted for just one week.
What began with a cutting-edge simulation in 1961 progressed to a full-colour, highly detailed game of baseball by 1983. Since then, baseball games weathered stormy seas both on and off the pitch in both the glut of poor quality games but also the players strike, the loss of the Montreal Expos and the steroid scandal (Aaron > Bonds, btw). Today, we're left with not so much a mere trickle of titles but a full-on drought of baseball games. In the past decade alone we're only seen about three games released on a regular basis - one of which is Japan-only.
Think Like The Dock
What happened? Where has the creativity gone? Where gridiron, football, golf, NHL and so forth have gone on and flourished, baseball appears to have been left to rot in a ditch. Dock Ellis (who will feature in MLB 18: The Show) was a great player who pushed many exploratory boundaries. On June 12th, 1970 The Dock famously pitched a 'no-hitter' while completely off his face on LSD. A no-hitter is one of the rarest things you'll see in baseball bar a triple play, taking into account a regular season comprises 2,430 games and there have only been 296 no-hitters since 1875. Quite an accomplishment. Why can't a development studio out there perform a similar feat? Get a team together to start producing baseball titles that offer something new? Explore new boundaries. Carve a legacy through non-conformity. Be original.
I refer you to the wonderful Super Famicom port of steely Neo Geo big hitter Super Baseball 2020. A game that takes the bare bones of baseball but tweaks the rules just a smidgen to make a wonderful new game. The Famicom had hefty bat and brawl chubster Cyber Stadium Series: Base Wars, the only baseball game I've seen where you're actively encouraged to come off the bench and rip a man's head off. Or, looking toward the arcade, the delightful club 'em up Ninja Baseball Bat Man. Within the madcap Wario Ware a surprise for the eagle-eyed is available to nourish your joyless souls. Nintendo featured an old toy they produced in the 1960s entitled the Nintendo Ultra Machine as a mini game! Even the Satellaview got a Kirby take on America's pastime with Kirby no Omocha Hako. Why have developers lost their sense of adventure these days, compared to these zany, left-field moments?
With the Catcus and Grapefruit spring training leagues (that wouldn't sound out of place at all in Mario Kart 8 Deluxe!) literally days away, it is a huge bat signal (pun intended) that the the new MLB season is just around the corner. What we have to look forward to this year is the (admittedly incredible, and one of my favourite games of 2017) AAA title MLB 18: The Show alongside the shaping-up-to-be-a-stinky-crapfest (if it's anything like last year's version, anyway) R.B.I. Baseball '18. Then it's a long wait until April for the latest 2018 Powerful Pro title. Two of those games are PS4 exclusives (Powerful Pro 2018 is also available on Vita), which mean the Switch is left with R.B.I. Baseball '18 and...that's it. Unless of course you count the aforementioned 2020 Baseball, which is available on the Switch eShop.
Nintendo is a company that, until as recently as 2016, owned major league club the Seattle Mariners for crying out loud! Baseball is in its blood (and no, Mario Sports Superstars doesn't count). The fact that Switch-owning baseball fans are so poorly served is borderline criminal, and I long for a day when the sport returns to the spotlight and we get a quality title worthy of our attention. If you feel the same way, be sure to take a swing in the comments section below.