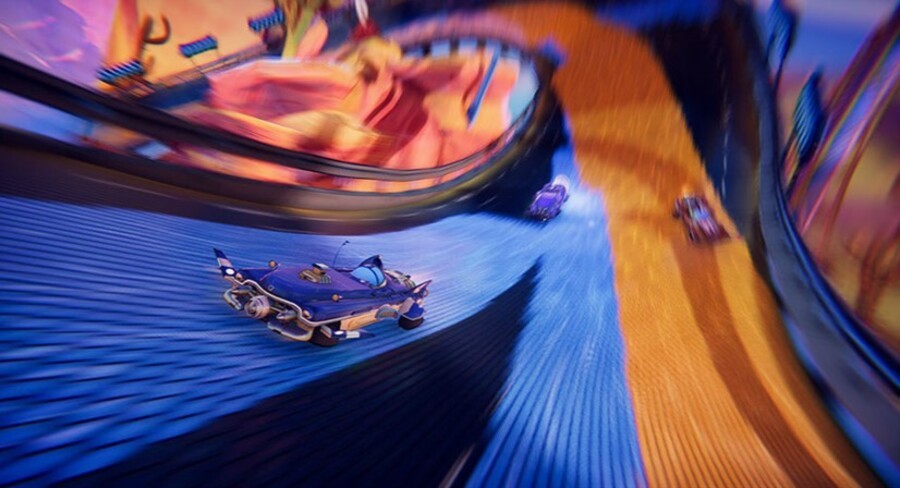 What happens when Splatoon 2 has a one night stand with futuristic PlayStation racer WipEout? Well, you'd probably end up with something remarkably close to Trailblazers, a new colourful racer that looks to combine a track-painting mechanic and a key focus on co-operative racing.
Sounds intriguing right? It comes from indie developer SuperGonk Games, which has plenty of talent on its books, including devs from now-defunct Fable studio Lionhead as well as the now-shuttered Bizarre Creations and Codemasters. Codies has become one of the most experienced racing-focused studios in the world, and Bizarre Creations brought us the Project Gotham Racing series so when it comes to racing game experience, SuperGonk has it bucketloads.
The aim of the game is team up and paint each track with your team's colour - gliding over your own colour enables you to boost and speed round the track faster so there's a real benefit to working as a team to use colour slipstreams to take that chequered flag in a speedy one-two. Tracks are generated dynamically so no two races are the same, and you can also play online against up to six other players (including via split-screen) or locally with up to three other racers.
Trailblazers will be heading to Nintendo Switch sometime in Q1 2018. Let us know what you make of this colourful racing curio below...
[source trailblazersgame.com]