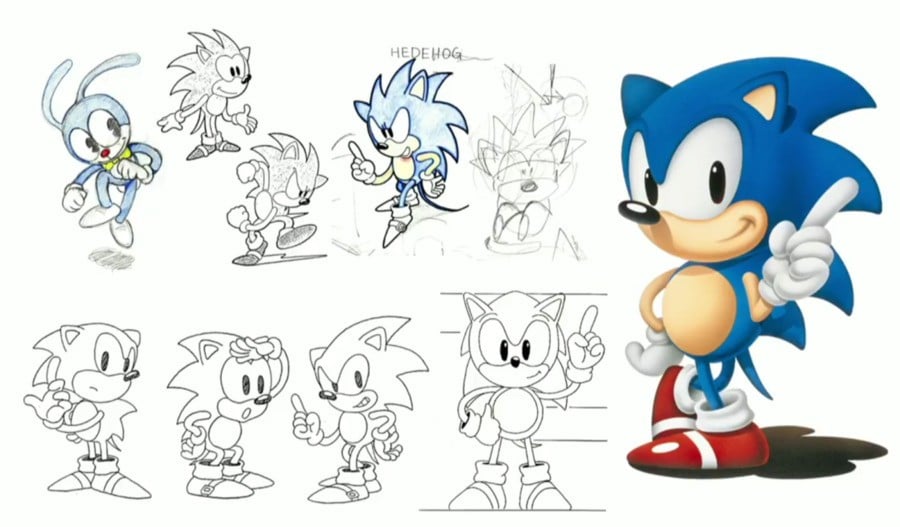 Sonic the Hedgehog is one of gaming's most iconic characters, and ranks alongside Mario and Mickey Mouse when it comes to international recognition.
However, Sonic designer Naoto Ohshima has revealed that the speedy chap was human like Mario in his original design pitch, rather than an animal. 
Speaking to John Szczepaniak in the latest volume of his Untold History of Japanese Game Developers series, Ohshima - who is now working at Hey! Pikmin studio Arzest, which he founded in 2010 - said:
I created the first design proposal for Sonic after three years in the design department. Although it wasn't Sonic then - the main character was a human boy. 

I remember the idea struck me right as I was going to bed, and I was afraid that I wouldn't remember it in the morning. So I drew it quickly in the notebook and then fell asleep.
Despite the lead character being very different from what we actually got, the core of the design was surprisingly complete, even at this early stage:
My pitch was that the maps of action games were, at that time, always full of squares, everything at right angles. What if we could make a game where a character was running over smooth terrain, running in circles through loops and such? So I presented my proposal to Sega, and they told me that it probably could not be done. But that if anyone could program it, it would be Yuji Naka. They said that if I could get him on board, we could proceed with the project.
Sadly, Ohshima admits that he doesn't have any concept artwork showing Sonic in his human form; the proposal was just a basic outline and it would seem that the idea of Sega's new mascot being human was quickly discarded. 
The story of how Sonic's final form came out of an internal competition at Sega to design a new mascot (and that he was almost a rabbit) is well known, but this appears to be the first time that Ohshima has revealed that he didn't have an animal character in mind when he initially came up with the concept. 
Could Sonic have been as successful had he been a wise-cracking human boy, or do you think he would have gone the same way as Alex Kidd, Sega's forgotten mascot? Let us know with a comment.