Of all the titles announced in January's Nintendo Direct, one of the biggest surprises was SNK Heroines: Tag Team Frenzy. An all-female fighter featuring 2-vs-2 action and a cast of some of SNK's best-loved characters, wrapped up in over-the-top costumes and candy-coated style, SNK Heroines is certainly looking like an intriguing addition to Switch's growing stable of fighting games. Eager to learn more about this upcoming pastel powerhouse, we recently caught up with SNK Heroines' producer, Yasuyuki Oda, and director, Kaito Soranaka, for a quick-fire two-on-one chat about the upcoming brawler.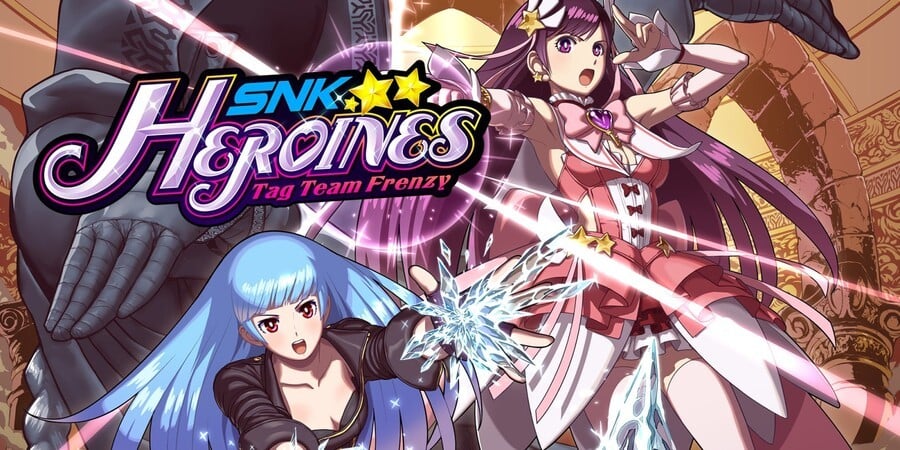 First of all, would you mind introducing SNK Heroines Tag Team Frenzy to our readers?
Yasuyuki Oda: It's a new kind of tag team fighter in which the heroines of SNK are gathered together in a mysterious mansion to battle each other. What happened to the girls after the KOF Tournament!? Play the game to find out!
We're big fans of Gals Fighters on the Neo Geo Pocket Color here at Nintendo Life, so we were especially excited to see some parallels here - did your team take any inspiration from that title in designing SNK Heroines?
Oda-san: We have heard a lot of people express that opinion about Gals Fighters. I was surprised by how many people were fans of it! SNK Heroines is a new title, but I think you can call it a spiritual successor to Gals Fighters.
Can you tell us a little about how the game's tag system will work?
Oda-san: It's a tag team style fighter in which you can make switches in real time. It has a new and unique win/lose conditions, requiring the player to use the Dream Finish skill, in order to win a round.
We noticed each character in a team seems to have either an 'Attacker' or a 'Supporter' role - can you talk about these?
Kaito Soranaka: The Attacker's role is fighting in the foreground, while the Supporter uses items to help allies or interfere with enemies. You can switch out characters, so the initial Attacker isn't necessarily always an Attacker.
We also spotted what looks like an 'item slot' next to each character's life bar, how are these items used in the game?
Soranaka-san: There are certain conditions in which you can acquire items, like destroying an item container during battle. Using these items, the player can restore gauges, attack opponents, or power up allies.
We're excited at the prospect of on-the-go fighting with SNK Heroines on Switch, so we're curious about the control scheme. Can you tell us anything about how the game will control? Will two players each be able to use a single Joy-Con for portable brawls?
Oda-san: Yes, that is possible.
Relatedly, we noticed that SNK Heroines will support up to four players - can you expand on how four-player multiplayer will work in the game?
Soranaka-san: Each player controls one character in the tag team. For example, if player one controls Athena, when Athena is the Attacker they will fight in the battle, but when Athena is the Supporter, they can help their ally by using items.
Costumes and accessories seem to be a big part of the action in SNK Heroines. Is there a story reason behind the fashion focus? Do the costumes & accessories factor into the gameplay?
Soranaka-san: There aren't any accessories that change special skills or attack power or influence battle in any way, but there are Reaction Accessories that react when taking damage and some accessories that have special sound effects.
Along with the costumes, one thing that really stands out from looking at early footage is the art style, with plenty of sparkles, ribbons, and plates of curry (!). What inspired that art direction?
Oda-san: The setting of this game is a mysterious mansion, and the costumes of the characters are different than usual. This game's world is different from any KOF or SNK title so far. We consulted the art director and character designer about the world building aspect, and we created the scenario and art style to match.
What audience are you hoping to attract with SNK Heroines? Are there features you've included to appeal to hardcore fighting fans, or casual players, or both?
Oda-san: I hope both, if possible. It's easy to perform skills in this game, but with items and gauges and combos, the mind games and gauge management will give both experienced and casual gamers a level playing field. On top of that, we've increased the appeal of the characters for fans to enjoy.
Thanks to Oda-san and Soranaka-san for taking the time to speak to us. SNK Heroines: Tag Team Frenzy arrives on Nintendo Switch this summer.