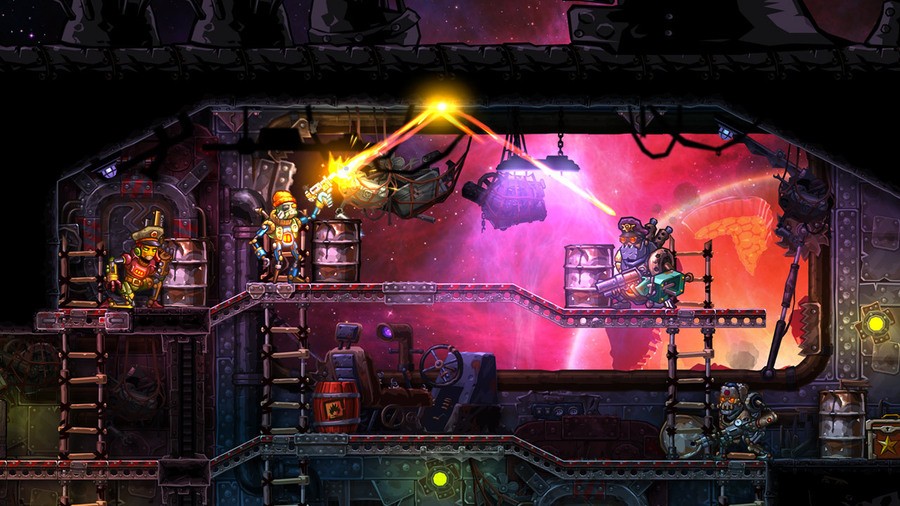 It's the final North American Nintendo Download Update of 2017, but with most businesses still enjoying the Holidays it's a much quieter line-up than we've seen in recent times. That's not to say there aren't some extremely tempting options, with the Switch doing a lot of the heavy lifting. Let's get to it.
Switch eShop
SteamWorld Heist: Ultimate Edition (Image & Form, $19.99USD) - A fantastic title that previously graced the 3DS and Wii U, it offers a twist for the series with turn-based strategy that's combined with manual shooting and skillshots. It's unique and an excellent game all around, with this Switch version including all of the previous DLC; we sang its praises in our SteamWorld Heist: Ultimate Edition review.
Arcade Archives VS. Super Mario Bros. (HAMSTER, $7.99USD) - The latest 'Arcade Archives' Nintendo release, this brings the arcade spin of the NES classic into our homes. Fewer Warp Pipes means you can't warp your way to the end as easily as in the original, there are also less power-up blocks and more enemy placements. In addition you'll find six new levels that were unique to the arcade before later being reused in Super Mario Bros: The Lost Levels. We enjoyed this in our VS. Super Mario Bros. review.
Guns, Gore & Cannoli (Crazy Monkey, $9.99USD) - Ideal for 'shooting zombie freaks on the go', this run and gun title is set in a comedic and highly stylished take on 1920s America. You play as mobster wise guys and shoot everything in sight; it's fun if a little repetitive, as we explain in our Guns, Gore & Cannoli review.
Woodle Tree Adventures (ChubbyPixel, $4.99USD) - Described as an 'old school platform game' with eight worlds to take on, it goes for a bright and cheery look for its 3D platforming. We'll see whether it's worth picking up in a review.
The King of Fighters '96 (HAMSTER, $7.99USD) - The third entry in SNK's lead fighting series saw some major improvements, namely the ability to fake smaller jumps, a perfect way to trick your opponents and avoid committing your fighter to a precarious situation. You can also charge up your POW bar and execute dodge rolls, nice touches and quite different for the time; naturally this ACA release will have the usual extra options and goodies, too.
Switch eShop Demo
Mighty Gunvolt Burst (Inti Creates, free)
3DS eShop
Style Savvy: Styling Star (Nintendo, $39.99USD) - For fans of fashion, modelling or just cutely stylised games about clothes, this series is often hard to resist. This latest entry has some new tricks and styles to show off, and we loved it in our review. 
3DS eShop Demo
Mighty Gunvolt Burst (Inti Creates, free)
As always Nintendo of America wants you to browse the eShop and check out the official sales and deals website for discount details.
---
That's it for this week - let us know what you'll be downloading in the poll and comments below.