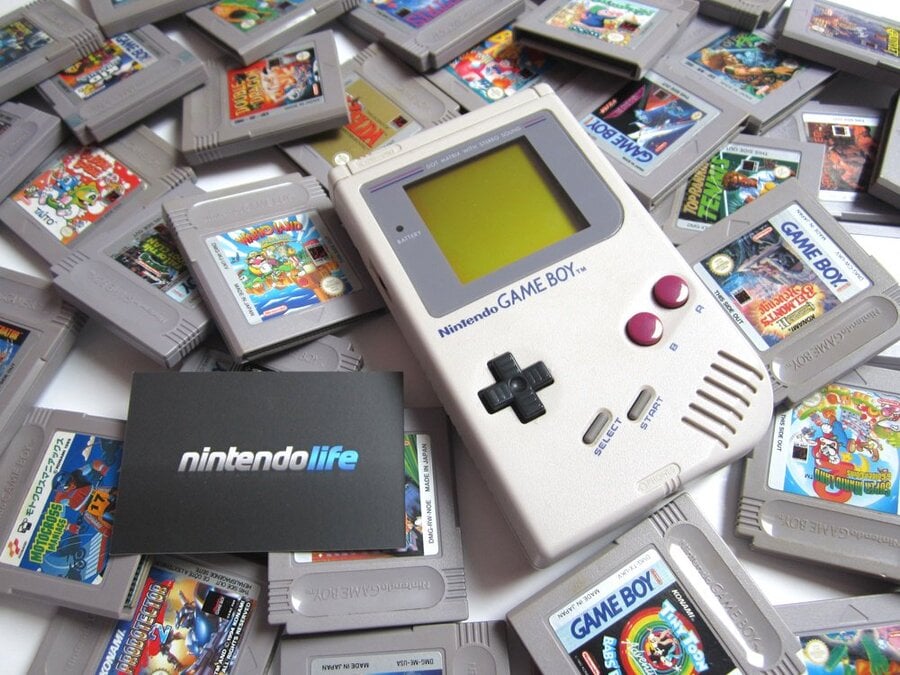 The Super Nintendo Classic / SNES Mini / cool little SNES / whatever you want to call it only arrived recently, but naturally some are already wondering about the next big thing. We've already had previous speculation about a potential N64 Mini, which not unreasonably drew on similarly relevant EU trademarks for Switch, NES and SNES.
Now you'll have seen plenty referring to a 'First Game Boy' trademark out of Japan, picked up by a bot account that automatically posts these filings; it was apparently made on 15th September.
Now, some have said this is a Game Boy Classic trademark, but it may not be worth making that leap yet. It's a trademark on the Game Boy design, securing the distinctive 'look' of the hardware. In terms of what the application refers to, it references electronic devices in addition to accessories like key chains.
(511) [Classification of goods and services and designated goods or designated services]  No. 9 Programs for home video game machines, storage media storing programs for home video game machines, programs for portable electronic game machines, A storage medium in which a program for a portable electronic game machine is stored, a program for an electronic computer, a storage medium in which a program for an electronic computer is stored, a program for a smartphone, a recording medium in which a program for a smartphone is stored, and the Internet An image file that can be received and stored, a recorded and recorded recording medium, a case for a smartphone, a cover for a smartphone, an electronically-applied appliance and its parts, a computer peripheral device, a mouse pad, a computer, a notebook Type computer, tablet type computer A microcomputer, an IC card (smart card), a pen type data input device for a computer, a charger, a charger for a smartphone, a headphone, an earphone, a rechargeable battery, a rechargeable battery for a smartphone
Class 14 key ring, charm for key holder, memorial cup, memorial card, commemorative coin, decorative item, precious metal made badge, necktie pin, necklace, brooches, collar pin (decorative item), decorative pin, clock, precious metal, jewel box
Class 18 bag clasp, spinneret, horseshoe, leather, leather packaging container, pet clothes, bags, bags, portable cosmetic tool holder, umbrella, wallet, coin purse, suitcase.
This trademark is somewhat different from those in the past that pointed to a SNES Classic and the equivalent for N64, as it seems more generic. As you can see it's securing the look and brand for use on a broad range of products.
Intriguingly, on the same date a filing was made via the European Union Intellectual Property Office, for "Nintendo Game Boy Select Start A B", specifying various accessories but no electronic products under Goods and Services.
18 Handbag frames; Purse frames; Horseshoes; Leather and fur, unworked or semi-worked; Industrial packaging containers of leather; Clothing for domestic pets; Bags; Pouches; Vanity cases, not fitted; Umbrellas; Umbrella handles; metal parts of umbrellas; Wallets; Coin purses; Suitcases.

25 Clothing; Garters; Sock suspenders; Suspenders [braces]; Waistbands; Belts for clothing; Footwear [other than special footwear for sports]; Masquerade costumes; Special footwear for sports; Clothes for sports; Headwear; Scarves; Mufflers.
Could these filings be part of securing trademarks and clearing the way for a Game Boy Classic in the future? Absolutely. Is it 'proof' that such a thing is happening? No.
Ultimately, we suggest you don't take this as a cast-iron pointer to the Game Boy Classic being in the works. Nevertheless, it would be no surprise if such a device happens - it'd sell like hotcakes and could be relatively cheap for Nintendo to produce.
Still, far more solid evidence is needed before we can break out the bunting.
[source ninten-switch.com]