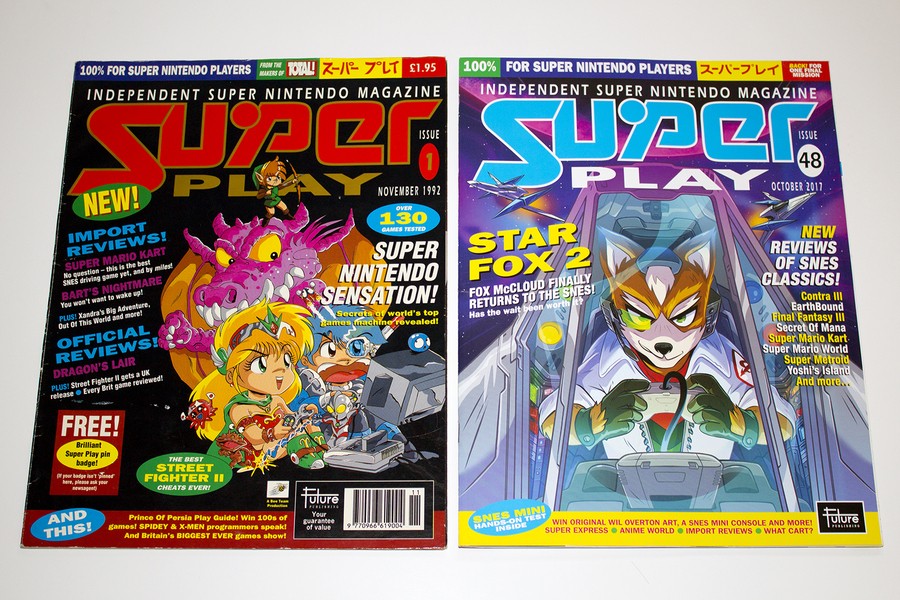 Future Publishing is resurrecting one of its most famous UK magazines to mark the launch of the SNES Classic Edition.
Super Play was a remarkable publication which launched in the early '90s and provided superb coverage of all aspects of Nintendo's 16-bit console, with a special focus on Japanese imports and other aspects of Japanese culture, including anime and manga - both of which were still relatively unknown in the UK at the time.
The mag was staffed by such notable figures as Jason Brookes, Tony Mott, Jonathan Davies, Matt Bielby and cover artist Wil Overton, and lasted 47 issues before the plug was pulled at the dawn of the N64 era. Of course, you'll know all of this if you consulted our exhaustive Super Play "making of" piece way back in 2011.
Issue 48 will be given away free with Retro Gamer #172, will consist of 52 pages and - as you might expect - has a new cover by Overton himself. It will include reviews of all the games included on the SNES Classic, an interview with Star Fox 2's Dylan Cuthbert, special competitions and much more besides. Heck, even our very own Damien McFerran is involved, but don't let that put you off.
Here's the full PR:
The rumour is true: Super Play is back! 

Issue 172 of Retro Gamer will be packaged with a 52-page special edition of the Super Nintendo magazine to celebrate the forthcoming launch of Nintendo's SNES Classic Mini hardware. 

This one-off edition has been produced by original Super Play staff including Jason Brookes, Jonathan Davies, Tony Mott and Zy Nicholson, along with the Retro Gamer team and a band of seasoned Nintendo experts including Nathan Brown (Edge), Mark Green (NGamer), Keza MacDonald (Kotaku), Damien McFerran (Nintendo Life), Jeremy Parish (Retronauts) and Chris Schilling (Edge, Eurogamer). As art editor, Warren Brown (senior art ed of Future's videogame division) has resurrected Super Play's visual style to ensure it will be immediately familiar to fans of the '90s magazine.

Crucially, the new issue's cover is illustrated by Wil Overton, the artist behind every cover of Super Play's original 47-issue run. 

Features include:

- New reviews of 20 SNES games featured on the Mini console, alongside a cover story focused on Star Fox 2, including an exclusive interview with Dylan Cuthbert, one of the key developers behind the game
- The opportunity to win the original Wil Overton artwork used for Super Play's Secret Of Mana cover (issue 25), hand-painted on celluloid and signed by the artist.
- More prizes to win, including a SNES Mini console, the Contra III soundtrack on vinyl, Super Famicom: The Box Art Collection, and more.
- Plus: Super Play's SNES Mini hands-on test, Helen McCarthy's Anime World, What Cart?, import reviews, Fanhunter, the origins of the SNES and Super Play, and... some unfortunate news about Neko.
What do you make of this timely revival? Are you already a seasoned Retro Gamer reader, or will you be picking up this issue exclusively for the Super Play special? Let us know with a comment.