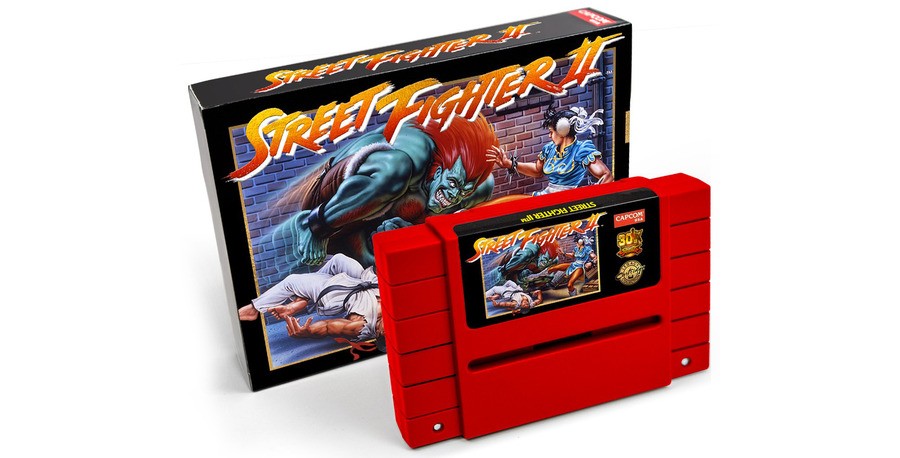 Ah, nostalgia. While we can totally get behind retro delights such as the upcoming SNES Classic Edition and being able to challenge friends on the train with Ultra Street Fighter II: The Final Challengers on the Switch, there has to come a point where you just roll your eyes.
To celebrate the 30th anniversary of Street Fighter, Capcom and iam8bit are offering fans the opportunity to purchase a limited edition SNES cartridge so you can enjoy the original Street Fighter II on your classic hardware. It will only cost you $100 for the privilege.
This limited edition reproduction will come in one of two colours, "Opaque Ryu Red" or "Translucent Glow-in-the-Dark Blanka Green". 5500 units will be available for fans to buy with 1000 of these being the glow in the dark version, which will be randomly distributed. The package also comes with a foil-stamped box, a "premium" instruction manual and some other goodies.
Aside from being a bit of a cash grab by Capcom, the fire warning on this product page doesn't exactly bring confidence:
WARNING: Use of this reproduction game cartridge (the "Product") on the SNES gaming hardware may cause the SNES console to overheat or catch fire. The SNES hardware is deemed a vintage collectible, so please exercise extreme caution when using the Product and make sure there is fire extinguishment equipment nearby. Use of the Product is at the sole risk of the user. The Product is sold "as is".  Neither iam8bit, Inc. nor Capcom Co, Ltd. make any representation or warranty, express or implied, of any kind, including any warranty of merchantability of fitness for a particular use, or that the Product is safe to use, and iam8bit, Inc. or Capcom Co, Ltd. shall have no liability for damage to property or persons arising from use of the Product. Nintendo of America is in no way associated with the release of this Product.
What do you think of this limited edition SNES cart reproduction? A cynical cash-in or a delightful retro collectable? Sound off in the comments below.
[source store.iam8bit.com]