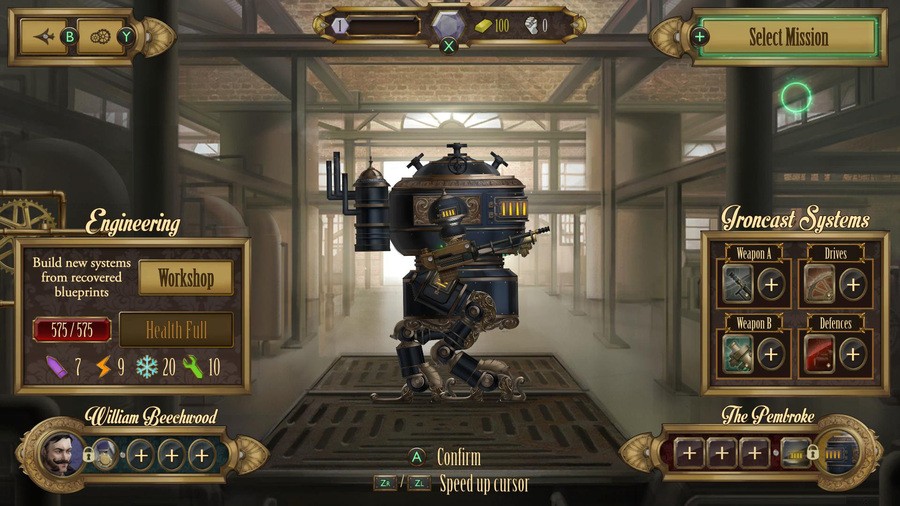 Imagine an alternative Victorian history where gigantic mechanised war machines had been created to defeat the enemies of the British Empire. If that sounds good to you then Ironcast might well be the game for you; in this turn-based / match-three strategy game you will control a 7-metre tall walking Ironcast in order to defend 1880's Victorian England from an invading force.
The publisher Ripstone has just let us know that it will be heading to Switch on the 10th August and it will be priced at £12.99 / $12.99 / €14.99. They are working on a trailer at the moment along with the team at developer Dreadbit, so that should arrive soon.
About the game, Daniel Leaver, Founder & Designer at Dreadbit had to say:
I bought a Nintendo Switch at launch and I was really, REALLY excited about the concept of the console. After playing it for the first time I desperately wanted to bring Ironcast to Switch because it felt like the perfect platform for the game.
Ironcast makes good use of the abilities of the Switch. You can play the game docked of course, in tabletop mode with a Pro Controller, on-the-move with either Joy-Con or by using the Switch touchscreen. The game even makes use of HD Rumble support for maximum Ironcast slaying fun. 
Battles within the game are fought by generating resource nodes which in turn drive the Ironcast's various weapons and systems. You must choose how to spend these nodes wisely; either offensively to cripple and destroy opponents, or defensively, if they suspect a barrage of incoming weapon fire is due. The game will include randomly generated missions, over 50 unlockable items and the potential for rare enemy loot drops.
We gave this one a try in our Ironcast hands on impressions from E3.
Will you be picking it up for your Switch in August?