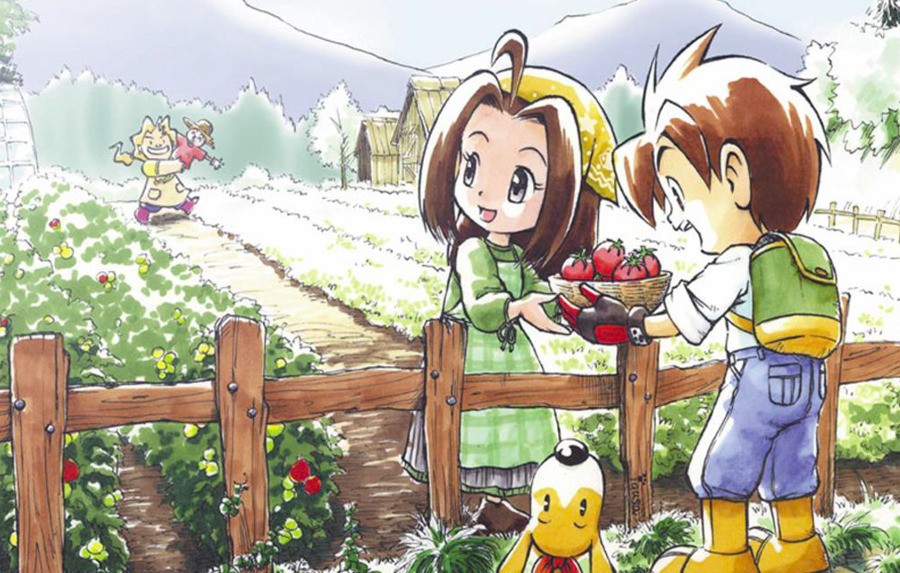 Natsume is a publisher famous for its Harvest Moon series, which has now racked up more than 30 entries across a variety of systems and continues to sell briskly all over the world. However, there's been quite a bit of upheaval within the company of late, and boss Hiro Maekawa has been speaking to GamesIndustry.biz to explain how Natsume has overcome its recent issues.
Harvest Moon has been Natsume's cash cow ever since the game launched on the SNES, but the company only ever acted as a publisher in the west; the game itself was developed by Victor Interactive Software under the name Bokujo Monogatari. Victor would eventually be snapped up by Marvelous but the partnership continued until 2014, when Marvelous opted to publish Bokujo Monogatari under its XSEED label in the west. That resulted in the birth of the Story of Seasons series and left Natsume with the Harvest Moon name - but no game.
Maekawa explains the situation:
That was a big surprise to us, especially to me. It was a really scary thing to me because we'd spent time and effort to establish a no-name farming simulation game to become one of the best-known farming simulation games for the entire family. We had tons of loyal Harvest Moon fans, but we couldn't simply say to those loyal fans that there's no Harvest Moon in the future. Fortunately, we learned and accumulated lots of know-how as to what Harvest Moon fans like and what makes them happy by localizing and publishing Harvest Moon games for the past 16 years, so we took that goodbye as a good opportunity for us, based upon our own experience, to take this franchise to the next step so we could continue to make all Harvest Moon fans very happy.
Harvest Moon: The Lost Valley - Natsume's first attempt at development - didn't quite hit the mark, but Harvest Moon: Skytree Village was better received. Harvest Moon: Light of Hope - the forthcoming entry - is headed to Switch, a console which Maekawa now considers to be a major platform in his plans:
Nintendo has now shifted their energy to Switch. At this point, I don't think they are interested in DS titles. And our customers aren't interested in DS titles either. They are losing their interest in 3DS titles as well, simply because of Switch. Everybody's talking about Switch, Switch, Switch! So Switch will be not only the next big handheld, but also a console platform. Either way.
While the appeal of farming simulations like Harvest Moon, Story of Seasons and - more recently - Stardew Valley is arguably limited when compared to other AAA releases, Maekawa feels that there's a profitable niche in the market for such "non-violent" titles:
...everywhere there's fighting or blood, really aggressive games. When you stop by our booths, I assume you'll feel like this [gestures to the happy characters on a nearby Harvest Moon poster]. I like to be in that position, so that means non-violent games. Natsume is probably known most as a non-violent, family friendly company, and I don't see many other companies making games like this. Therefore to us, we feel like we have less competition. Of course we have competition like Stardew Valley or Farmville, but this non-violent genre will remain very strong, I think.
Maekawa concludes by stating that his company's aim is to make as many people happy as possible, not just gamers:
This company's philosophy is to make everyone happy. Everyone means Natsume employees, and our customers, which means our development partner, our distribution partner, financial institutions, of course Nintendo and Sony's first-party teams, and anybody who is directly or indirectly connected with Natsume products. We are trying to make them very happy. To make them happy, this company has a code of conduct I keep saying to my employees. Whenever you make some decision, follow the code of conduct. When you try to sign some agreement, put yourself in the position of others to think about what to do. Don't try to get everything from them. Put yourself in their position and ask what they think. Do they think what you're offering is fair, or do they think you're so greedy? Put yourself in their position.
Are you a Harvest Moon fan, or has your allegiance shifted to Story of Seasons these days? Let us know by posting a comment.
[source gamesindustry.biz]