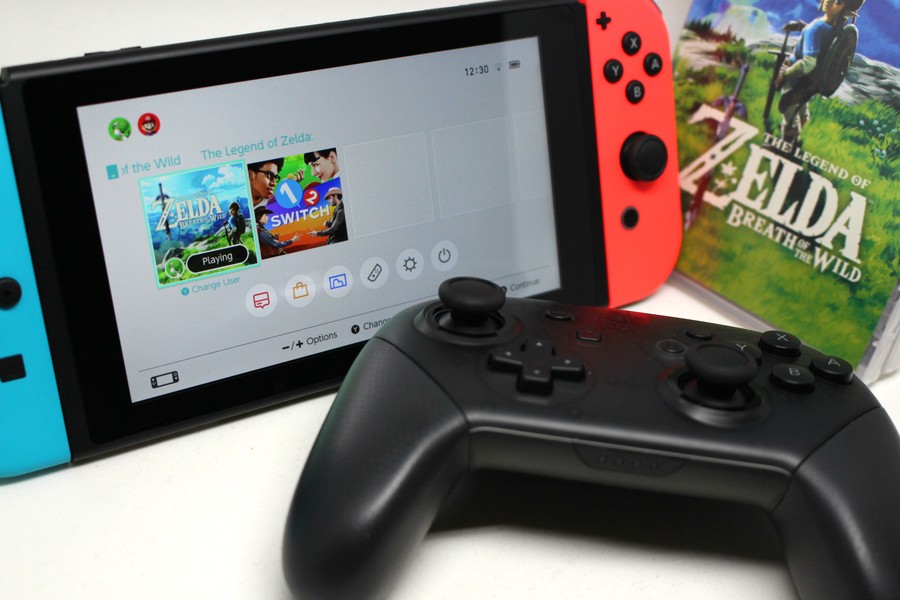 March 3rd is hurtling towards us and with it comes that most tantalising of promises: fresh Nintendo hardware. The Switch is just a matter of days away but we've been lucky enough to spend a substantial amount of time with the new hybrid console, putting it through its paces to give you - our dear readers - an early glimpse of exactly what this unique system is all about.
As we all know, the big USP for Switch is the fact that it's a home console that you can effectively take anywhere with you; it fits into a dock which outputs a 1080p signal to your TV, but you can remove it from this dock and play it out of the house, picking up where you left off. The system's Joy-Con controllers slide off the side of the console and can be used in a variety of ways; they can be docked in a special grip to create a more traditional joypad interface, or they can be used individually as pads. Games come on tiny cards and a wide range of accessories are available, including a Pro Controller and fancy Joy-Con grip which charges the controllers (the one included in the box sadly doesn't).
We've put together a series of videos which give you a tour of the console and should hopefully answer some of your pre-release questions. Ready? Let's begin.
Nintendo Switch: System Settings & User Interface
It's actually quite striking how slick the Switch's UI is, at least when compared to the rather sluggish interface we were presented with when the Wii U launched. Everything looks clean and attractive, while moving around the UI is a silky-smooth affair - something which is helped massively by that capacitive touchscreen, a first for a Nintendo console. There's still a lot of the UI which is off-limited at present and won't come live until launch, but what we've seen so far has filled us with confidence; this is easily the best UI on any Nintendo console.
Nintendo Switch: Just How Big Is It?
It's amazing how small the Switch is - expect to be very surprised the first time you open up that box. The unit without any Joy-Cons attached is smaller than your typical 7-inch Android tablet and while it's not quite pocket-sized, it's still eminently portable. You can check out some size comparisons - of both the unit itself and those gorgeous Joy-Cons - in the video above.
Nintendo Switch: Mii Maker & amiibo Tour
Nintendo has already stated that Mii characters aren't a requirement for the Switch - in fact, the first time you boot up the console you won't even be prompted to make one - but there's still a Mii Maker option included just in case you're not ready to totally embrace the more traditional user account system. amiibo figures are still very much part of Nintendo's plans though, with an NFC reader / writer being included in the Joy-Cons.
Nintendo Switch: Expanding Memory with Micro SD Cards
With only 32GB of on-board storage available - of which a fair slab is taken up by the console's OS and other files - memory is going to be of prime concern for all Switch owners. A Micro SD card is virtually a requirement if you intend to download any content from the eShop, but thankfully Nintendo has included a Micro SD card slot, which is neatly concealed underneath the kickstand. Speaking of which, the kickstand feels a little flimsy and delicate, but if it does pop off for whatever reason (such as docking the console without closing it) then it can be reconnected; Nintendo has designed the stand to "snap off" to avoid any serious damage.
Nintendo Switch: Unlock Screen Easter Egg
Finally, we have this cool little Easter Egg which we discovering during our time with the console. To unlock it from sleep you have to press the same button three times, but we found that different buttons generate different sounds - quite a cool little feature.
Nintendo Switch: So Far, So Good
We'll be delivering the full verdict on Nintendo Switch in a future review, where we'll really dig into built quality, performance and other elements. Hopefully this little teaser has given you enough info to either make you feel confident about your purchase, or perhaps even convince you that you need one of these consoles in your life. Let us know by posting a comment below.