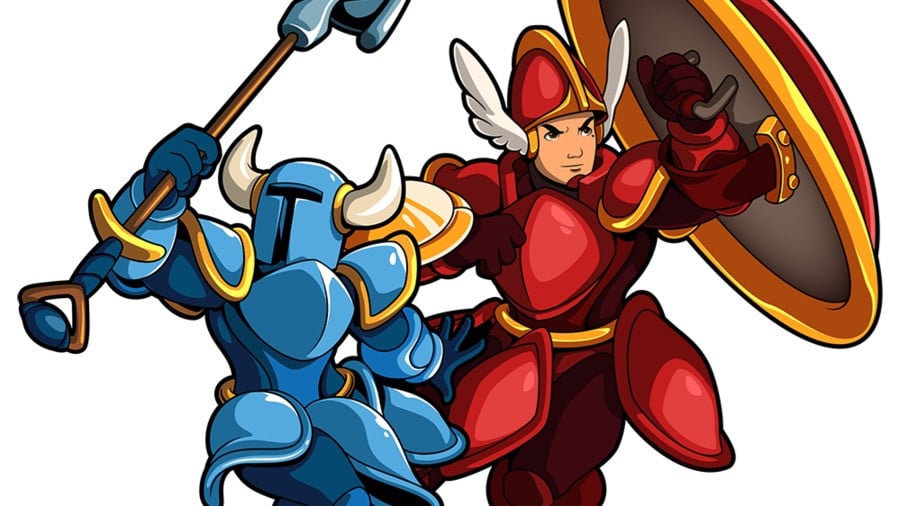 Shovel Knight is making the jump to the Nintendo Switch in a new version entitled Shovel Knight: Treasure Trove, it has been announced today.
Treasure Trove isn't really a sequel but more a restructured release with new features. Those of you who already own the original game on any of the currently supported platforms (the campaign for which is now known as "Shovel of Hope") will find that your copy is automatically upgraded to the new version for gratis.
Your updated version will also come with the DLC Plague of Shadows and Specter of Torment, but if you buy the game after it has been updated, you won't benefit from the free DLC; all three campaigns will be available for purchase individually for new players, or as part of the all-encompassing Treasure Trove pack. Yacht Club Games feels that "less expensive standalone versions will provide better entry points for different types of players."
In terms of new features, you'll be able to play as a female Shovel Knight and male Shield Knight thanks to the game's body swapping element. Co-Op mode - which was previously exclusive to the Wii U - will also be coming to all current platforms, apart from the 3DS and Vita. That's quite a big deal as the mode was previously reliant on owning the Shovel Knight amiibo.
Yacht Club Games has big plans for Shovel Knight in 2017. Aside from all this rather confusing Treasure Trove update malarkey, the game will be getting a third helping of DLC in the form of the King Knight's Campaign. A new 4 player battle mode is also in the works, which will be coming to all platforms apart from the 3DS and Vita. Shovel Knight's price is going to go up in the spring, too.
Here's some more info:
All owners of Shovel Knight on all platforms will automatically own Shovel Knight:Treasure Trove instead and will continue to get each of the planned free campaigns and features via updates. It will work exactly like how Shovel Knight was updated to include its first campaign addition, Shovel Knight: Plague of Shadows. Don't worry!

In the spring, we will be raising the price of Shovel Knight. If you haven't picked up Shovel Knight yet and want all the content included within Shovel Knight: Treasure Trove, buy it now before the price increases this Spring! Or pick a selection of the standalone versions for a cheaper price!
Don't forget King Knight's very own campaign and the 4-player Battle Mode are still on the horizon for 2017. As described above, they will become available as standalone games on PlayStation 4, Xbox One, PC/Mac/Linux, and Nintendo Switch and will also be delivered as FREE updates on ALL platforms to Shovel Knight: Treasure Trove. Look forward to more news on these in the future!
All of this is quite a lot to take in - so much so that Yacht Club has issued an FAQ covering (almost) all of the questions you might have. What do you make of these bold plans for the game? Let us know by digging deep and posting a comment.
[source yachtclubgames.com]