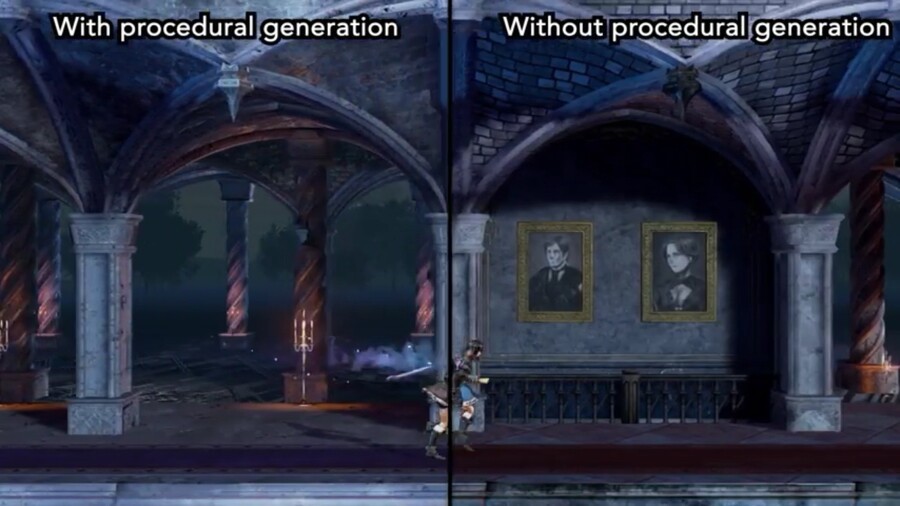 Though Bloodstained: Ritual of the Night has been delayed until 2018, we can rest assured that Koji Igarashi and his team are doing everything they can to polish the game to the nth degree and make it all worth the wait. In a previous update, Igarashi mentioned how he would be utilizing procedural generation in order to free up developer resources and cut down on development time. Now, in the latest update, he's detailed exactly how this will come into effect.
Essentially, procedural generation will be responsible for roughing up the environment and giving it a more detailed look. This way, the artists and designers will have more time to focus on other areas of the game, as opposed to hand-crafting each environment, and it will actually lead to more variation in environmental effects. Here's what he had to say, along with a video showing off the process:
Before, we worked on environments on a texture-by-texture basis, which meant that each area required the individual time and attention of skilled artists and designers. To use our team more wisely, our new process is based more on physics, and makes use of procedural generation.
Naturally, you might be asking, what kind of procedural generation? How will it be used, and for what? To put it simply, we're using it to auto-generate environmental grime and destruction effects.
At the end of the update, Igarashi mentioned how there will be a new update somewhere around Christmas showing off a new area that utilizes this process to a greater degree, so we'll get to see it in action soon.
What do you think? Is this the right way to go about designing environments? How else do you think they could use procedural generation? Share your thoughts in the comments below.
[source kickstarter.com]