In this series of features we invite 'Nindies' to share thoughts on their experiences in 2016. In this entry Dave Proctor from 13AM Games shares an end-of-year letter with Nintendo Life's readers.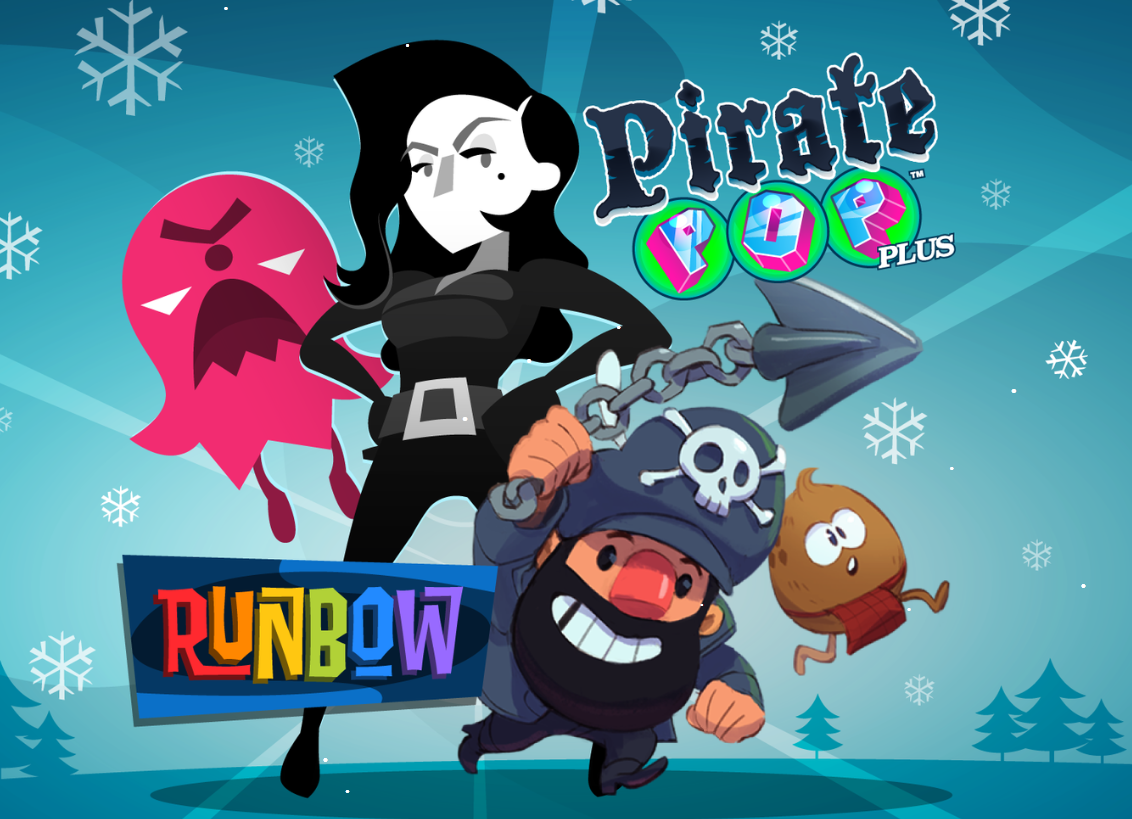 Dear Nintendo Life Readers,
Gosh, I can't believe 2016 is coming to an end. I'm actually going back to last year's "Year in Development" story that I wrote with you, dear readers, to get some semblance of an idea of just how much we actually did this year. There was a lot of firsts, a lot of ups and downs, and a lot that we had to power through to stay together.
I'll do my best to recount the year through a series of terrible puns as my subject headers. Is that okay? I'm not hearing you complain readers, so I'm going to go for it. HERE WE GO.
I DLC What you Did There!
At the end of 2015 we had still been buzzing on the highs of launching Runbow on the Wii U. What we didn't tell anyone - and I mean anyone, for months - was that we immediately got to work on the DLC expansion and extra packs that comprised our spring DLC release.
I mean, not immediately. That would be crazy. I think there was a period of about 2 months where none of our 9 employees were in the office at the same time.
But by January 2016 we were in full swing for Satura's Space Adventure. The really amazing thing was that we actually got to step back and watch our team members grow and become better at the skills they had been honing making Runbow. If you look at the costumes in the costume and music packs… the Snow Sport outfit, the Steampunk outfit… our art team figured out a way to get more detail and more complex costumes onto Hue and Val. Our design team got even better at making levels and I think the Space Adventure is some of their best work. Our tech team worked with members of our community to iron out some of the biggest issues in our online system and we pushed out a ton of patches to get the game working for everyone.
I look at 2016 as a time when we all started to understand game development a little more, and really got to the heart of what we needed to do with Runbow to make it better.
Pocket Full of Dreams
One of the fun little things about developing games is you get to hide massive secrets from people, almost all the time. (It drives my family and friends nuts).
So we didn't tell anyone that we were working with Nintendo of America and Unity Games Japan to figure out how to bring Runbow Pocket to the New Nintendo 3DS... Until E3. Our minds were blown. I was hiding in the production booth when Alex was on camera going through our three big announcements, and I can't forget that deluge of tweets and positivity that immediately followed.
It wasn't all easy though. Porting Runbow to the New Nintendo 3DS has been the most challenging project our company has ever undertaken. Bringing the game from an HD console to a handheld has its own set of difficulties, but it goes far beyond that. We are at the forefront of bringing a Unity game onto New Nintendo 3DS, and while that's a huge honour it is a massive exploration into uncharted territory. We were working with Unity and Nintendo as they developed engine functionality. As a result, we promised features that we didn't know we wouldn't be able to do until it was too late, which we know bummed our fans out. We had to face delays we couldn't anticipate, and we lost publishing support in Japan. Playing Runbow Pocket now is a big reward, but for all the times when we couldn't even get our hands on the game it was hard to see the light at the end of the tunnel.
Give up? We Shant, eh?
But then you see something like the Shantae crossover and how excited our fans got and you can't help but smile. She is definitely the most requested guest appearance we've ever had. Our fans have been going nuts and you can still head onto our Miiverse page and see a lot of drawings of Shantae in the Runbow forums (I think we saw a guy say something like "this isn't the Shantae forums guys," lately). We love it, and think it's hilarious, and it's hard to feel negative when you see how happy everyone is.
We Gotta Be Cuckoo!
Something our art and branding team spent a lot of time honing and crafting this year was our brand new logo.
While we dug the old logo, we also felt it wasn't emblematic of what our company stands for. We designed it years ago, before we even decided to build Runbow into a full game, and we felt it just wasn't "fun" enough. We took a long hard look at the things that we love about our company - our weird attitudes, our love of myth and mystery, our playful side - and came up with the Cuckoo-Yaga, a clockwork rendition on the baba yaga from Slavic folklore.
It's more fun, more weird, and more us.
That, actually, is our 2016 summarized in a sentence. More fun, more weird, and more 13AM.
Getting outside of our Bubble
One of our favourite things to work on this year was bringing dadako studios' awesome score-chasing, bubble-busting arcade game Pirate Pop Plus onto New 3DS and Wii U. This is the first time we've ever ported and published someone else's work, and it definitely was a learning experience.
On the one hand, it was hard to work with a developer who was on the other side of the world, waiting until morning for his final changes at night and having to wait for night to talk to him before he starts his day. On the other hand, to work with someone else's code, someone else's game, someone else's passion, that was a really cool. Pirate Pop Plus was also our studio's first ever multiplatform launch, our first New Nintendo 3DS launch, and our first cross-buy title! A lot of firsts in 2016.
Another exciting thing about Pirate Pop Plus is that we had another chance to find a new game that we all loved playing in the office. MANY nights after launch we would just sit in a circle and see who could pop out the highest score, sometimes going so far as to see if we can sync up our music together. The game got us playing something new, something we were a part of, and something that we all agreed on was unequivocally fun.
We got Retail-Oriented
Finally, and maybe one of the most exciting things that we did this year was that we brought Runbow - what I would have said last year was our little game, our indie game - to retail with our partners at Nighthawk Interactive.
RETAIL. We're talking physical boxed editions of Runbow: Deluxe Edition. In a box. On a shelf. In a store.
A personal highlight was sharing stories with all the guys in the office about our experiences heading into Best Buys and GameStops to find our own copies… and they were all sold out. To think of your game as a physical commodity is pretty humbling in its own right. To think of it as a hot commodity is completely bananas.
Nighthawk has been great in supporting us on this and they're pretty stoked about Runbow Pocket Deluxe edition, which we will start talking about next year.
Still Crazy after All This Year
But that's us, in a nutshell.
This was a hard year, and not everything went the way we wanted to. We started on a port that we still haven't finished. We put in a lot of late nights. We worked even harder than the year we launched Runbow. We fought, we argued... and yet we're still here.
We're still loving our jobs, we're still together, and we even had the ability to hire two new programmers, Mike and Elsio, to join the 13AM family.
We hope you have a good 2017, dear readers, and that you have a chance to be excellent to each other. Our secret to staying alive is taking care of our team and always looking at the bright side, even when things get rough.
We can't wait to let you know what we've been up to for next year.