Last week, the Japanese Buddhist holiday of Obon interrupted Famitsu's regular schedule, so this week is a special combined issue to make up for it. As a result, this issue is packed full of guides, previews and reviews. As usual with Famitsu, some content lagged behind internet reveals, but the reveal of Puyo Puyo Chronicle and four reviews more than make up for the lack of otherwise noteworthy Nintendo content.
Previews
Let's get what we won't cover in depth out of the way. Famitsu went above and beyond with two guides for popular Japanese RPGs this week: Puzzle & Dragons X and Etrian Odyssey V. For the former, Famitsu dedicated ample space for a full on walkthrough of a dungeon of sorts called "the Fire Area," along with tips on how to defeat monsters and the like. Etrian Odyssey V, on the other hand, received information on new statistics, enemies, and specialisations. For example, characters with high WIS (wisdom?), a stat new to the series, receive decreased damage from magic attacks. The rest of the Etrian Odyssey V spread goes in detail about F.O.E monsters, a type of boss monster that stalks every few floors, and how players can choose specialisations for each class once they hit level 20. Standard stuff. Both games are out in Japan already, but neither have a western release date.
Famitsu continued its trend of arriving late to the Pokemon Sun and Moon party, too. While the rest of the internet has generated half a million memes about it already, Alola Exeggutor made its Famitsu debut, along with a dozen other Pokemon revealed about the same time.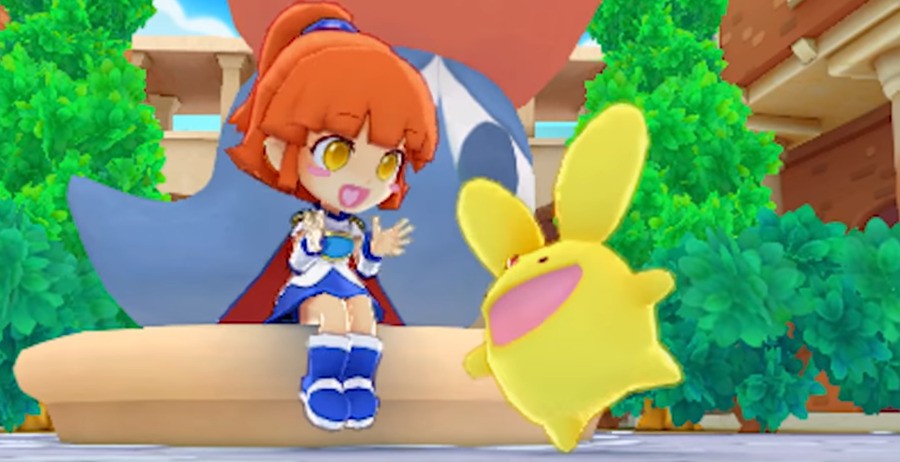 Puyo Puyo Chronicle stood out as the only new game previewed this week. Puyo Puyo is a long running popular puzzle matching game that saw some light in the west through Sega, but never received a lot of attention. Puyo Puyo Chronicle is the series' first foray into RPG territory, taking a page out of the Puzzle & Dragon X playbook. The protagonist of the game, Arle, is sucked into a book and must puzzle her way back home. During battle, up to three characters chain coloured Puyos together for high-damage combos. An ample amount of quests and explorable areas were promised in the article, and the standard Puyo Puyo game is also built in for those that just want to kill some time without being bogged down by RPG conventions. Nothing seems incredibly noteworthy outside of other action puzzle RPGs, aside from the fact that it's so cutesy it may make your teeth hurt. Just take a look at the trailer, below. Of course, no word on a western release quite yet, but other titles in the series have made it out of Japan before. It releases on 6th December in Japan.
Reviews
Metroid Prime: Federation Force highlighted the reviews for this week. Nintendo Life gave the Metroid spin-off a very positive review, and Famitsu felt much the same way with 7/8/7/8 for a score of 30/40. The third reviewer, Honma, said the following: "Taking a break from the series' usual dark atmosphere, Metroid Prime: Federation Force has a casual feel that is easy to get into. However, while there is a firm tutorial, it will take a while to become fully used to the fact that the game fully uses the 3DS gyro tech. Overall, I would say the difficulty is higher this time around. In multiplayer, you can bring various weapons along with you so communicating with your party members will make things a little bit easier."
Azure Striker Gunvolt 2 edged Federation Force by one point with an 8/8/7/8 for 31/40. The action platformer was well praised by a reviewer named Ashida. He said: "In Gunvolt 2, due the differing styles of battle feeling more accurate (than previous titles), the action and the story both benefit greatly. Fast-paced action is accompanied by an automatic dodging system called 'Kagerou,' as well as other various abilities, so it's harder to take as much damage as I originally thought. This makes it exhilarating even for beginners. At the same time, the game encourages you to learn the mechanics due to their depth - plenty of room for your skills to improve. An elaborate production through and through." If that sounds good to you, Azure Striker Gunvolt 2 will release on the Nintendo 3DS eShop on 30th September in the West.
The last two titles, Welcome! Pet Hotel and Mini Sports Souls, received middling reviews. Welcome! Pet Hotel scored 6/6/6/6 for 24/40. If pet games are your thing, reviewer Uchizawa suggested players may want to skip this one. He wrote: "Use the stylus to feed and brush your pets - yep, it's another pet game. While there is good variety in the types of cats and dogs, the actual ways in which you take care of them doesn't change from breed to breed so it definitely feels made for children. The animals look cute enough, but it's too bad that the actual caretaking feels lacking."
Mini Sports Souls brought in a 7/7/7/7 for 28/40. Yoshida praised it for "decent visuals," and while "most of the games feel like one play is enough, fencing and soccer definitely feel interesting enough to keep playing them. There is also an online mode with rankings, so I give it a solid 7/10."
---
That's all for this week. Which of the four reviews appeals most to you? Let us know in the comments.
Thanks once again to Thomas Schinas for translating. 上手!