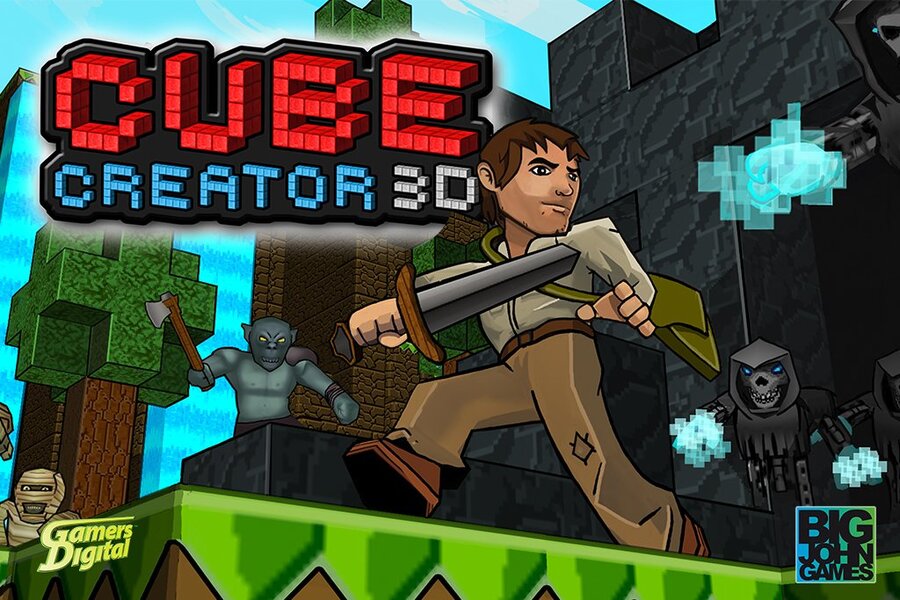 Cube Creator 3D launched a little over a year ago for the 3DS, in a time when Minecraft on Nintendo systems was nothing but a pipe dream. We liked the game then and we still like it now, but the development team hasn't been content to simply rest on its laurels and leave the project as is. A free update is due out for Cube Creator later this summer which aims to add a fairly substantial amount of content, and we got to spend some time with it during E3. Simply put, this makes what was already a good game even better, and we can't wait to test it out in full.
The headlining feature of the new update will be the introduction of local multiplayer, with support for up to four people at once. It's one of those things that doesn't sound like it would really make that much of a difference, but it turns out to be loads of fun in practice. There's plenty of enjoyment to be found in planning out projects with a friend and then working together to realize your visions. And if you happen to be working on a project yourself, there will be scope to transfer content to other players' worlds, so that they can see what you're working on and contribute.
Of course, competitive play will be a part of the multiplayer, and there are new items and tools to help encourage this. A magic wand will add a projectile weapon to the toolset, and a new flag item will allow for players to set up their own games of capture the flag. We didn't spend much time sparring in the demo, but the possibilities seem to be full of potential.
Another major new addition will be the inclusion of texture packs to customize your world in a variety of ways. We got to see Candy, Crystal, Sci-Fi, and our personal favorite, Woolly, which somewhat emulates the look of Yoshi's Woolly World. Though these may only be implementing changes on a cosmetic level, it's remarkable how much different it can make the game feel when a new texture pack is swapped in. We were also told that more packs will eventually be made available on the eShop on a basis of paid DLC.
All told, the new update seems to do a good job of building upon the firm foundation the developer laid with Cube Creator 3D. Major features like local multiplayer and texture packs expand the experience in new ways and make it all the more interesting to build and explore the blocky worlds. Fans of the game will no doubt find plenty to love here, and it hopefully won't be too long before the update is ready to deploy and everyone can join in on the fun.