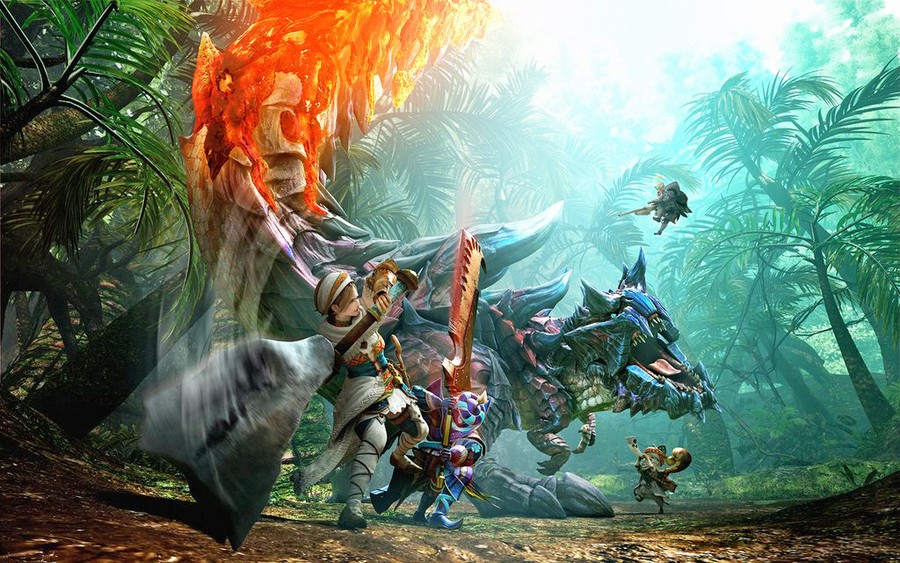 Update 2:
The European demo includes an offline tutorial and three challenges that can be tackled in co-op either offline or online. 'Slay the Great Maccao' (Beginner), 'Slay the Malfestio' (Intermediate), and 'Slay the Nargacuga' (Advanced).
Update:
If you're in Europe and have a Nintendo Account you can grab this demo right now:
Original Article:
Monster Hunter Generations isn't far away, and during today's Nintendo Treehouse stream it was announced that it'll have a demo to keep everyone busy until it arrives on 15th July. It was shown off during the broadcast, with four players tackling an Arena quest against Malfestio - that's a large, bright blue owl.
It'll be available in multiple ways. First off 'select' 3DS owners are going to be emailed two demo codes each; that's happening 'soon', so keep an eye on that inbox.
Secondly, it'll be available for all to download from the 3DS eShop on 30th June.
Finally, the demo has been added to the E3 2016 Humble Bundle Digital Ticket - it's in the $4 tier. So if you're really keen you can pay to get it, while naturally getting a bunch of other codes for a mix of PC, PS4, Xbox One and smart device downloads.
As for the demo itself, it features four player co-op, and we hope it'll follow the lead of its predecessor and support online play - for the record the previously released Japanese demo does have online play.
Let us know whether you've been able to get hold of a copy!