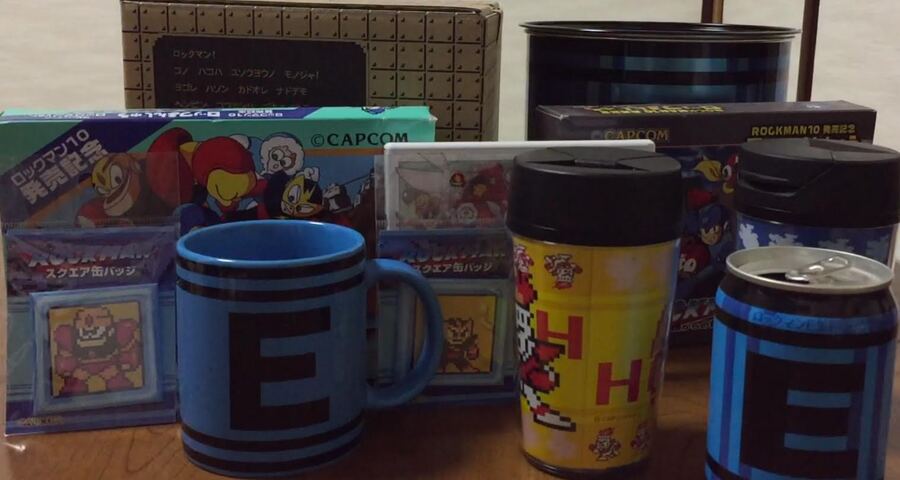 In conjunction with the release of Rockman Classics Collection (Mega Man Legacy Collection in the West), Capcom started to release some items related to the game. I thought it'd be neat to collect some of these relatively rare items and share them with you.
One of them is the "Rockman Classics Collection Fanbook", which details everything going on this Spring with the release of the game. It comes with a cool notebook too, as well as details about all the new Rockman stuff for sale in 2016. The catch is that it's only being sold at ANIMATE shops in six locations in Japan. At Ikebukuro, Sapporo, Sendai, Nagoya, Osaka Nipponbashi and Fukuoka only! There are other ANIMATE shops, like in Akihabara, but they do not carry them, and they aren't for sale online either.
It makes it frustrating, but die hard fans have sought them out. The items are mostly figures, pins and bags, but two very cool things are an Airman hoodie, and a Fireman/Iceman tumbler that you can change for hot and cold if you like. Sadly, the Airman hoodie only had the smallest size when I tried to get one. There are also a few Mega Man X series items for sale too, even though there's no re-release for that, as far as I know.
Some things promoted in the magazine have also been on sale for a while, like the E-tank energy drink and some figures. Some of the things I show off in the video below were released around the time of Mega Man 10, which are the reproduction MM1 and 10 boxes with candy inside, and the E-tank coffee mug. Also the soundtrack box was sold in 2012. Lastly, there was an event in April where some famous (maybe?) Japanese let's play video makers did a live stream on Nico Nico Douga, which is like the Japanese Youtube/Twitch.
All in all there's been some cool, albeit relatively rare, Mega Man / Rockman merchandise in Japan - take a look at some of it below.
My YouTube channel, Gajillionaire, will have regular video features on various aspects of Japanese culture. You'll see my retro gaming and Nintendo related videos here on Nintendo Life, too.