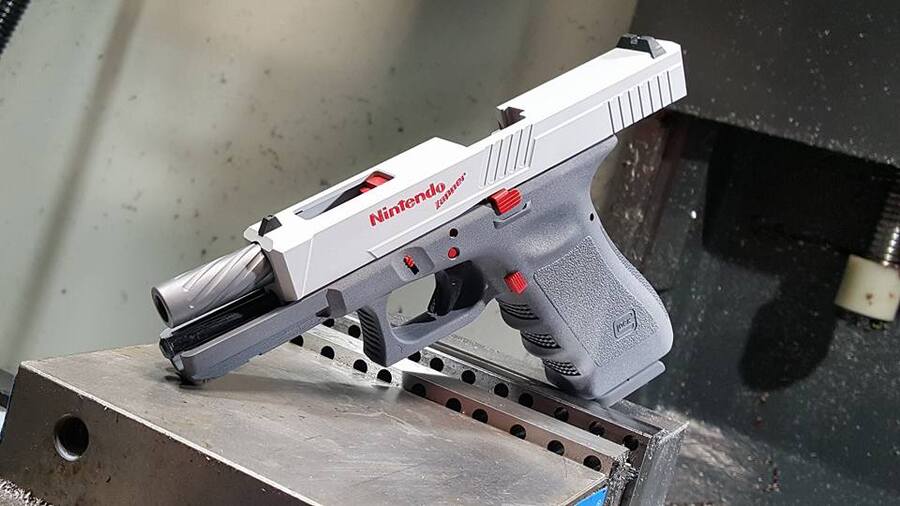 As if the United States didn't already have enough problems with accidental shootings, a custom firearms manufacturer in Texas has taken it upon itself to fashion a deadly Glock handgun in the guise of a (normally) harmless NES Zapper.
Posting on its Facebook page last week, Precision Syndicate of Midland proudly said "We weren't the first to do it, but WOW, this glock turned out good". The photos showed the deadly firearm looking very similar to a NES Zapper, complete with two-tone colour scheme and red accents, along with the Nintendo logo.
The Facebook comments predictably have been not entirely positive about this cosmetic alteration of a deadly firearm. A Facebook user calling themselves 'The Gospel of Trump' summarised the mood:
What a great idea! Because we all know, guns just DO NOT look enough like toys.
Perhaps sensing the outrage at these photos, Precision Syndicate of Midland issued the following statement on its Facebook page to appease the angry mob:
In light of the "Nintendo Glock" drama, we feel that the media and our fans need to know that this firearm will not be mass produced nor will it ever be. This is a one off custom build for a friend of ours. Do to the thousands of emails and messages we have received in the past 2 days we have been unable to contact everyone in a timely manner, please be patient we will get to you as soon as possible. Thank you all for your support! Oh, and please.. keep your guns locked up and away from children, it's common sense.
We feel it's good news that this custom Glock will never be mass produced. What are your thoughts on the NES Zapper Glock? Do you think it's just a harmless bit of fun or completely idiotic to make a deadly firearm look like a toy?
[source facebook.com]