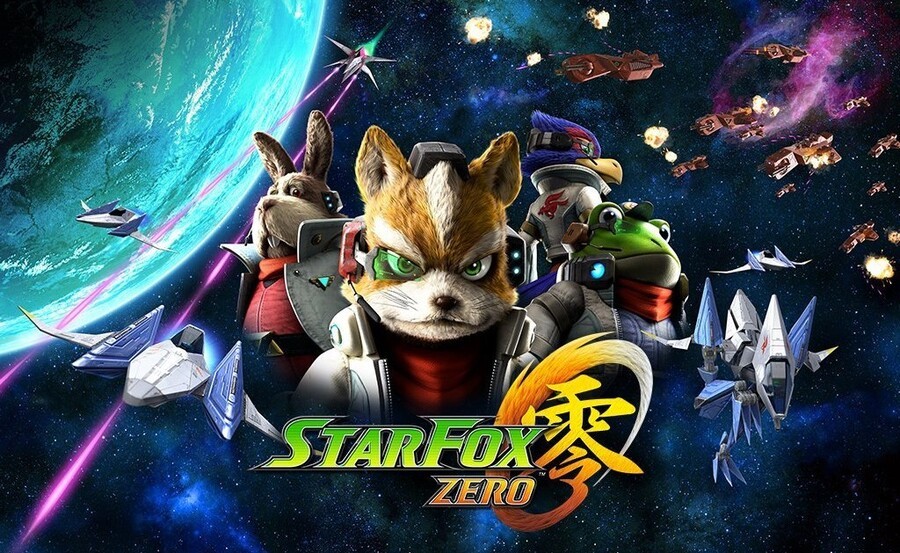 It's that time again for the North American Nintendo Download Update, and the leading games this week are undoubted those that feature talking animals that fly spaceships. Beyond that we have puzzles and pinball on Wii U alongside some last-gen minigames. On 3DS there's a mix of DLC, a demo and some discounts. Let's get to it.
Missed the European Nintendo Download Update? Don't worry, just barrel roll over to the details right here.
Wii U eShop
Star Fox Guard (Nintendo, $14.99 / CDN$19.99 or $10 / CDN$10 for those with Star Fox Zero downloaded on the same Wii U) - Originally 'Project Guard' and showcased as a demonstration of unique GamePad-based gameplay, this has emerged as an accompaniment to Zero. Your challenge is to place and then monitor 12 camera feeds, spotting incoming robots and destroying them before they take out your base. A relatively simple concept on paper, we nevertheless enjoyed it in our Star Fox Guard review. Available from 22nd April.
Dreamals (XINESS, $4.99) - This is a bright and colourful puzzle game in which you navigate animals to portals, with the main challenge being that they're limited in movement, in terms of directions they can move in. If you manoeuvre them successfully you can merge their abilities, and stages can be rather challenging as they introduce plenty of dangers and twists. Despite some flaws we gave this a modest recommendation in our Dreamals review.
Pinball Arcade (Farsight Studios, free) - A title that's been a long time coming, it lands as a free download and optional purchases, likely similar to the approach in Zen Pinball 2. Along with online tournaments tables promised for this one through regular updates include Star Trek: The Next Generation, Terminator 2: Judgement Day, Twilight Zone Creature from the Black Lagoon, Monster Bash, Medieval Madness, Funhouse, Attack from Mars, Circus Voltaire and Big Shot. We'll flip out and give this a review.
Blockara (Haunted Bees Productions, $6.99) - A title-based puzzle game, the twist here is that it's pitched as two alchemists going head to head, with a story mode focused on those characters. Puzzle and Endless modes join local multiplayer, too, while it also promises a colour-blind mode, which is a nice touch. We'll figure this one out and bring you a review.
Wii U Virtual Console
Mario Party DS (Nintendo, $9.99) - Though this series is most highly regarding for its home console offerings, portable versions do at least offer some minigames on the go. 'Download Play' multiplayer will be out, so we'll see how much can be done by passing the GamePad back and forth, while a solo campaign is an option; we'll bring you a review soon.
Wii U Retail Download
Star Fox Zero (Nintendo, $49.99 / CDN$64.99 or $45 / CDN$55 for those with Star Fox Guard on the same Wii U) - After skipping the Wii entirely we finally have a fresh Star Fox title on a home console, and it's an ambitious effort that incorporates a new GamePad-centric control scheme. In addition to flight levels there are other vehicles and control schemes thrown into the mix, along with plenty of content for players to master. We gave this a strong recommendation in our Star Fox Zero review. Available from 22nd April.
Wii U eShop Temporary Discounts
Family Tennis SP (Shin'en Multimedia, $3.74 until 12th May, normally $4.99)
Toon Tanks (Petite Games, $1.59 until 12th May, normally $1.99)
3DS DLC
Fire Emblem Fates Map: Witches' Trial (Nintendo, $1.99) - Test your battle skills in the Fear Mountain stage from the Fire Emblem Gaiden game. Also part of Map Pack 1.
3DS eShop Temporary Discounts
Shin Megami Tensei: Devil Survivor Overclocked (Atlus, $9.99 until 2nd May, normally $29.99)
Classic Games Overload: Card & Puzzle Edition (Telegames Inc, $14.99 until 9th May, normally $29.99)
Soccer Up Online (EnjoyUp Games, $2.99 until 19th May, normally $3.99)
Carps & Dragons (Abylight, $2.49 until 31st May, normally $4.99)
3DS eShop Demo
Pocket Card Jockey (Nintendo, free)
3DS HOME Themes
Fire Emblem Fates: The Men
Fire Emblem Fates: The Women
---
That's your lot for the North American Nintendo Download Update this week; let us know what you're planning to download in the poll and comments below.