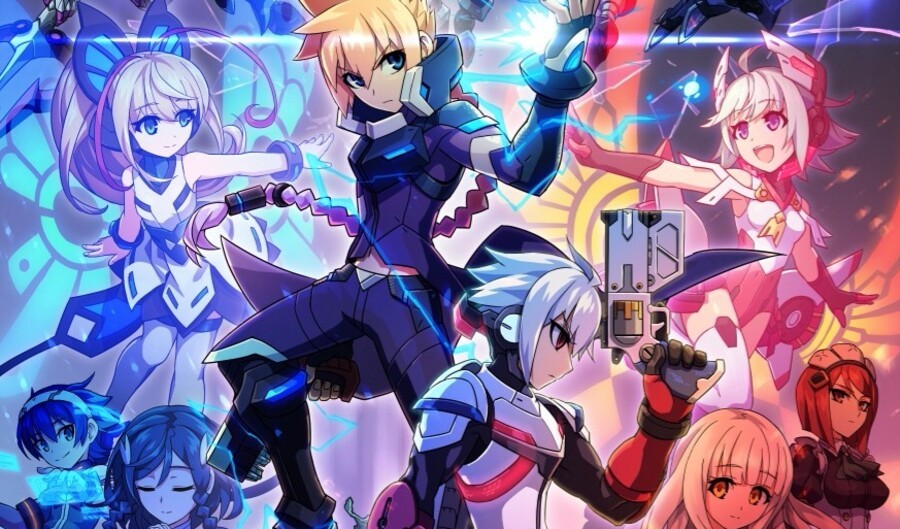 Details relating to the 3DS eShop sequel Azure Striker Gunvolt 2 have been posted up on Japanese site 4Gamer.
The side-scrolling action title - which is a collaboration between Inti Creates and Keiji Inafune - is the follow-up to the well-recieved original and boasts the kind of hyperactive 2D action that typified some entries in the Mega Man series. The report details some of the backstory and characters, and also includes some tasty new screenshots.
GoNintendo has the full translation:
Inti Creates and Keiji Inafune present the second entry into the 2D side scrolling Gunvolt saga: "Azure Striker Gunvolt 2!"

We are presenting the main visual and two new "diva" characters for the 3DS download title Azure Striker Gunvolt 2. The main visual depicts nearly all of the characters to appear in the game, and paints a picture of the game's depth.

Please imagine for now how these characters' roles will play out in the story. Azure Striker Gunvolt 2 features two playable characters with differing abilities, Gunvolt and Copen. You can enjoy an interesting story playing as either.
For now we will introduce the two "divas," who are intimately tied to each of their stories. Copen's diva "RoRo" is not only integral to Copen's story but his gameplay as well, and serves an incredibly important role. Please check out the following info about these two very important divas, Joule and RoRo.

The story and world view:

It is the near future where powerful psychic wielders known as "adepts" are born with abilities known as "septimal powers." Gunvolt thwarted the Sumeragi Group's Diva Project to control all adepts. Under the aide of a single girl, he eased his pained body and spirit... However, as time passes, this pained soldier has no time for relief. The multinational adept union "Eden." Beyond the nation's boundaries a new enemy appears, and Gunvolt and Copen will rise to face it.

Joule (CV: Megu Sakuragawa):

She exists as a spirit residing inside of Gunvolt. She was once a human with septimal powers, but was released from prison-like physical body and exists now as merely a spirit. She possesses a more bold personality than from before. Her septimal power is The Muse. By singing she can synchronize with Gunvolt and increase his abilities. Previously she had a more adult appearance, but since a certain incident she lost a good portion of her power, and now appears more childlike.
RoRo (CV: Yurika Endo):

An AI unit known as a "battle pot" developed to regulate Copen's many bit weapons. Perhaps because she was created to protect Copen, she has a tendency to see herself as Copen's guardian, but is also a little sassy. As a part of her AI development she served as a conversation partner to Copen as a little sister. She picked up the habit of calling him "Coppy." At a particular point in the story, she gains the ability to become a "digital muse" like Joule.

Introducing the battle pod "RoRo":

RoRo serves as navigation support for Copen during missions. She also has an auto guard function known as "flash field." When RoRo's energy is full she can automatically create a barrier that blocks projectile attacks. Finally, RoRo possesses the EX Weapon Mirroring attack system. She is able to duplicate (mirror) the EX weapons of defeated adepts. You can freely choose between the attacks you've gained from defeated bosses. Since it uses the battle pod's energy, the flash field guard will temporarily be unavailable after using an EX weapon.
EX weapons include:

Wide Circuit: Ordinarily creates numerous circuit-like lasers that fire straight ahead in a wide field. When an enemy is targeted, the lasers focus and do incredible damage.
Spark Stellar: RoRo's extensions create a formation that fires electricity that damages enemies direction ahead.
Tail Banker: A powerful drill attack that hits multiple times.
In addition to this news, 4Gamer also confirmed that a special announcement presentation will take place on April 26th:
Keiji Inafune will appear at the Azure Striker Gunvolt 2 presentation!

On April 26th, the executive producer and action supervisor Keiji Inafune will be on hand at the announcement presentation for Azure Striker Gunvolt 2!
Aside from Inafune's appearance, other important developments to expect at this event include a mini concert by Lumen (Megu Sakuragawa), a developer roundtable, and an actor roundtable. General admission to the presentation may suddenly close, so please await for further information about the event.

Time: April 26th, 2016 (Tue) from 6:30PM to 9:00PM.
5:30PM - Ordered line up begins
6:00PM - Event hall will open (admission during this time is OK)
6:30PM - Event begins

*When you receive your ticket, please do not come prior to 5:30PM.

Place: Pasela Grande Shibuya
Tokyo-to Shibuya-ku Udagawacho 20-15
Humax Pavilion Shibuya Park Path B1
http://www.pasela-shibuya.com/grande/

Events: Developer roundtable, actor roundtable, Lumen mini live, etc.

Presenters: MC IKKAN, Kosuke Masuo, Megu Sakuragawa, Yurika Endo, Keiji Inafune, Yoshihisa Tsuda, Munehiro Araki, Ippo Yamada, Takuya Aizu
[source gonintendo.com, via 4gamer.net]