Though the main 3DS Pokémon releases are now getting slightly long in the tooth, they continue to stay interesting courtesy of regular distributions. Now another neat giveaway is underway in the UK for those that either head to a Smyths Toys Superstore or wait for their Pokémon Trainer Club Newsletter.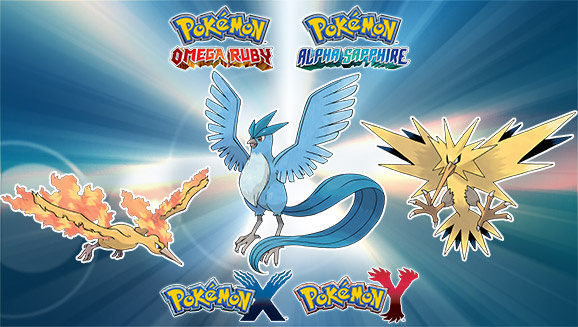 As you can see above this distribution is to get an Articuno, Zapdos or Moltres - you can only redeem one code in game so you'll need to trade with others to own all three [Update: naughty Pokémon Company, that's not true - if you get multiple codes you can get all three birds without trading]. You can either nip into a Smyths store up to 11th April to get a code, or if you're signed up to the Trainer Club you'll get a code in the newsletter. As normal these 'mon are compatible and redeemable in X, Y, Omega Ruby and Alpha Sapphire.
Also, don't forget that the Celebi distribution ends on 24th March, so grab that soon if you haven't already.
As a final point, anyone that gets the tagline reference can have a virtual high five...
[source serebii.net, via pokemon.com]