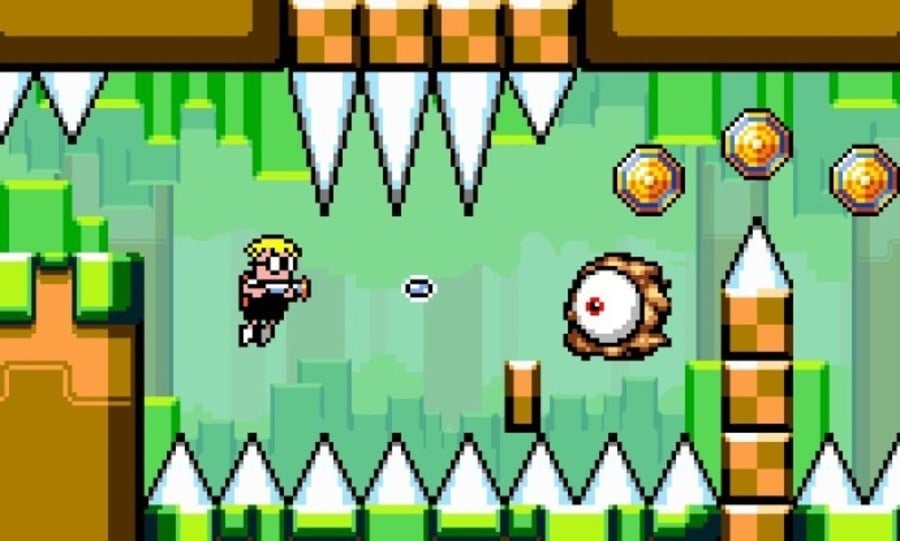 Just last week, it was announced that Mutant Mudds Super Challenge will be releasing on 17th March in all territories. The follow-up to the original Mutant Mudds may not be technically considered a sequel, but something of a 'continuation'. Naturally, this means that it's a game being tailored to the fans, and the difficulty is going to be ratcheted up another notch this time around.
Jools Watsham recently was part of an interview with VGChartz regarding the upcoming game, and he spoke a bit more about the thinking behind the enhanced difficulty. Essentially, Super Challenge is meant to pick up exactly where Mutant Mudds left off, meaning that it's early levels are intended to be as relatively difficult as its predecessor's final stages.
The goal for Mutant Mudds Super Challenge was to present a continued challenge, as if you just completed the original Mutant Mudds adventure and are picking things up directly from that moment. The original Mutant Mudds has a gradual difficulty curve that increases over time, presenting the most challenging levels towards the end of the game. With Super Challenge I threw the concept of a difficulty curve out of the window, and made every level challenging instead. Generally speaking, the levels are all equal to the "hard" levels in the original Muddsin terms of challenge. Some may lean towards being a little easier than that and some may spike up to be a little more challenging. I think Muddy fans will be well equipped to handle them.
Of course, this calls to mind the question of whether or not this game will be accessible to newcomers who haven't played through the first one. Watsham addressed this, too, mentioning that he's aware of newcomers, but is ultimately developing the game with veteran players in mind.
Yes, I do worry about that! (laughs) But, it is something that I think fans of the original game will like a lot. If I was a fan of the original, having not developed it myself, I would personally love a direct continuation of Mutant Mudds with no hand-holding and more challenge that I can really get my teeth into. Hopefully I am not the only one!
Check out the full interview here, there's lots of interesting tidbits of information to be found regarding Renegade Kid's latest.
What do you think? Will you be picking this up? Are you glad this is being geared towards fans? Share your thoughts in the comments below.
[source vgchartz.com]