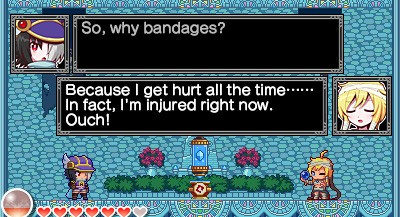 The Legend of Dark Witch was a bit of a surprise on the 3DS eShop, with the action platformer proving to be a solid addition to the store; we gave it a recommendation in our review. Publisher CIRCLE Entertainment has now confirmed some key details around the sequel, including the fact it's arriving in North America very soon - it lands on 17th December in the region at a price of $6.99; the European release is slated for February 2016.
Developed by INSIDE SYSTEM, The Legend of Dark Witch 2 will feature the same core action platforming gameplay, yet have eight stages to take on; replayability will no doubt come in the form of acquiring collectibles once again. There are tweaks to the mechanics, some of which are confirmed in the press release extract below.
- Increased number of stages to choose from
- Allows finer customization for player stats using "Tres"
- "Technical skills" can be customized not only to increase power, but add abilities as well
- New "Forbidden" items added for a wider variety of game play
CIRCLE will also be releasing four 3DS HOME Themes on 17th December in North America based on the first game; these will be $0.99. The publisher originally wanted to release more, but confirmed in recent weeks that a four theme limit was imposed by Nintendo.
Are you tempted by this one? Check out the trailer below and let us know.