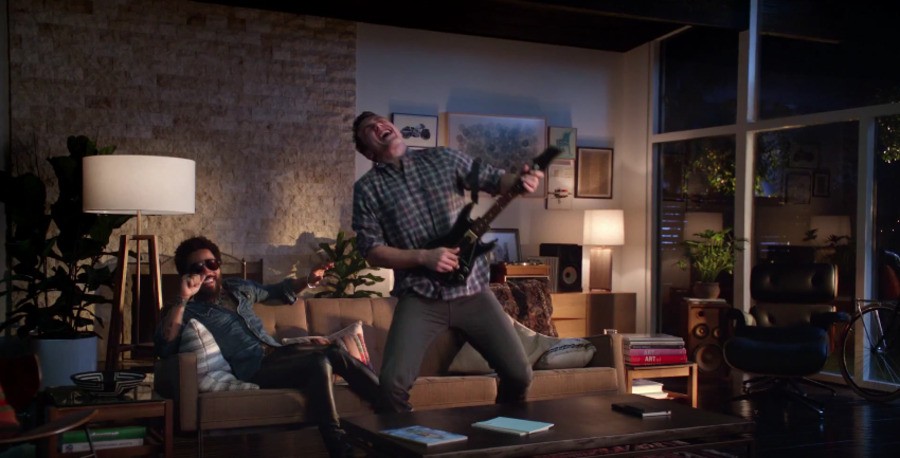 Based on UK sales, at least, the revival of plastic guitar games is struggling to truly take off. Rock Band 4 has hardly flown off shelves and we're curious to see how Guitar Hero Live performs in other territories, as the Wii U iteration is somewhat tanking in the UK charts, with the PS4 and Xbox One versions doing ok. We don't seem to be entering a second golden era of rhythm music games, but sales globally may prove that perception wrong in the coming months.
In any case, Guitar Hero Live is a good example of how modern gaming trends can change well-established ideas. Though there are a lot of tracks beyond those on the disc that you can play in GH TV - you play along to music videos - you don't actually buy these tracks. You either play random songs that come up on one of two channels or you use a 'play' to choose any track - through streaming - that you want. As we explained in our review you can earn plays through being good at the game, or naturally you can use real-world money. It's essentially paid-DLC where you're buying stream time with a song of your choice, not the song itself.
It's not been a popular move from publisher Activision, but it has now announced a free access weekend to play all GH TV songs on-demand. From 6th November through the weekend it seems 'plays' will be unlocked, which is great for those with the game as over 200 songs will be free-to-play for a weekend of rocking out.
This GH TV free play period does have a marketing purpose, as it's promoting new additions to the GH TV list, which start out as 'Premium Shows' that will then drop into the normal track cycle along with the other music videos. The press release extract below shows the new videos coming this week, while teasing a few more.
- Black Veil Brides Premium Show, which includes playable footage from the band's live concert DVD "Alive and Burning," will be live on Friday. The DVD chronicles the band's first ever recorded live performance during their successful Black Mass Tour in November 2014 at the legendary Wiltern Theatre in Los Angeles. Three of the songs from the DVD will be playable in GHTV, including "Heart of Fire (Live)", "Fallen Angels (Live)" and "In the End (Live)."
- Legendary Headliners Premium Show, including "Monster" by Paramore, "Sugar, We're Goin Down" by Fall Out Boy and "First Date" by Blink-182 is live now.

- Pop Goes GHTV Premium Show, featuring "Chocolate" by The 1975, "Believer" by American Authors and "Budapest" by George Ezra is live now.

In the coming weeks, fans can look forward to even more music, including playable concert footage and music videos from Judas Priest, Iggy Pop, Bully, Leon Bridges, Biffy Clyro, Weezer, Rival Sons, St. Vincent, Alice in Chains, System of a Down, Bring Me the Horizon and many more.
For those with the game - or planning to pick it up this week - it promises to be a fun weekend. Will you be rocking out?