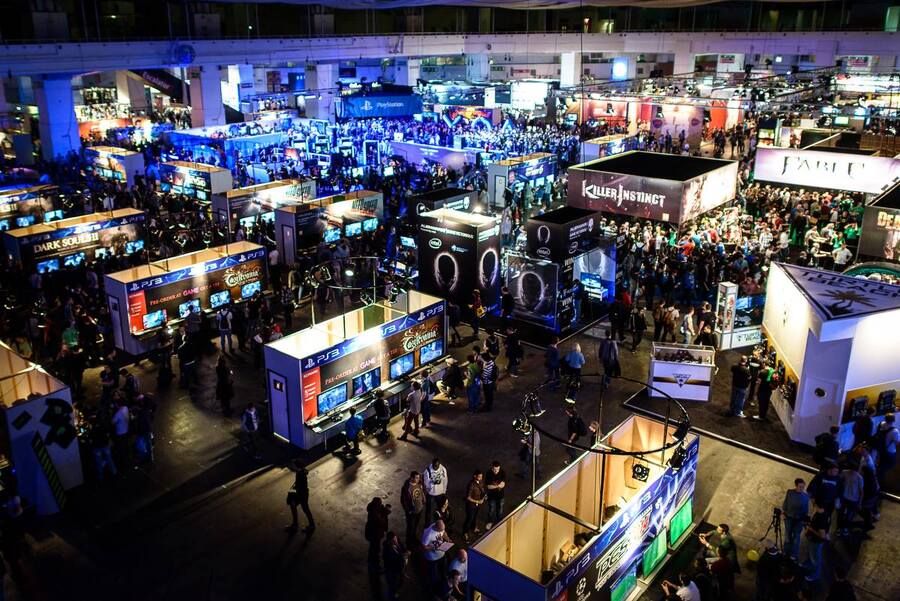 EGX (formally known as Eurogamer Expo) is the UK's biggest games event, and Nintendo Life is proud to be involved in it again (more on that soon); this year EGX will be at its new home at the Birmingham NEC on 24th-27th September. Bye bye Earls Court in London, it was nice knowing you.
Nintendo UK will have a sizeable presence at EGX this year and has announced plenty of games and events. This'll include on-stage game demonstrations of upcoming titles, opportunities to play in live tournaments, as well as a series of competitions and challenges that will run across the four days.
For Wii U fans, Star Fox Zero and Xenoblade Chronicles X will be playable, with the latter making its first UK appearance. Super Mario Maker will also feature but you'll already own that, right?
In terms of tournament events, Splatoon will have 8 'Squid Squads' of 4 players signing up to compete in Ranked Battles per session. Mario Tennis: Ultra Smash will be there ahead of launch will have head-to-head matches, and Mario Kart 8 will feature 200cc races. Super Smash Bros. for Wii U will be have the now-standard amiibo battles, so bring your little figures along.
The headline game on 3DS will be The Legend of Zelda: Tri Force Heroes, and Cosplayers will be able to show off their 'Hyrulean fashion' on The Legend of Zelda: Tri Force Heroes Cosplay Catwalk. A panel of judges will pick a winner each day to get a copy of the game when it's released, and those winners will also be entered into a 'Costume of The Show' poll to win more goodies.
There'll be a big Nindie presence, too, while National StreetPass Weekend has again been tied in with EGX, which'll have its own events.
The breakdown of games on show is as follows:
Wii U
Super Mario Maker
Splatoon
Mario Kart 8
Super Smash Bros. for Wii U
Star Fox Zero
Mario Tennis: Ultra Smash
Xenoblade Chronicles X
Skylanders SuperChargers
Nintendo 3DS
The Legend of Zelda: Tri Force Heroes
Monster Hunter 4 Ultimate
Chibi Robo! Zip Lash
Animal Crossing: Happy Home Designer
Skylanders SuperChargers Racing
Pokémon Omega Ruby
Pokémon Alpha Sapphire
#Nindies on Wii U
Mighty No. 9 [Deep Silver, Concept]
RIVE [Two Tribes]
Runbow [13am Games]
FAST Racing Neo [Shin'en]
Typoman [Brainseed/Head Up Games]
Soul Axiom [Wales Interactive]
Poncho [Rising Star Games]
Extreme Exorcism [Ripstone]
Oddworld: New 'n' Tasty [Oddworld]
Shadow Puppeteer [Snowcannon Games/Sarepta Studios]
Action Henk [Curve Studios]
Lovely Planet [tinyBuild Games]
Terraria [Re-Logic]
#Nindies on 3DS
SteamWorld Heist [Image & Form]
Shovel Knight [Yacht Club Games]
Terraria [Re-Logic]
It's great to see Nintendo UK making such a bold showing at the UK's biggest games event. Nintendo Life will be there all 4 days, so we hope lots of you lovely readers will come and join us. If you still haven't grabbed a ticket for EGX, head over to EGX's website and get one soon; they are selling out fast!