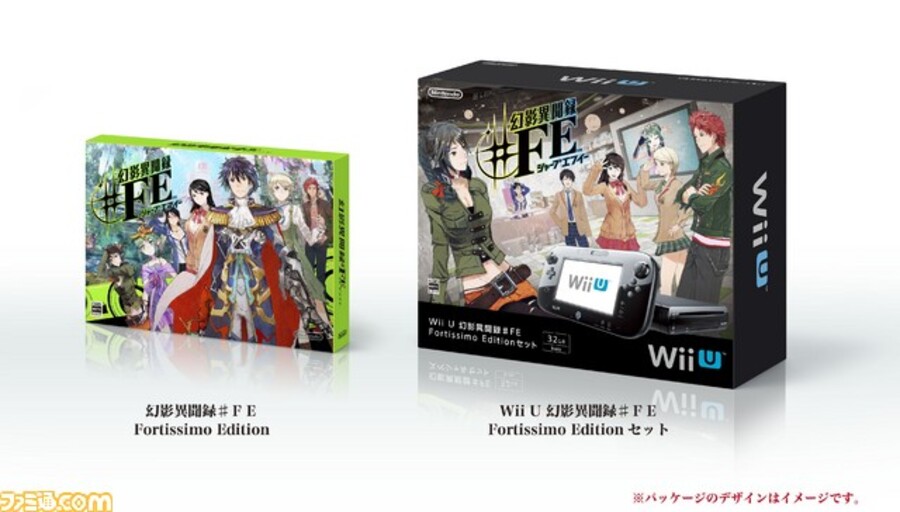 Nintendo has revealed that Genei Ibun Roku #FE - also known as Shin Megami Tensei x Fire Emblem - will launch in Japan on December 26th. As well as offering up this all-important piece of info, three bundles have been announced for the game.
The bog-standard regular edition comes with a set of costumes as a pre-order bonus. These include Walter (from Shin Megami Tensei IV), the Protagonist (from Devil Survivor 2), Rei (from Persona Q: Shadow of the Labyrinth), and the Princess class (from Etrian Odyssey III: The Drowned City).
The rather more fancy Fortissimo edition boasts special premium packaging with an illustration by toi8, a soundtrack CD with 6 tracks, artbook, pre-order costumes, some additional costumes (Fashion Show set and two Swimsuit sets for male and female characters) and a flyer to get early access to tickets for a special Genei Ibun Roku #FE Premium concert which takes place in Japan in May.
Finally, there's the hardware bundle which includes a black Premium Wii U set, all the content seen in the Fortissimo bundle, six character lyrics cards, two sheets of stickers and a download card for 3 additional "Support Quests".
The game is due for release some time next year in the west.
[source gonintendo.com, via imgur.com]