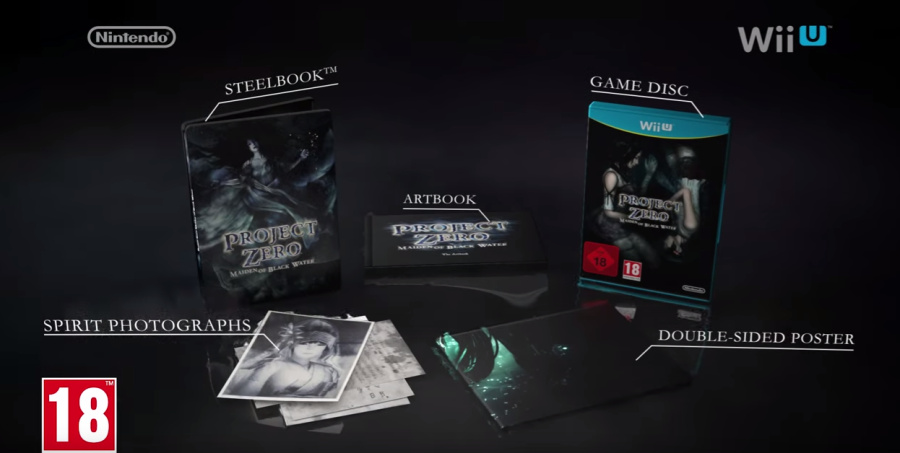 In the glut of Gamescom announcements earlier this week, Nintendo of Europe confirmed interesting details for the launch of Project Zero: Maiden of Black Water, known as Fatal Frame: The Black Haired Shrine Maiden in North America; we'll opt for Fatal Frame as our preferred title. Given a release date of 30th October in Europe, pleasingly tying in with Halloween, it was confirmed that the retail scene will only receive a Limited Edition, while on the eShop it'll be a 'Trial' download - the prologue and first two chapters will be free with the option to then buy the remaining chapters.
Some felt that referring to it as a trial or even free-to-play was excessive, and that this is merely a 'demo'; we'll politely disagree. Whereas a demo is conventionally a standalone build of a game, which can include a segment from any part of the full product, this trial is specifically designed to attract newcomers and to also get loyal fans on board with a free entry. The limited description to date suggests that a decent chunk of the horror title's opening will be free, which is where free-to-play also comes in. It's not free-to-play in the conventional sense of in-app purchases, for example, but does fall under the banner of offering a fairly hefty introduction before offering the chance to then buy the rest.
What makes the 'Trial' eShop version particularly interesting is its context alongside the physical retail equivalent. The Limited Edition available in stores will offer quite a lot - it'll have a SteelBook case, a double-sided posted, an art book and four "Spirit Photographs". It looks quite appealing, too:
We're curious to see pricing on this limited edition - will it be particularly generous and come it at a 'standard' Wii U retail price, or will all those goodies come at a reasonable extra cost that's a little above the norm for a standard physical game copy in stores? If the former, then that positions this localisation as a budget retail release, in a sense, and will reiterate its position as a relatively small title in terms of the wider market - don't take that as a slight on the game itself, we and surely a number of Wii U owners are excited about playing it.
If it's a typical 'limited edition' price, then it'll be intriguing to see how the download version pricing is put together. The limited text so far from Nintendo suggests that after the trial content you have the option to buy the rest, implying a one-off cost for the whole game. It seems unlikely that smaller bundles of chapters will be an option for less money, catering to those who want to commit to bite-sized chunks, but stranger things have happened.
The very fact that stores will only have a limited edition, and not a 'solus' disc version, is nevertheless an interesting move. It's also something that, if it works well, could become a standard practice for what Nintendo will consider to be mid-tier retail titles - games worth localising and releasing to satisfy dedicated fans, but nevertheless unlikely to sell significant numbers beyond the core userbase.
While Nintendo is a wealthy company, like all corporations it sets tight budgets and aims to maximise its profits, balancing the need to save money with the desire to keep its consumers happy. Producing boxed games naturally brings costs - in printing, distribution and manpower - and we may see Nintendo steadily move away from giving every retail game the full treatment. The new Fatal Frame isn't the first, but it's the perfect candidate for a scaled back approach - keep the retail scene and enthusiasts engaged with a limited edition, but target the majority of sales on the eShop.
This is the right move, on a practical level. As mentioned above it saves cost and resources on a game not guaranteed to shift much stock, and it also reflects the realities - especially in Europe - that retailers are shy of taking on Nintendo products that are likely to struggle. Most outlets will happily take on all the amiibo stock on offer, in addition to the biggest hitting Wii U and 3DS games, but games beyond that top-tier likely have little appeal in terms of big orders. Game stores in particular have such tight margins that some Nintendo releases, based on recent results, simply won't be tempting on a major scale.
Limited editions often perform well in small numbers, however, so it's a balanced approach to retail. This also brings us that shift to the eShop, a platform where Nintendo can sell its games without giving away shares of the money to distributors and retailers, while also saving costs on packaging. When Nintendo sells one of its own games on the eShop, the only money it needs to share is with development partners, if there are any; that's win-win.
There's also the fact that, year-on-year, Nintendo is continually increasing revenues from the eShop stores. While 'Nindie' games naturally play a notable part, retail titles play a key role as well. Nintendo's revenues from its download stores may still be relatively modest on a grand scale, but the continual upward momentum is no happy coincidence - the company's working hard to make that happen.
Sticking with retail downloads, there have been various promotions - in addition to the convenience - to tempt gamers to take the plunge. The ongoing elephant in the room is Nintendo's antiquated hardware-based - at least from the consumer's end - account system, but beyond that it's clear that more and more are 'going digital'. We've seen a steady shift from Nintendo keeping eShop prices high to encourage equilibrium with retail partners, towards encouraging fans to use the download store more. As mentioned above, the dynamic with retailers has changed in the past few years.
Ultimately, this approach of utilising retailers for limited editions and desirable collectibles but offering simple gaming options on the eShop may become increasingly common. It's something that could go further in the next generation, too - we may know little-to-nothing about the NX, but it's possible it'll continue the shift towards driving download sales. Downloads are, from Nintendo's perspective, a huge part of the 'retail' future.
We're yet to see whether Nintendo of America will adopt the same approach with Fatal Frame - perhaps the retail scene in its region will make a simple solus retail version more viable. Whatever the case, perhaps the approach coming to Europe will, in the long run, benefit fans of relatively 'niche' games. If Nintendo can make approaches like this work, and use 'Trial' versions to convert new fans to IPs like Fatal Frame, perhaps localisation of Japan-centric franchises will be even more appealing to the company. The less it costs Nintendo to bring us these games in the West, and the less risk, then the better.
Not everyone will like the idea, of course - the option of a cheaper standard boxed edition is always wanted by some - but beyond that dissent it'll be interesting to see how this game does in the West. For our money Nintendo's approach seems right in this case - let's hope it works.