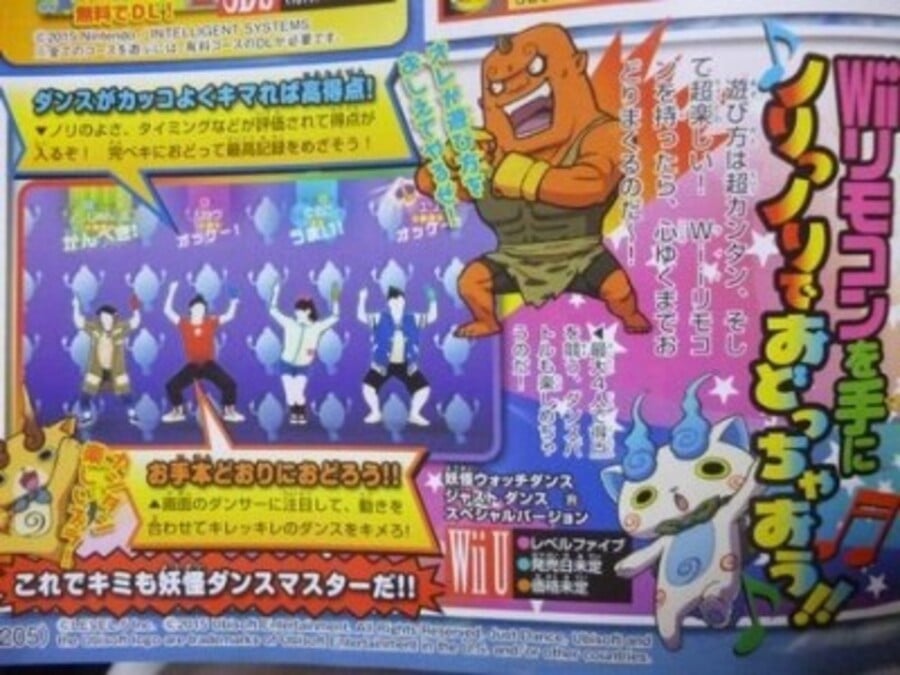 After selling millions and becoming a cultural phenomenon in Japan, it has been revealed the popular Yo-Kai Watch series will receive a Just Dance spin-off.
The latest issue of Japan's CoroCoro Magazine explains Yo-Kai Watch Dance: Just Dance Special Version is on the way to the Wii U courtesy of a surprising collaboration between Level-5 and Ubisoft.
As can be seen from the above scan, Just Dance characters will be appropriately themed as Yo-Kai Watch characters, with up to four users able to participate cooperatively or competitively in the series' infamous "Gera Gera Po" dance.
This is the first time Level-5 will work with Nintendo's latest home console. As for Ubisoft, this is one of many Just Dance titles to arrive on the Wii U so far. Yo-Kai Watch Dance is currently confirmed for Japan with a release date and price not yet announced.
Given the confirmation in April that Yo-Kai Watch for 3DS would receive a local release in 2016, as well as the popularity of Ubisoft's Just Dance series here in the west, perhaps there is a chance of a local Yo-Kai Watch Dance release.
Let us know in the comments if you are excited about the reveal of Yo-Kai Watch Dance: Just Dance Special Version for Wii U and if you would like to see a western release.
[source gematsu.com]