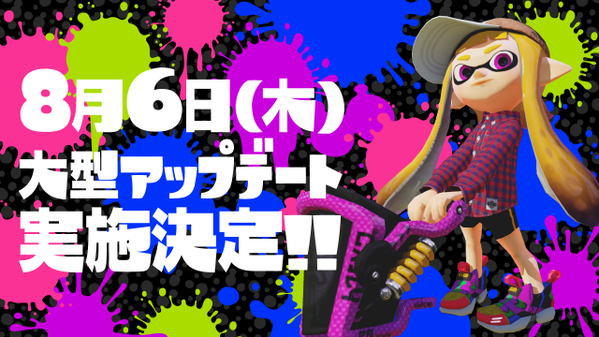 Update:
Nintendo as issued a press release which gives a few more details. The following will all be included in this update:
Squad Battle - Set up in your own teams with friends in Ranked Battles
Private Battle - Set up your own custom rooms with any team combinations up to 8 players, with options for uneven teams if desired
New level caps - Up to level 50 in Regular Battle and new S & S+ rankings in Ranked Battle
"Bucket-like Slosher weapons hurl ink straight ahead at an impressive range. By adjusting the angle, these new weapons can be used to splat opponents who are up high or even on the other side of a wall. With the Gatling-style Splatling, players can charge all-powerful ink. A maximum charge unleashes the full potential of this particular weapon type."
"More than 40 pieces of gear, including everything from a leather jacket to a sushi-chef costume are coming to the various in-game shops in Splatoon."
Beyond this update Rainmaker mode and more maps / weapons are still due in the weeks and months to follow.
Original Article:
There's exciting news for Splatoon fans, as the game's major August update is confirmed to be landing on 6th August. That's from Nintendo's Japanese Twitter account, however, though we expect the roll-out to tie-in globally.
This update is particularly high on our wishlist as it'll include Private Lobbies, which has long been in demand for those that want to battle friends or - in the case of this site - arrange community matches. It'll be interesting to see the full functionality in action.
We're also expecting a "Tag Match" option in the update, while more weapons and items are also promised; as always @Cheesemeister3K has provided a translation.
It's also worth noting that the Urchin Underpass stage will go out of rotation from 3rd to 5th August as it'll be 'under maintenance'; a re-design seems to be on the cards.
Are you excited about this major update coming to Splatoon next week? Let us know.