Dragon Ball Z: Extreme Butoden, the 2D brawler from Bandai Namco, is heading to 3DS in the West in October. While more details are sure to be shown off as release approaches, Europeans planning to pick it up have plenty of reason to be happy courtesy of some pre-order and bundle incentives.
First of all is the surprising confirmation of a rather handsome New Nintendo 3DS bundle that'll arrive alongside the game on 16th October in Europe. As you can see below it includes a black system, a pre-installed copy of the game, some gorgeous cover plates and a download code for the Super Famicom (SNES) Japanese version of Dragon Ball Z: Super Butōden 2. This is the same deal that previously arrived in Japan, but this will make it the first SNES download on the 3DS in the West.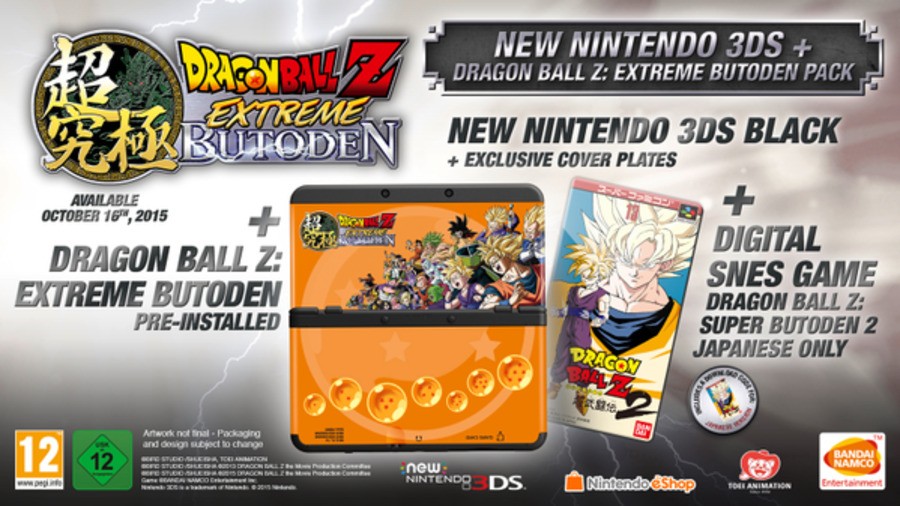 There'll also be a pre-order special edition of the game - again, confirmed for Europe right now - which will have early access to six support characters and that download code for Dragon Ball Z: Super Butōden 2.
While the idea of a SNES game running on 3DS is old-hat in Japan, it's pretty neat to see it making its way to the West.
A new trailer for this October arrival is below. Are you tempted to pick it up?
[source twitter.com]