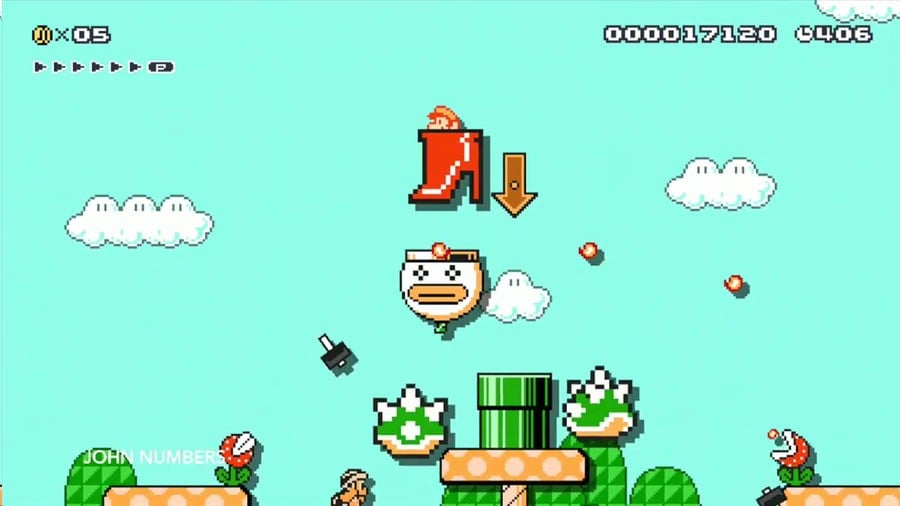 During the live Nintendo World Championships 2015 event Mario Maker made an appearance in the final round, and it's had a rebrand to Super Mario Maker.
The final challenge incorporated the visual styles of Super Mario Bros., Super Mario Bros. 3, Super Mario World and New Super Mario Bros. U; the level of difficulty in the Treehouse-designed stages was pretty brutal.
Visually there were clear tweaks that highlight the diversity of what's possible, and it's clear that each template supports all of the items from across the four styles due to the option to switch the visuals at any point. On show we saw a Kuribo's shoe in multiple visual styles, and also a peculiar new red stiletto shoe item. The tricky levels included giant obstacles and enemies, which are easily setup by applying a mushroom to any item. We even saw a haunted house stage, which was particularly complex and showed what the game's tools can do.
The general visuals were a stand-out, with new pixels and models to take the full item library across all four releases. In addition it's worth noting that the stages were lengthy, multi-room affairs, which promises great things for user creations when this arrives later in the year.
There was a highlight for Yoshi fans, too, as he appeared in the final challenge. Also, for the record, John Numbers won the Nintendo World Championships, with Shigeru Miyamoto appearing to congratulate him and runner-up Cosmo.
Super Mario Maker looked rather impressive in the Nintendo World Championships. Were you pleased with what you saw?