Well, it's happened, and it's quite a landmark for the Wii U and 3DS eShop and a few key developers. The latest Humble Bundle - which groups games together and allows you to pay what you want to unlock some or all of what's on offer - is currently offering up the Humble Nindie Bundle in the Americas; unfortunately gamers in other regions can't join in. Nintendo of America and key developers seem to have been the driving force in making this happen.
As you can see in the image below you can pay any amount to receive Guacamelee! Super Turbo Championship Edition on Wii U, and also Woah Dave! and Mighty Switch Force! on 3DS. If you pay more than $10 you also receive Stealth Inc 2: A Game of Clones and both the Wii U and 3DS versions of SteamWorld Dig. If you pay over the average, meanwhile (just over $9 at the time of writing) you also get The Fall, OlliOlli for both Wii U and 3DS and also Moon Chronicles. More games will be announced in the future, too.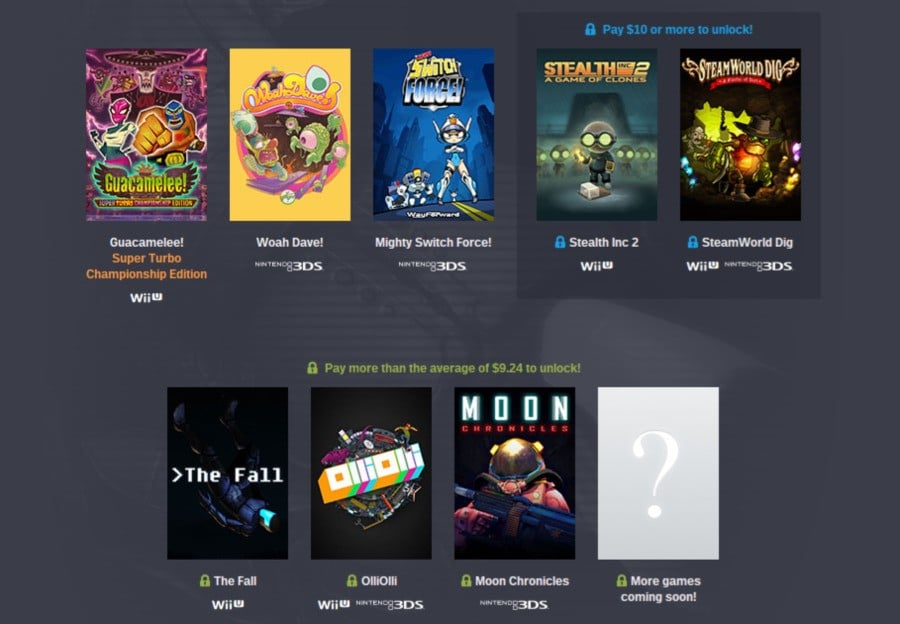 The key thing with Humble Bundle isn't only that you pay what you want, but you also choose how the payment is split up between the designated charity - in this case Code.org - Humble Bundle itself and the developers.
The bundle is already proving very successful, shifting over 5000 units after little over an hour and raising nearly $50,000 at the time of writing.
It's quite a surprise to see eShop games in a dedicated humble bundle, which mainly focuses on PC, Mac and smart device games. It's a particularly progressive move by Nintendo of America and its partners.
If you want to grab the bundle you have just under 14 days to pick it up from the official Humble Bundle website. Will you be grabbing these games and supporting a mix of charity, Humble Bundle and developers?
[source humblebundle.com]