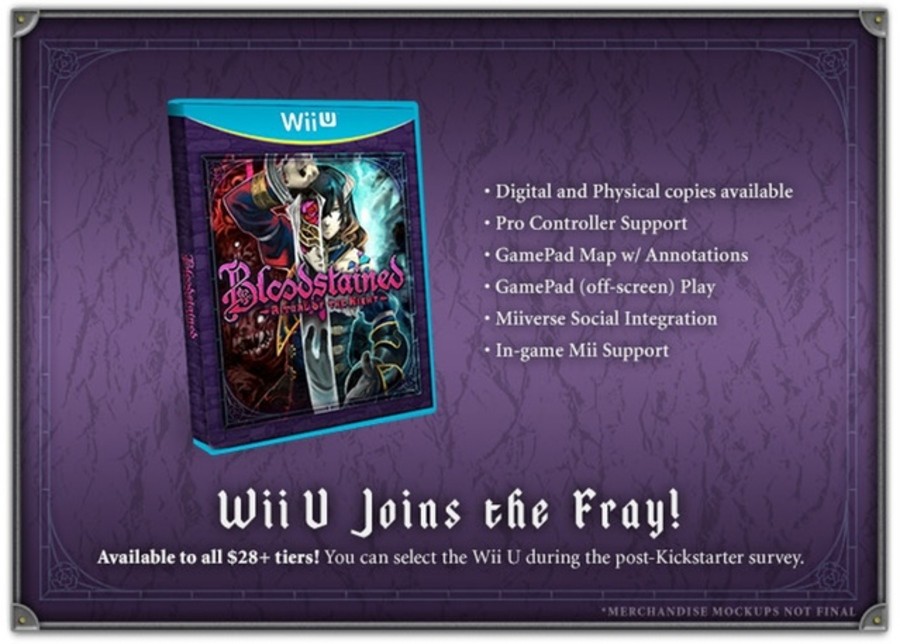 Just earlier this week, it was revealed on the Kickstarter page for Bloodstained: Ritual of the Night that a Wii U version would be made if the project reached its next stretch goal. Rather amazingly, over $250,000 has been raised over the past four days, hitting the stretch goal and guaranteeing that Nintendo fans will get to partake in this anticipated spiritual successor to the Castlevania franchise. In a pleasant turn of events, it's also been revealed that backers will be given the choice to buy either a physical or digital copy.
The Wii U port will be handled by another developer, Armature Studios, who will focus on customizing the game specifically for Nintendo's home console. This will include Pro Controller Support, an interactive Gamepad map, Miiverse integration, Off-TV Play, and in-game Mii characters. In addition to this, the next stretch goal - set at $3.25 million - will bring asynchronous online multiplayer. This will include features such as temporarily borrowing a friend's stats, exchanging ghost data, and giving small gifts (such as a gravestone with an offering being left at the spot where a friend previously died). Given the momentum this project has had, it's very likely this will make it in, as well. Here's the most recent update:
With the Wii U stretch goal achieved, it's time to provide some further details:
We're offering physical Wii U discs in addition to the digital copies!
If you're a new backer, select any $28+ tier -- you'll be able to choose 'Wii U' during the post-Kickstarter survey.
If you've already backed and you want a Wii U copy, you don't have to do anything -- just wait for the post-Kickstarter survey.
You will be able to mix and match. For example, if you've backed at the $125 Physical + Digital tier, you may select Wii U for either/both copy.

With that out of the way, we'll hand the mic over to the crew at Armature, who can explain their vision for the port:

We are super excited to have reached the funding goal for the Wii U version of Bloodstained! We're starting to plan out our feature set for the Wii U platform - some of the features we hope to pursue include:
Pro Controller Support
The map on GamePad while playing on the TV
The ability to draw on/annotate the map
Play exclusively on the GamePad (off-screen play)
Miiverse social integration
Featuring your Mii in-game
Of course, we want to know what you, the backers, are excited to see! So please let us know in the comments and give us your ideas. As we work with the game team to finalize the feature set, your feedback will be invaluable in our planning.
You've been guessing at this one for a while, so it's time to reveal a few things IGA's hoping to implement!
"Borrow" a friend's character stats for a certain amount of time (your friend will get a bonus)
Ghost Data (See friend's saved character movements while fighting a boss)
Friend's playthroughs affect your game in some way (e.g. a gravestone and an offering might mark the spot where your friend died)
Plus another surprise that we'll unveil soon...

Of course we're still in the planning phase, so who knows what we'll end up with. As always, though, IGA and the team would love to hear your ideas—how would you build a great asynchronous multiplayer experience?
Will you be picking up Bloodstained when it comes out? How do you think it'll stack up to the Castlevania games? Share your thoughts in the comments below.
[source kickstarter.com]