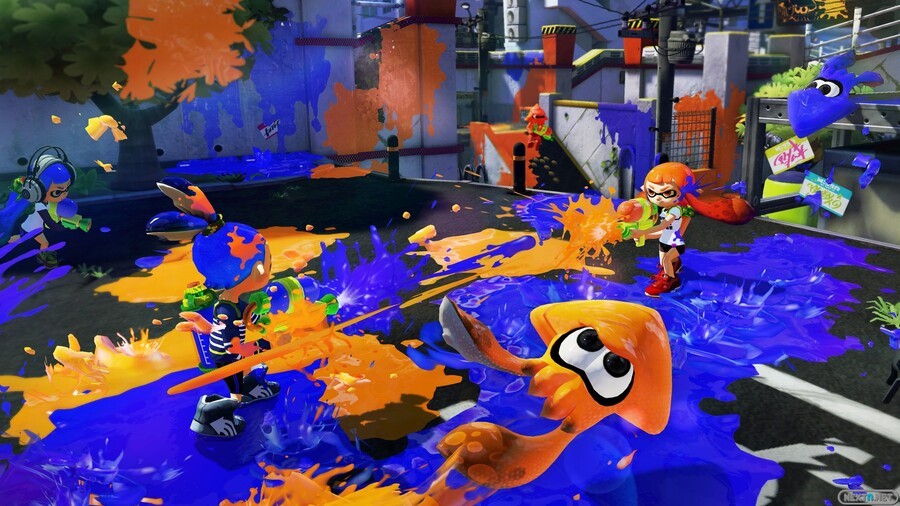 When Splatoon was revealed at E3 2014, this writer was rather unimpressed, which in the clear perspective of hindsight was a very narrow-minded reaction. Eager to see more 'hits', the oddball, super colourful third-person competitive shooter seemed like a peculiar announcement - both fundamentally Nintendo-esque and, at the same time, extremely unlikely and out-of-place.
That was clearly a minority view, however, with a positive reaction around the web to the quirky reveal. Perhaps it was the unfamiliar fresh faces that introduced it, or the fact it was a new IP and a flash of creativity among established names, but it certainly caught the imagination. It was a hit on the show floor, too, with the frantic eight player matches earning plenty of plaudits, all contributing to the sense that the big N enjoyed a strong show.
Now, due before the next LA extravaganza, we have the upcoming arrival of the Wii U exclusive. The question that's got us thinking is less whether it'll sell well to dedicated Nintendo fans and Wii U owners, but whether the shooter could be an unlikely mainstream success to add weight to those already on the console - such as Mario Kart 8 and Super Smash Bros. for Wii U. Could Splatoon join that hardy band of titles with appeal beyond the devoted defenders of the Wii U, and play its part in boosting the system's reputation with the broader gaming community? Can it even shift some extra systems in the appeal it'll add to the console?
These were some of the questions we asked you in a recent poll article, and plenty of votes were cast on these topics. In general the majority are excited about the game, but on the question of whether Splatoon will be a 'mainstream' success, a majority of over 50% shared a belief that it'll do "well with the userbase, but not sell many extra systems".
After multiple false dawns, that's certainly a fair stance. Though the Wii U's lifespan is likely to continue for a good while yet, and there's still cause to be excited for a batch of key releases, it's becoming increasingly difficult to see it rising from the ashes to sell impressive numbers of units. Even its bid to match the company's lowest-selling home console to date - the GameCube - is looking slightly forlorn, and it says much that despite a 2014 with those aforementioned big-hitters and more besides, hitting its sales target for the year is only a minor victory. When a target is as low as 3.6 million units for a whole year, hitting it isn't really worth a great deal of celebration.
Splatoon has a variety of factors that serve as potential benefits and - at the same time - flaws in its quest for significant success. It's a new IP - that's good in seeing off accusations of sequel-itis, but bad as it won't have the immediate allure of a brand such as Mario Kart. It's a shooter - that's positive as Nintendo rarely touches the genre, but a negative because the company isn't perceived as relevant in that area. It's a colourful and unique take on that style - that's good and bad in equal measure if the hope is for big sales. It has a focus on competitive team-based online action, but no voice chat.
When you also consider the unique - and brilliant - control scheme that blends dual stick control with gyroscope accuracy when using the GamePad, you have a typically Nintendo approach to one of the dominant genres in gaming. It's not first-person, sure, but it's a shooter through and through, and anarchic online action is a cornerstone of the modern gaming experience for many. Yet Nintendo doesn't go for imitation, and part of the allure with Splatoon is how peculiar yet instinctive it is to play - the experience is a similar light-bulb moment to when we first pointed a Wii Remote and fired our arm cannon in Metroid Prime 3: Corruption. It just feels good.
Yet how will this play with the wider gaming population, and importantly those that have been on the fence with the Wii U as a whole? In terms of exposure and media coverage the signs are positive. Nintendo held simultaneous Splatoon press events in North America and Europe recently, and the resulting coverage pleasingly infiltrated a variety of sources, in the majority of cases singing the praises of the title. We've seen extensive coverage on multi-platform gaming websites, the prestige of the cover and a positive write-up in EDGE magazine in the UK, and a fair amount of YouTube coverage. Nintendo may still be clunky in its dealings with the video platform, but attendees at these events - that led to coverage - had millions of subscribers between them - examples included Smosh Games and ProJared.
It'll be fascinating how much it'll all pay off, if at all. We've been saying for a while that the Wii U must surely be getting close to a critical mass of can't-miss exclusives that'll improve its fortunes. Is that a forlorn stance, or can Splatoon be an important part of the puzzle?
Marketing over the next two months will be important, undoubtedly, in getting awareness of the title to as many people as possible to give it a chance of succeeding. It'll arrive in a similar backdrop to previous major Wii U games, with the console a distant third place (behind PS4 and Xbox One) in terms of attention, shelf space and buzz. Yet having garnered positive press from that wide range of sources in the past couple of weeks, Nintendo does at least have some momentum to work with. Just how hard will it push is the ultimate question.
For a number of years Nintendo success has been reliant upon producing hits that seemed inconceivable beforehand. The Wii and DS, and so many of the games that defined them, could have been written off at the time as peculiar and out-of-touch, yet they seized the day with the public at large. Now, in a tougher world with a dizzying amount of diverse competition - which has seen the Wii U struggle and the 3DS battle gamely on - Nintendo is looking for winning formulas once again. Familiar franchises keep the devoted going, but what's next to win over the wider consumer-base is the challenge.
Splatoon is perhaps unlikely to be a smash hit for the ages, but it's the sort of product that could be an important reminder of how Nintendo sets about winning over audiences that have arguably moved on - whether to 'casual' gaming on tablets, or 'serious' gaming with headshots and mature ratings. It's not Nintendo's first dalliance with the shooter genre, of course, but its emphasis on competitive online - even without voice chat - and its quirky approach makes predicting its reception a tough call. Will it be written off by the unconverted as another oddball experiment by Nintendo to admire but not actually buy, or will it genuinely raise eyebrows - and sales - with its mix of unique controls and mechanics?
This is a shooter, remember, where taking out enemies is actually the secondary task, where area domination is vital not only to win but for quick travelling and 're-loading' by topping up ink. It's a smorgasbord of Indie-style ideas, but with a multi-billion dollar corporation and a particularly talented team behind it.
Splatoon may ultimately end up as another success 'by Wii U standards'; yet maybe, just maybe, it can aspire to be more than that.