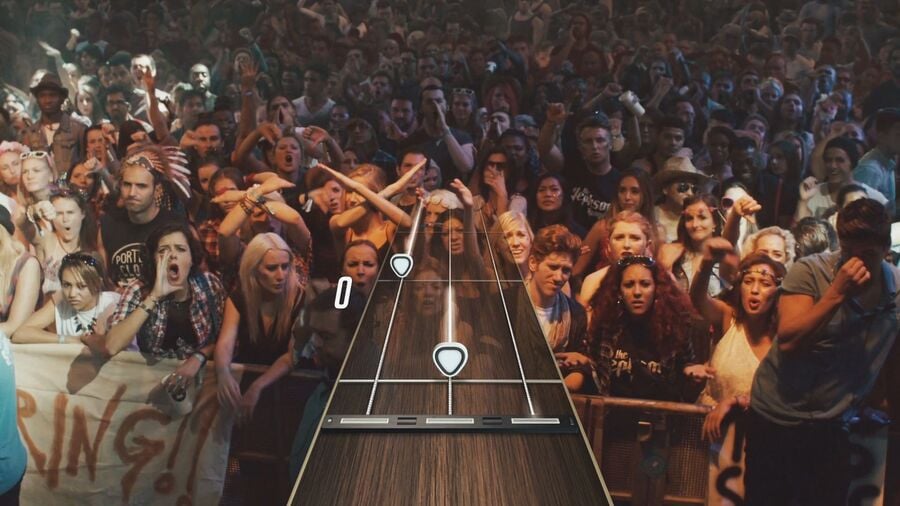 Yesterday saw the official unveiling of Guitar Hero Live, the next entry in the long-running music game series. The new game uses live action footage to place you in the shoes of a leading rock guitarist, and will boast an entirely new peripheral to strum on.
Guitar Hero isn't the only music franchise that is getting resurrected, though - Rock Band is also getting a sequel this year. However, the approach being taken by these respective franchises couldn't be more different; while Rock Band developer Harmonix is hoping to grant access to previously-purchased DLC tracks and offer support for existing controllers, Activision - along with Guitar Hero Live developer FreeStyleGames - is being very clear on the fact that this new entry represents an entirely fresh start.
FreeStyleGames Creative Director Jamie Jackson has been speaking to Eurogamer about the new outing and why it won't be offering connectivity with the past:
We recognise times have changed. It's not our intention to put another disc out next year. And the same with the guitar. This guitar is the one we want to have for a long time.

It's our intention that we're going to launch this game in 2015 and with GHTV we're going to be able to constantly give you new music really quickly. And we can see what you enjoy as well and we can respond to that. If we in the studio discover some music we think is really rad, we can give it to you as well.

It's not 2010 any more. There are not many other games that let you use stuff you bought back then in their games now. The difference with this is, it's completely different gameplay. So, quite simply, the DLC you bought just won't work. The guitar is different. The way we've presented it is different.
While some might be annoyed that they can't access content they've already paid for - or use their existing controllers - the fact that Activision and FreeStyleGames seem to be abandoning the yearly update approach means that, in the long run, Guitar Hero Live should offer better value for money, with updates coming in downloadable chunks rather than full-price boxed editions every 12 months.
How do you feel about this news? Let us know by posting a comment below.
[source eurogamer.net]