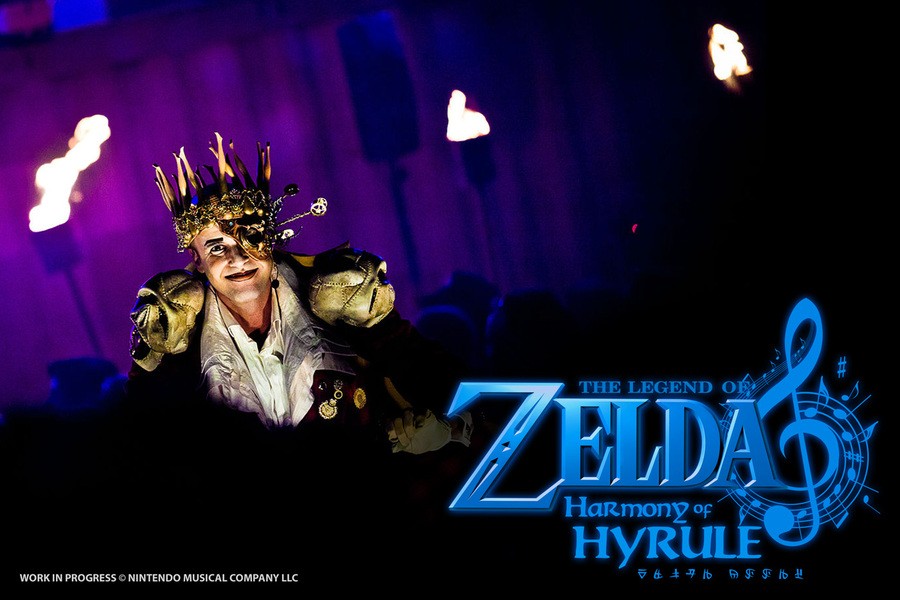 When rumours of a Legend of Zelda TV series on Netflix circulated, there was an understandable mix of trepidation and excitement; its description of "Game of Thrones for a family audience" certainly raised eyebrows. However, Nintendo President Satoru Iwata subsequently came out and said that the apparent leak was inaccurate, though stopped short of denying it completely.
As of now, I have nothing new to share with you in regard to the use of our IPs for any TV shows or films, but I can at least confirm that the article in question is not based on correct information.
That hesitant tone from Satoru Iwata has paved the way for an interesting twist in Nintendo's use of the famous IP. After weeks of digging by our internal source, 'Red Squirrel', we now have details of big plans for The Legend of Zelda in the form of a big-budget musical theatre production. Called The Legend of Zelda: Harmony of Hyrule, the Hylian sub-title (as seen in the promo images) is considered an important feature to win-over long term fans. Initially planned to launch with a high-profile debut on Broadway, it'll then follow the lead of the Zelda Symphony and embark on a tour throughout North America, before a stint in London's West End and subsequently Europe and Australia.
It's a bold move, yet behind the scenes there's confidence that the series' rich musical history and strong writing can make the show a mainstream family hit. With musicals being the most successful genre of live theatre, the brief is to further enhance awareness of the Zelda brand and strive for money-spinning longevity to match mainstays such as Cats and Les Misérables, while a future film adaptation is possible.
As for the tone, writing is still in progress, but there'll be a mix of drama, romance and comedy - the soundtrack itself is considered to be contemporary jazz infused with orchestral symphony, at this stage. Though he'd likely only be available for a short initial run due to his salary and existing commitments, meanwhile, there's talk that Adam Sandler - the divisive but hugely successful comedian - can be tempted into the role of Tingle. Cast positions for the largest roles will likely target those with pedigree in both acting and musical theatre - 2014 Tony award winner Neil Patrick Harris is considered the calibre of artist that could tackle the tough role of a mute Link and attract ticket sales. Regular Tony award nominee Kelli O'Hara could be an experienced hand for the role of Princess Zelda. At this stage, though, no formal approaches have been made.
Early script-writing is underway, with some of the following being working titles for songs.
Hyrule My Heart
It's Now Twilight, Princess
A Song for All Time
Let it Poe
Link, It's Time to go to the Past
Lasso the Moon for Me, Baby
Castle Town Funk
(I Can't Get No) Bombs
Smells Like Fairy Spirit
While we're some way off seeing this production take to the stage, it'll likely attract plenty of attention; we'll be intrigued to see how it'll be announced by Nintendo. A musical Direct, perhaps?
Will you be donning the glad rags for a night at the theatre with Link, Zelda and Tingle? Let us know, and practice those jazz hands!