Unlike last week's Famitsu magazine, this week's magazine featured much less information on upcoming Nintendo games. One Famitsu magazine each month serves as a recap magazine for the gaming news of the past month, with some new information peppered throughout. Unfortunately, this means there are no reviews in this week's copy. Recapped were only two noteworthy Nintendo games: Puzzle & Dragons: Super Mario Bros. Edition and Xenoblade Chronicles X. However, Stella Glow, an upcoming Japanese RPG, and a gem matching game called Funassyi vs. Dragons were also discussed.
The four­ page spread on Puzzle & Dragons: Super Mario Edition focused on power ups and different characters available for the upcoming 3DS title. Small Mario, for instance, has a leader skill which gives all allies, regardless of type, a 1.2x stat increase when he makes a combo of two or more. Several thematic types of Mario, including Tail, Ice, and Fire, come paired with an ability that gives certain elemental themed allies an attack bonus of 1.5x. For instance, Tail Mario gives woodland allies the attack increase, while Fire Mario gives the same increase to fire type allies.
However, other types of characters, such as Penguin Mario, offer bonuses that aren't so black ­and ­white. For example, Penguin Mario gives the player the ability to "dive," which in turn changes star gems into water gems. Ghost Luigi, on the other hand, can freeze time and give the player breathing room to make smarter decisions.
Famitsu's cover of Puzzle & Dragons: Super Mario Bros. Edition also mentioned mini­games are present. Mini-games aren't new to Mario games; from as early as Super Mario Bros. 3, matching pictures and faces have awarded players power­ups. In the Puzzle & Dragons edition, it's really not much different. Mini­games award players power­ups that help outfit characters while tackling dungeons. Furthermore, Japanese gamers who pre-order Puzzle & Dragons: Super Mario Bros. Edition can nab a nifty special edition pen. Sorry, Western countries — it appears the pen is only available in Japan.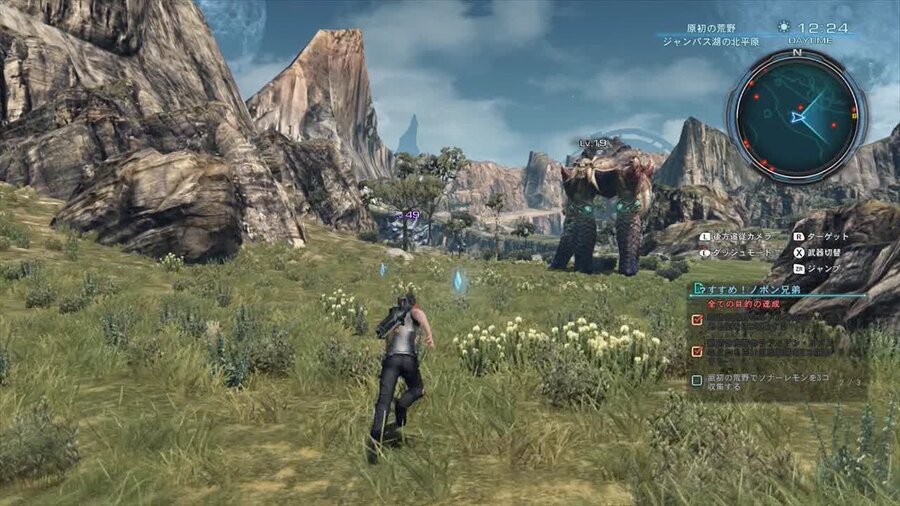 Recently, Nintendo Life covered two online presentations detailing both the field and battle system present in Xenoblade Chronicles X for the Wii U. The Famitsu spread covered similar ground. For the first two pages, Famitsu took a shallow look at five massive explorable areas in the game. These include a landmass akin to Gaur Plains from Xenoblade Chronicles, with bright green cliffs silhouetted against blue skies, a night forest full of phosphorescent plant and animal life, a dry, dusty desert littered with massive animal bones, a bleak area filled with white sand and white cliffs, an almost tropical southern landmass, and the foreboding "black metal island," complete with lava and mountains straight out of Mordor.
The second part of the recap took a look a look at a couple characters last week's battle presentation detailed. These include Doug, a sensitive member of the Avalanche Union, who wields heavy weaponry, and a representative of the Path Finder Union named Rao, a man with dark hair and a trustworthy demeanor. For more information on Xenoblade Chronicles X, check our past summaries of the game.
Next up was Stella Glow, a tactical role­playing game developed by Imageepoch for the Nintendo 3DS. The game features a grid­based isometric view for battle, which zooms in close to characters when attacks are performed. It's reminiscent of Fire Emblem: Awakening or the Disgaea series. Characters in the game utilize special song magic that can be activated through a tuning mechanic, although this mechanic wasn't explained in great detail. Stella Glow looks like a very colourful, Japanese­-anime inspired role­playing game that may be worth a look. However, a western release date has not been announced at this time.
More information on Stella Glow can be found here.
This is a 3DS game likely never to see a Western release. Funassyi, a popular mascot representing the Japanese city of Funabashi, Chiba, has become incredibly popular in recent years. Funassyi is, more or less, an anthropomorphic pear, and its game will follow in the footsteps of Puzzle & Dragon's massive success in the country. It's interesting for a city mascot to receive its own game, as most prefectures and major Japanese cities have their own mascot representative. Maybe this is the beginning of a trend. Funassyi vs. Dragons will feature simple gameplay involving the matching of green, blue, purple, yellow, and red gems to clear a stage and navigate through the story. Clearly, the massive popularity of Funassyi and Puzzle & Dragons spells profit when combined together.
That's it for this week in Japan. Next week should see a return to a normal Famitsu schedule, with more Nintendo news, reviews, and previews in abundance.
Are you looking forward to Xenoblade X or Puzzle & Dragons: Super Mario Bros. Edition? What about Stella Glow?
Thanks again Bill Alexander for helping us translate!