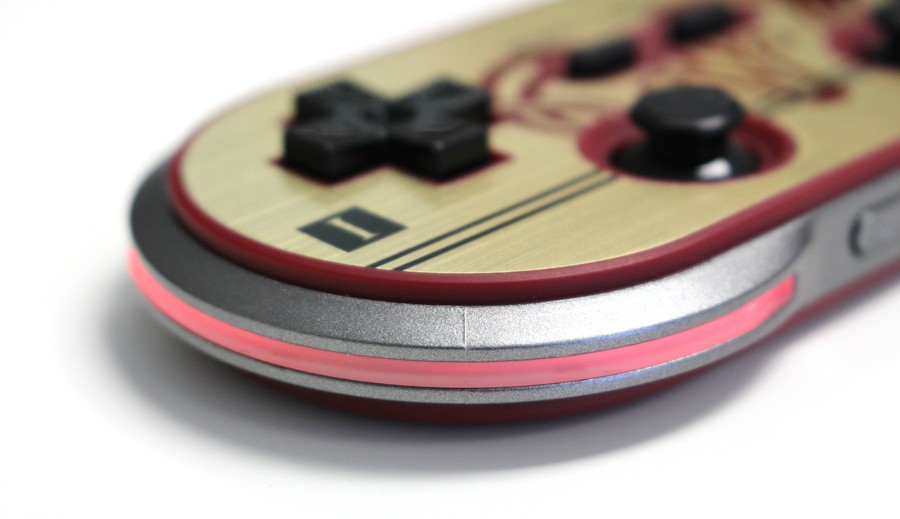 Remember the 8Bitdo NES30 pad we reviewed a while back? It was a likeable take on the whole Bluetooth gaming pad concept which looked and felt like a genuine NES pad from back in the day. The makers of that particular controller are back with a revised unit, and this time it's focused on the NES' Japanese counterpart - the Famicom.
The FC30 Pro Controller is compatible with Android, iOS, Mac OS and Windows, and like its forerunner uses either a Bluetooth or USB connection to get things done. It's packing a D-Pad, dual analogue sticks, four face buttons and four shoulder buttons - the original NES30 pad could only muster two shoulder buttons. It has an internal 480mAh rechargeable battery which can be topped up using a standard MicroUSB cable (one is included in the box, but you'll no doubt have several lying around the house regardless), and the MicroUSB port can also be used to update the pad's firmware.
The big difference in terms of design is the move away from the square edges of the NES design to a more rounded shape, like the SNES pad. This is a rather unusual change as the original Famicom controller was more like the NES pad, but we're not complaining - the ergonomics are much improved thanks to this alteration. You'll also notice cool LED lights running around the edges of the pad which are used to denote connection status and whether or not the pad is charging.
As before, connecting the FC30 Pro is a breeze. On Android, it is detected as a joypad so mapping the buttons is easy. iOS is a little more tricky - you can connect it as a Bluetooth keyboard or use iCade settings to replicate the inputs of that particular device. Another option - for both Android and iOS - is using the dedicated FC30 Pro application to place on-screen buttons over touch-screen games and map those to inputs on the pad. Companies like Nvidia and Archos have used similar apps in the past, and they work well enough - especially when you have games which haven't been updated to support physical controllers.
Also like before, the FC30 Pro comes with very basic Wii support as well. Sadly this element of the pad's functionality hasn't changed a great deal and it remains a very hit-and-miss affair, with dropped connections and unresponsive games. The lack of any kind of pointer capability means that navigating your Wii menu is tricky, and if you wish to use the pad in single-player you have to keep removing the batteries from your standard Wii Remote. We get the impression that manufacturer 8Bitdo is aware of this as the packaging doesn't state that it's compatible with the Wii - it's only when you delve into the instructions that this becomes apparent.
At $49.99, the FC30 Pro isn't cheap - the NES30 and original FC30 can both be purchased for almost $20 less - but it's still a good option if you're looking for a decent Bluetooth controller. It's small, well-built and versatile enough to see regular use. We just wish that Wii support could be beefed up a bit, because at the moment 8Bitdo might as well not even bother including it.
Thanks to Willgoo for supplying the controller used in this review. A NES version is currently available for pre-order.