When it comes to pre-order and 'first run' extras, Atlus seem to be top of class on the 3DS. For the standard retail price you typically get a nice art book, a CD, or perhaps even both; all as a reward for being an early adopter.
That's also the case with the upcoming Etrian Mystery Dungeon release in North America, but the publisher has also partnered with Crunchyroll - which has an app on the Wii U in the region - for an even better pre-order deal. In addition to all of the existing treats, this bundle also includes a t-shirt and a mystery bonus item. In total, including the existing extras, it brings the following: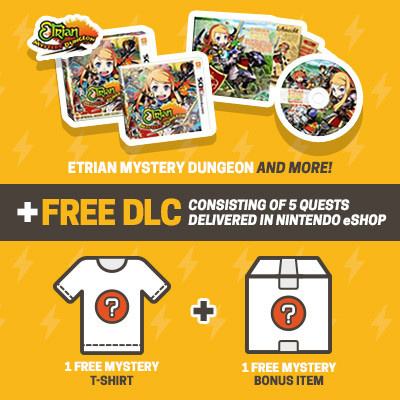 A twenty-eight page artbook.
Official soundtrack CD.
FREE DLC of five quests.
One FREE mystery video game t-shirt.
One FREE mystery bonus item.
As for the mystery item, the product page says the following.
The mystery bonus item could be anything; it could be various video game-related merchandise including another video game from any platform, promotional keychains, collectible strategy guides, video game soundtracks, action figures, etc.
It's a great deal, and well worth considering for those tempted by this RPG dungeon crawling mashup.
[source crunchyroll.com, via gonintendo.com]