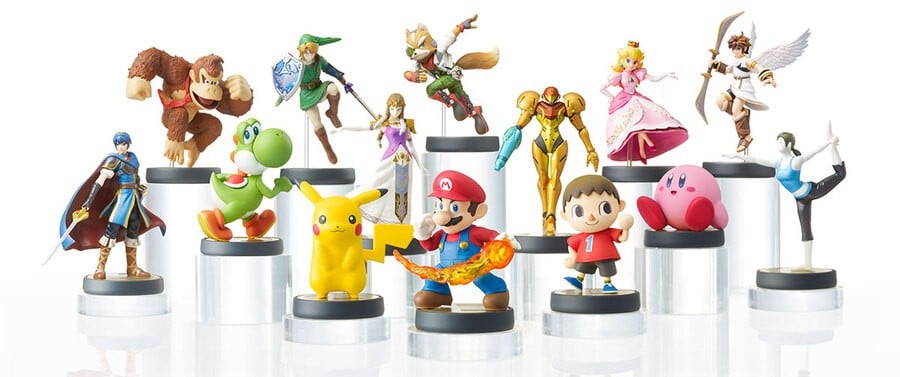 Nintendo's take on the "toys to life" concept - amiibo - has been a roaring success, even if the lack of stock has proven to be an annoyance for serious collectors.
The figures are selling well and consumer awareness is high - and, with the introduction of the New Nintendo 3DS, the number of people who can buy and use amiibo has grown massively. Despite this success, Nintendo boss Satoru Iwata doesn't feel that we've seen everything that amibo can offer yet.
Speaking at the recent Financial Q&A, Iwata picked up on the fact that amiibo is different from its rivals Skylanders and Disney Infinity because each figure has different uses depending on the software. As a result, it is difficult to communicate the worth of the figures at this moment in time:
We do not think that we can fully convey to consumers the full potential of amiibo yet. This is because the way consumers use the figures for Activision's "Skylanders" game or Disney's "Disney Infinity" game is not exactly the same as the way they use amiibo, and to make things slightly more complicated, amiibo use varies depending on the software.
If we use "Smash Bros." as an example, players can use amiibo to train the figure player (FP) in the game, and the FP's improved capabilities will accumulate in the NFC chip installed inside the amiibo figure. By using amiibo, players can nurture their own players, who can be either allies or rivals in the game. While this is one unique way to use amiibo in a game, in "Mario Kart 8," when you tap amiibo figures to the NFC touchpoint of the Wii U GamePad, your racers receive special racing suits that you cannot obtain elsewhere. And, the new download software example I explained in my presentation earlier is where amiibo can be used in place of, in a sense, a ROM cartridge to play some portions of certain NES and Super NES games.

We will continually propose different play styles that take advantage of amiibo. But first and foremost, we understand that we have to change the current situation where many people are still wondering what they can do with amiibo. We will persist until consumers understand that they just need to tap the amiibo figure and something will happen, and will excitedly try it with a variety of software. If we can achieve this, amiibo will become a precious possession for our consumers, so we definitely want to bring it to fruition, but in doing so we also understand that it will take some time.
It's interesting that Iwata has touched upon the confusion surrounding what amiibo figures do in each compatible game - this was a concern that we at Nintendo Life had prior to the release of the range - but the Nintendo boss feels that people are slowly becoming accustomed to this quirk:
Now that there is a certain level of awareness that amiibo figures can be used with multiple software titles, we believe we will be able to dramatically improve the situation for amiibo by increasing the number of amiibo compatible software titles.
Iwata also picked up on the fact that bringing amiibo to 3DS - via the New Nintendo 3DS and the forthcoming NFC adapter for older models - will have a dramatic impact on the popularity of the range:
Because "Super Smash Bros. for Nintendo 3DS" became compatible with amiibo last week, I was watching the amiibo sales in Japan with great interest. We were able to confirm that a small increase was found in the popular amiibo characters. On the other hand, because more than a few popular amiibo characters were already sold out, we could not make the simple week-on-week amiibo sales comparison to judge the influence of the New Nintendo 3DS compatibility.
Now that New Nintendo 3DS is compatible with amiibo, the number of amiibo compatible hardware systems has suddenly almost doubled in this country, so it is impossible to deny its impact. And when we release the NFC reader/writer peripheral for Nintendo 3DS, there will be another sudden increase in the number of amiibo compatible hardware systems. We would like to increase the value of amiibo by doing various things, including expanding the compatible hardware.
Finally, Iwata addressed a question regarding the profitability of the amiibo toys. Given the fact that each figure varies in size - compare Bowser to Link, for example - it's clear that the production cost of each one will be different. However, Iwata states that Nintendo settled on a standard price across the entire range to avoid giving the impression that some figures were somehow "better" than others:
We have been selling amiibo at the same MSRP so that consumers will easily understand its price point. However, I think you can easily tell just by looking at several amiibo figures that production costs vary for each one of them; some amiibo have a more complex structure and a greater number of colors, which means they cost more to produce than others.
Nevertheless, since setting different price points could be misinterpreted as the company valuing certain characters more than others, we came to the decision to set an MSRP that would return a profit from the amiibo platform as a whole. I just mentioned in my presentation today that we will also sell card-format amiibo products. By taking advantage of the shorter delivery time and lower productions costs for card products, we would like to further expand how amiibo can be used in yet more play styles. In addition, our development team has been testing various forms of amiibo other than plastic figures. We hope we can propose amiibo products in various forms in the future.
[source nintendo.co.jp]