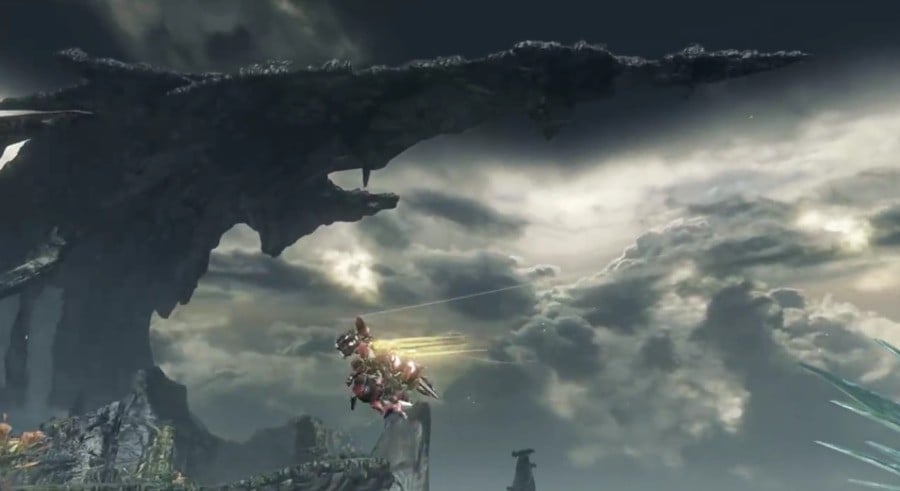 There are a number of exciting games already confirmed for release in 2015, and in terms of the Wii U Xenoblade Chronicles X - referred to as Xenoblade X / Xenoblade Cross in Japan - is one of the most ambitious and enticing projects.
Its 2015 release window had been one of the most doubted when it was shown off last year, simply due to the scale of the game and the required localisation effort. The recently confirmed 29th April release date in Japan and Nintendo reiterating 2015 for the West last week renewed optimism, however, with development of the huge RPG surely in its final stages.
Further positive thoughts are now here courtesy of the latest tweets from the development team. These have been a regular feature in past weeks, but the most recent updates state that localisation work is "well underway".
[Kawabata] This is a sudden introduction, but nice to meet you. My name is Kawabata and I work as Xenoblade X's producer. From now on, Monolith staff other than Takahashi will be using this account to send out Tweets to you all, with me taking the lead.

Counting, it's been about 5 years since Xenoblade's release meaning you've all been waiting for a long time, but, speaking honestly, it feels like a long time even for those of us working here. On top of that, we're also well underway with localization work, too.

However, I believe we have created something that you will feel was well worth the wait, so I hope you can remain patient for the game's release a little while longer.
Also of interest for those following this one closely is a translation of the story page on the official website, below; it largely expands upon and reiterates the backstory we've seen in trailers.
July, 2054C.E.Earth became entangled in a war between alien civilizations.A war fought with weapons that far surpassed our own technology.
Without knowing why, we suddenly found the Earth overrun and the land scorched. The joint government, having previously predicted the disastrous effect of a war in space close to our planet, set into motion their 'Earth Species Emigration Plan' and citizens from major cities across the globe were evacuated on interstellar evacuation ships.

Forced to evacuate our sacred home of 4.5 billion years.

Tragically, many of the ships where shot down while escaping Earth's gravity and few ships managed to make it away from the planet safely.

'The White Whale' was one of the ships that managed to escape.

Leaving the Earth behind, the White Whale roamed the galaxy for 2 years.

Then, despite managing to escape the Earth thanks to good fortune, the aggressor alien forces from Earth finally catch up with the ship.

In the desperate battle that follows, the action of one heroic solider successfully defeated the pursuing forces, but the White Whale sustained heavy damage to its engine.

No longer capable of flight, the ship is captured in a hitherto unknown planet's gravity, and breaks apart as it plummets towards the planet's surface.
Then, two months later...
So there you have it, some more snippets to tide us over while we wait for Xenoblade Chronicles X. If you're not sure what all the fuss is about, the trailer below from last week's Nintendo Direct broadcasts should help you out.
[source neogaf.com]