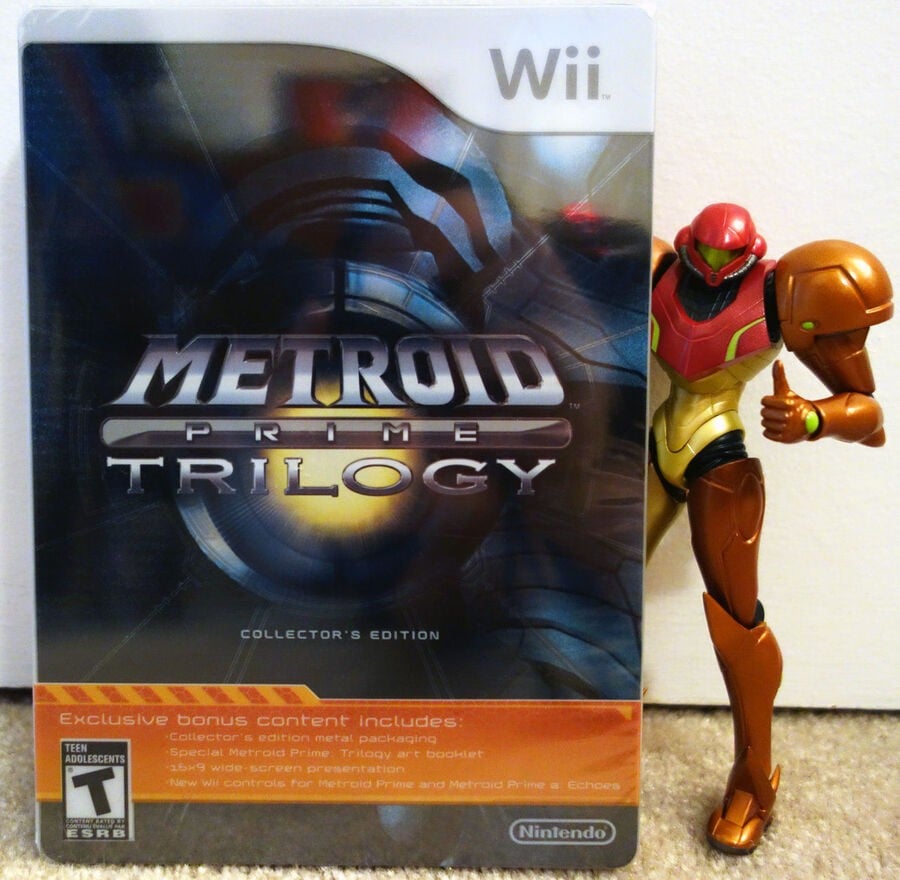 For those of you that have defied the odds and are unaware, in the most recent Nintendo Direct a few weeks ago there was the surprise announcement of Wii U eShop digital re-releases for some of the Wii's best games. So far we've had the phenomenal Super Mario Galaxy 2 followed by the excellent Donkey Kong Country Returns for Europe, with the latter countered by the formidable Punch-Out!! in North America.
If all that wasn't enough, as of tomorrow (29th January) you'll be able to download the sublime Metroid Prime Trilogy, which like the first two games will temporarily be sold for the bargain price of £8.99 / €9.99 / $9.99. In our Metroid Prime Trilogy review back in 2009 we awarded the game a solid 10/10 and concluded by saying "Retro has done a bang-up job in creating a polished compilation of their brand of Metroid games, which are considered some of the best adventures around. If you haven't experienced Tallon IV, Aether or become corrupt, you owe it to yourself to get on this, and veterans can still find enough thrills and upgrades to make Trilogy a worthwhile endeavour".
Metroid Prime Trilogy is undoubtedly well worth the launch asking price on the Wii U eShop, in fact it's a terrific bargain. While the other Wii games listed above are all excellent, meanwhile, none of them command astronomical prices on well-known auction sites; in fact some of them can now be found in the bargain bins of well known retailers for only a few bucks. This is not true of Metroid Prime Trilogy, however, as it had a relatively low print run at the time and since its release it has become something of a collector's item.
Let's take a quick look how some recent eBay auctions for the beloved game ended just before the big Nintendo Direct surprise:
In the UK auction the game sold for an impressive £102 in one of many similar examples.
In the U.S. there were a few sealed copies of the game sold within the $300 region. Even copies of the game which were not sealed achieved a similar value.
You can probably guess where we are going with this. Here is an example of how an auction ended in the UK after the Nintendo Direct:
Most sellers would probably be delighted with £27 for a second hand Wii game, but following the high values achieved during early January this must be a big disappointment.
In the U.S. after the Nintendo Direct reveal the value of the game plummeted even more dramatically; in this example the auction ended at just $40.
While the examples above offer only a snapshot into the ever decreasing value of Metroid Prime Trilogy physical copies, we scoped out many auctions before and after the last Nintendo Direct and observed the same trend.
We reached out to a few of the post-Nintendo Direct sellers and a gentleman who wished to remain nameless gave us this statement:
Yeah bro, I saw the crazy $ that Metroid Trilogy was selling for so I thought it would be a awesome time to sell mine too. I'm a lifelong Nintendo fan and have completed all the Metroid games. I was gonna sell this to fund the purchase of a Wii U funnily enough. When the auction ended at $45 I couldn't believe it, I was expecting to make 5x that amount. I honestly had no idea that this game was gonna be a $9 download on Wii U!!! I was tempted for a moment to just pull out of the auction, but that would suck for the winning bidder so I couldn't do that. Oh well, I'm still gonna buy a Wii U anyway... I'll be downloading Metroid as soon as I get it too!
What are your thoughts on the impact of the Nintendo Direct announcement on the fortunes of these eBay sellers? Do you feel a bit sorry for the more recent sellers misfortunes, or do you think they got what they deserved for being greedy capitalists? Will you be picking up Metroid Prime Trilogy on the Wii U eShop tomorrow? If so, do you think it's the bargain of the century now that you have seen some of the pre-Nintendo Direct auctions?
Sound off, as always, in the comments.