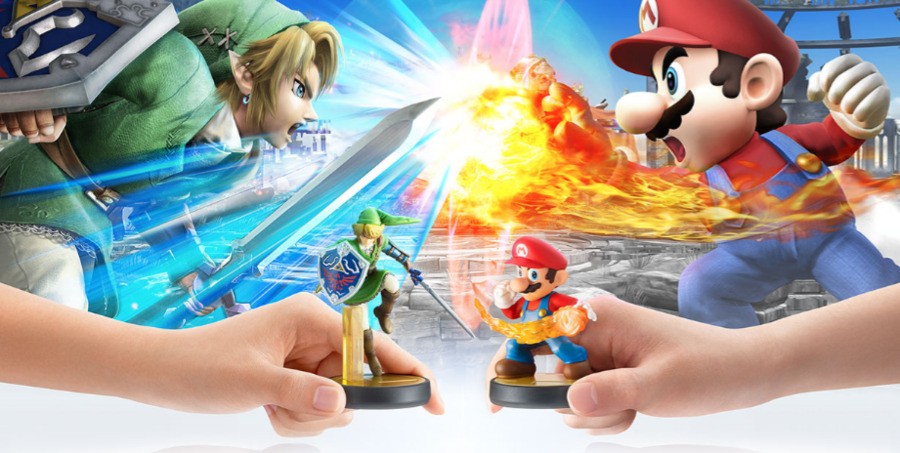 For Nintendo fans and Wii U owners, we feel that the last few months have been a terrific period — there's been excitement and buzz around 2015 games and, more importantly, a selection of high quality and hugely enjoyable games that are in stores now. There's been a perceivable shift in tone around the console, too, as mainstream media and general consumers are looking more favourably — it seems — on the system after it enjoyed a choppy first 18 months on the market. It's come down to games, unsurprisingly, and Mario Kart 8 provided an important tipping point in improving sales and public perception.
When you tally up major Fall releases such as Hyrule Warriors and Bayonetta 2 with the festive line-up it's easy to pick up a sense of momentum — long awaited, too — with the Wii U. Super Smash Bros. for Wii U has already been a major success in the US, in particular, with over 700,000 units sold in its first few weeks in that country alone — it even set a launch sales record for the US, surpassing MK8's equivalent results. Its impact elsewhere has been pleasing though less dramatic — its chart positions have actually been a disappointment in the UK, though solid in Japan — and Nintendo is likely relieved that while the 3DS version has sold many more copies courtesy of the portable's userbase, there's been genuine appetite among Wii U owners for the brawler.
A vital part of the Holiday sales machine has also been amiibo, of course, the NFC 'toys-to-life' range from Nintendo that aims to tap into the sizeable market created by Activision (Skylanders) and Disney (Disney Infinity). These are just the beginnings for the range, with Nintendo teasing all-new waves for future games and various applications and support. We've seen rather basic read-only uses in Mario Kart 8 and Hyrule Warriors, while an update will come to implement amiibo into Captain Toad: Treasure Tracker. Nintendo, in typical style, is being mysterious in terms of how we can use amiibo in 2015.
Overall, we feel that Nintendo's lined up its Holiday products well, with amiibo and Captain Toad — in the US, for the latter — offering alternative treats for those not keen on the latest Smash entry. A problem, though, has been in delivering enough stock to enable fans to easily pick up the products they want. Copies of Super Smash Bros. for Wii U have not been a problem, with the eShop being another option, but there have been issues with amiibo. In recent weeks we've seen some figures become increasingly rare, prompting rumours of some being discontinued, and prices have increased not just through sneaky opportunists but also in established retailers. In stores and online there have been some figures that have simply been too hard to find.
In our tagline we highlight communication as a problem, and Nintendo has being rather unhelpful in this scenario. Its PR departments in multiple regions are relatively blameless as they're simply the messengers, but the messages have been aimless and pointless, informing consumers of absolutely zip. Generic statements have said more stock is being delivered, but not when or of which figures, they've dismissed discontinuation rumours but then said that some models will naturally sell out and be replaced by others in subsequent waves. That's all standard fare, but we needed better considering that stock problems and rumours of some figures not coming back were starting within days of the product hitting stores. We're not expecting old, irrelevant goods to be restocked, but we certainly expect better after a matter of mere days.
We asked for your experiences with this earlier in the week, which show that over half of your relevant responses — disregarding our lighthearted 'doesn't affect me' answers — have either paid over the odds or been unable to pick up all the amiibo you want.
Have you been able to pick up your amiibo from wave one? (678 votes)
Yes, I got all amiibo I wanted at the normal price

44%

I got them all, but had to pay a bit more for some

3%

I got some, but haven't got all I wanted for the right price

14%

I've struggled to get the amiibo I wanted

21%

I'm not bothered about amiibo, but want to answer the poll anyway

18%
Have you been able to pick up your amiibo from wave two? (552 votes)
Yes, I got all amiibo I wanted at the normal price

25%

I got them all, but had to pay a bit more for some

1%

I got some, but haven't got all I wanted for the right price

7%

I've struggled to get the amiibo I wanted

38%

I'm not bothered about amiibo, but want to answer the poll anyway

29%
The early days of wave 2 are clearly a problem, too, and we saw pre-orders on some of the second range selling out days ahead of release. Let's also consider that this is a relatively small cross-section of keen Nintendo gamers — as we surely all are in that category as we frequent these pages — that are hitting problems, so when you magnify that by scale there's a clear sense that all has not been well. There's certainly plenty of stock for less popular and more prominent figures — with amiibo sales in the US reportedly matching up to sales of Smash Bros. — but for collectors and fans after a particular favourite the hunt can be particularly frustrating.
On one hand it's wonderful that amiibo has taken off — members of our team speak of more friends and family asking about amiibo than the Wii U itself — but it's also frustrating that these toys aren't flooding stores and grabbing attention. We're in a weird situation that in many retailers the established brands — like Skylanders and Disney Infinity — have a lot of shelf space and stock that's clearly not selling that well, but we have small amiibo areas that are often bare and lacking variety. Supply and demand has gone too far into the latter territory, and we dread to think of the sales that are being missed for both retailers and Nintendo.
A more niche concern, but one that's been equally frustrating, has been with the GameCube Controller Adapter. As you can see in the poll below, once again a good number of useful responses point to problems getting hold of a unit, with pre-orders even getting cancelled en-masse in the UK, for example.
Have you been able to buy a Wii U GameCube Controller Adapter? (688 votes)
Yep, I got one with no problems

34%

It was delayed and / or cost more than the recommended price, but I got one

3%

My pre-order was cancelled and I haven't found an alternative yet

11%

I wanted one but have given up on it

23%

I don't want one due to its limited compatibility on Wii U

14%

Wasn't bothered about one, but wanted to vote anyway

15%
Have you picked up the limited edition controller and the Adapter? (639 votes)
I got both, so I'm one happy gamer

26%

I paid over the odds / they were delayed, but yes

1%

I've got an adapter but no controller

10%

I've got a controller but no adapter

9%

I've given up on both due to issues of stock and / or inflated prices

24%

Meh, not bothered about either

31%
An issue with the adapter is its limited use, of course, with its only function being to support GameCube controllers in Super Smash Bros. for Wii U. Unveiled at E3 and promoted in that week's Invitational, it was clearly pitched as an accessory for dedicated Smash players with a particular fondness for Melee and the GC controller. Perhaps it was always destined to be an extremely limited edition, yet we had Nintendo tell us that rumours of its discontinuation were false, and we've had readers tell us that some retailers are stating stock may come in early 2015. Again, supply has been far outstripped by demand, and the only winners are unscrupulous sellers on auction sites. The limited edition controller is less rare — though some stores have increased their price regardless — and can work on any GameCube and Wii, but with the Wii U they're pointless without the adapter.
This situation certainly isn't good for Nintendo. It's already been pushing its luck with retailers until this year with the Wii U, with undeniably poor sales stretching the sector's patience, though that will have eased with improved momentum in 2014. Yet now we've had problems with stock, simply in renewing supplies and keeping shelves populated. If stores were slow to commit to large volume of Nintendo products — understandably — in recent times, we suspect they'll happily take advantage of demand and sell lots of amiibo (the adapter is, as we've said, more niche). Yet items appear and disappear just as quickly with heightened demand, and all concerned could be spending and making more money if enough of the products were available.
There's talk of potential manufacturing and distribution problems, which perhaps can't be helped, but we're unlikely to ever have on-the-record confirmation from Nintendo. There's also a nagging suspicion for us — and that's all it is — that Nintendo's been caught out or went into the Holiday season with an overly cautious attitude. We should remember that there's been streamlining and clever business in the past year to move into profits again despite an absence of actual improved sales and revenues; part of that will have been clearing stock and limiting manufacture of systems and products that might not sell. That's sensible, but if Nintendo penny-pinched on amiibo manufacturing as a result of underestimating demand, that would be a mistake that will have cost plenty of Holiday sales.
The truth is that only Nintendo knows why there's been insufficient stock of amiibo — most importantly — and also the GameCube adapter. While it's given us plenty to talk about in past weeks as we figure out what amiibo are available and simply shake our heads at the small volume of adapters, it represents a missed chance. Super Smash Bros. for Wii U will sell a lot of copies and, we hope, Wii U consoles, but the lost amiibo revenues in the biggest shopping season of the year could be a source of regret.
To end on a positive, the past 4-6 weeks will have reminded Nintendo and the retail sector that there's still demand for its games and systems, even if November's Wii U hardware sales in the US weren't quite the increase of 2013 we'd have hoped for. The amiibo range, with its ability to excite Wii U owners and those that simply like their appearance, has proven itself to have legs — well, mostly. Assuming Nintendo can get its act together in manufacturing and distribution for 2015, and that retailers have been suitably impressed by sales of the limited stock available, it could be a vital part of the big N's armoury in the next 12 months.