In the first part of a small series with contributions from multiple staff members, Tom Whitehead explains why Nintendo — and gaming as a whole — are such a big part of his Holidays.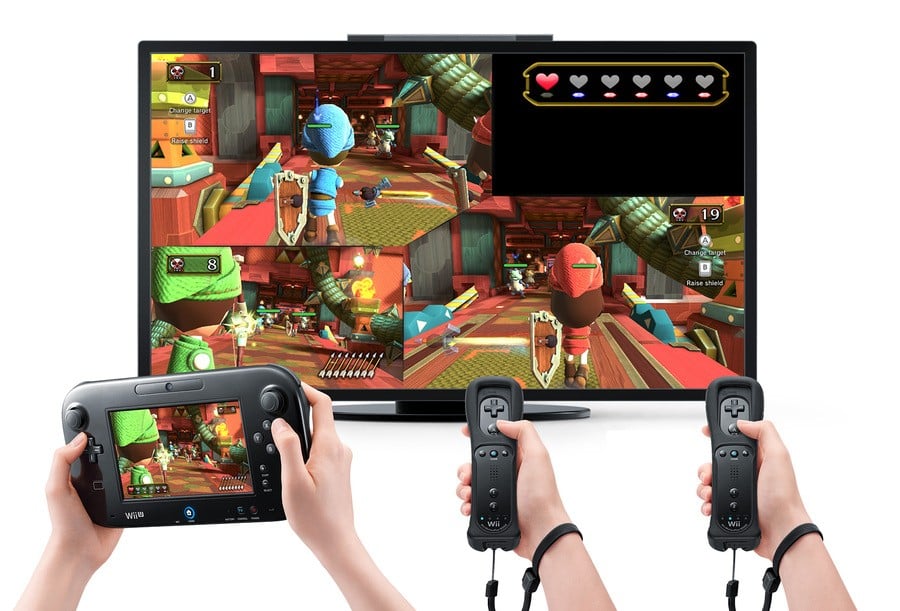 Given the choice, I typically opt for single player games. While I enjoy a variety of systems and game genres, including consoles such as the PS4 that are obsessed with you sharing and playing everything online, I'm pretty happy putting on a pair of headphones and tackling a world on my own. Whether aiming for all the extras in something cute and bubblegum like Super Mario 3D World, frantically tapping buttons — but with skill — in Bayonetta 2 or taking on something altogether more grim but nevertheless intoxicating like Metro Redux, I typically fly solo. In some respects my relationship with games, in terms of how I enjoy them, is similar to that I have with a good book. I want to minimise distractions and immerse myself, always hoping that the game won't let me down.
Yet, when it comes to this festive time of the year I know that there'll be plenty of multiplayer gaming, with the Wii U likely to be front and centre. It's something I'm really looking forward to, as well, as having moved away from my family last year — my parents, brother and I have always been close — I've had plenty of time to play immersive single player games on my lonesome. I'm not asking anyone to play the world's smallest violin for me, but aside from some hugely enjoyable but rare gaming sessions with the NL crew I've had little opportunity to enjoy the multiplayer treats on offer.
While the technology changes, meanwhile, the basic idea is the same as always. There are some games — typically of the faster, more complicated variety — that my brother and I will play together, there are others that my Mum will also play as she continues to get into more games (she's a keen 3DS and Wii U gamer), and a small band that we'll all play, four family members (occasionally more) all jumping in at once. When we do this, it reminds me of amazing memories from when I was a child, but also provides a real moment of bonding; we can watch movies, play board games and other things, yes, but games — particularly those from the party masters at Nintendo — add a raucous, fantastical element that triples the volume in the room.
It's incredible that I remember playing games with my brother on the ZX Spectrum at this time of year — we're talking late '80s — or a bit of Micro Machines, Columns II and PGA Tour Golf '94 on the Mega Drive, or waggling our way through Wii Sports more recently. It's a pity that tens of millions aren't continuing to share those sorts of experiences on the Wii U, too; I imagine we'll be tackling Wii Sports Club bowling as a group, while my Dad and I seem to treat our duals in Golf as a genuine contest — I really want to win, anyway. Nintendo Land is also a big winner — every year we try to conquer The Legend of Zelda: Battle Quest and don't quite get all the way through. Wii Party U is also fantastic, and I was a cynic on that one until — again — I played it with family.
Driving home for Christmas — while listening to this song — was a lovely feeling, but beyond all the amazing food and company it gets me out of the bubble of daily life, which I suspect is important for a lot of people. The internet can be a wonderful place, but it can also be demanding, cynical and disheartening; we can't live without it, but this is a time of year when we can stop arguing about irrelevant things and simply enjoy and appreciate what we have. For me, that includes truly enjoying games, without worrying about what score to give it or whether it'll sell enough to help 'save' a system. My family, generally, don't care about any of that, they just want to play fun games with me, and I with them.
All four of us and extended family will be gathered around the TV a lot, I expect, throwing around gentle smack talk and waving arms around as India the Labrador looks on slightly bemused. Nintendo and the Wii U will be the go-to system for that, which is an under-appreciated part of the company's DNA; it thinks about these vital moments, when headsets and online co-op aren't what counts.
It's a season of sharing, and that includes gaming experiences.