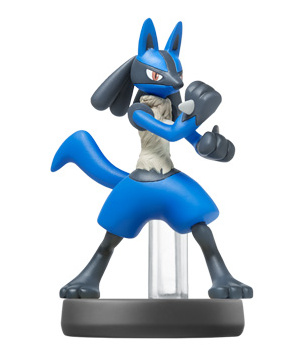 After the Amazon amiibo listings in the US pointed to some figures in 'wave 3' — due in February 2015 — being retailer exclusives in the country, details have slowly emerged of where they'll end up. Shulk will pitch up at GameStop and Meta Knight will swoop into Best Buy; now another figure has found a home for early next year.
Toys "R" Us has confirmed that Lucario will be exclusive to the retailer; that could be a smart move by the toy giant in nabbing the Pokémon fighter. The blue brawler is due in February 2015 along with the 10 other 'wave 3' figures, though Toys "R" Us has put down a placeholder — for it is surely that — release date of 31st March.
That just leaves Rosalina & Luma looking for a home, it seems; we've checked the usual suspects such as Walmart and Target and, so far, there's no listing.
Will you be adding Lucario to you collection?
Thanks to Baby Guess for the heads up.
[source toysrus.com]