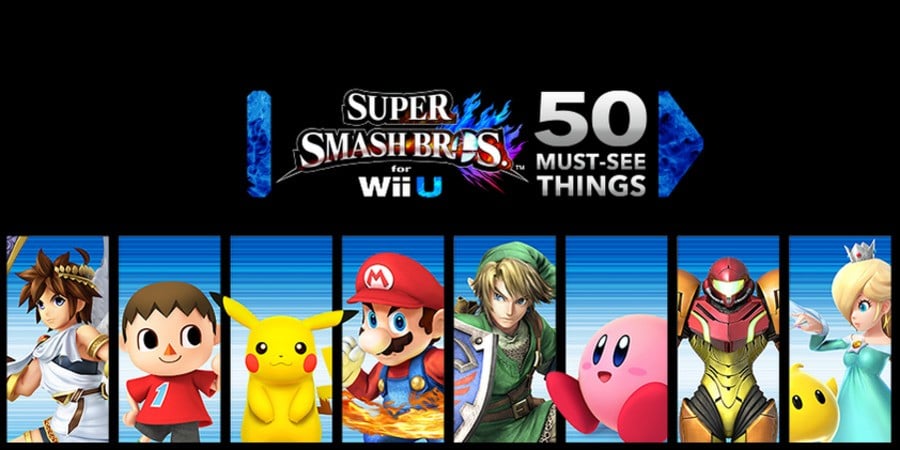 With Super Smash Bros. for Wii U increasingly close to release, Nintendo's gearing up to answer the call for full details of its features with an upcoming live Nintendo Direct that'll introduce 50 'new things'; that's a bold and exciting promise. Though, as an important note, some of Nintendo's messaging and even Masahiro Sakurai — in today's Miiverse post — describe it as "Super Smash Bros. for Wii U: 50-Fact Extravaganza" ("Super Smash Bros. for Wii U: 50 Must-See Things")", which almost suggests Nintendo realises it may be stretching credulity to say everything shown will be 'new' features. Such larks!
In any case, the hype is very real, as this will no doubt be the blow-out to end all blow-outs to excite dedicated Nintendo gamers into buying the home console version. If you missed the news before, it goes down on 23rd October (today) at 3pm Pacific / 6pm Eastern / 11pm UK / midnight CET, and that's 7am in Japan / 9am in Sydney (24th October); we'll be live streaming, live blogging and going Smash Bros. crazy here on Nintendo Life, of course.
While the 3DS version has its own exclusive modes and features, so it goes without saying that the greater infrastructure and processing power of the Wii U should allow the series to deliver on its true potential, another promise made by Sakurai-san recently.
So what should we expect? It's always hard to tell with Nintendo and Sakurai-san's development team, but we've pinpointed five key features and details that we want to be announced — there's a mix of realism, optimism based on recent speculation and rumours, along with a bit of finger-in-the-air aspiration.
Here we go, five 'new things' we want to see in today's Super Smash Bros. live Nintendo Direct.
Online Tournament Modes
When planning content for Smash Bros. coverage earlier this year, we had the grand idea of community fight nights here on Nintendo Life. It became clear in the last major Smash Bros. Direct that it may not be possible, however, with the 3DS version's final online options ramming home the point that running a structured community / tournament night would be pretty difficulty online. Without exchanging friend codes with participants and drawing up extravagant bespoke tournament charts, it wasn't going to happen. Not like the last two Mario Kart games, where you can simply set up Community rooms or, on Wii U, go a step further with Tournaments.
To cut the portable version some slack, however, it's pushing the hardware to the limit; the load time when opening the game and the fact it basically reboots the system when quitting demonstrates that it's eeking out every bit of memory and processing power it can. That excuse won't fly on Wii U, however, and while the options of For Fun and For Glory are nice, in addition to the betting and spectator modes, we want the home console version to truly provide an ultimate online Smash Bros. experience. Tournaments in the vein of those in Mario Kart 8 should be achievable — they're basically lobbies with rules — so they're a minimum requirement, in our eyes.
What we really hope to see, and probably won't receive, is a variety of tournament structures. Let's say you organise a group of 64 players online, the game divides you into groups of four and sets a deadline for matches to be completed, perhaps even scheduling specific times; when all 1 vs 1 matches are done the top two progress to the Cup knockout tree, while the bottom two move into the lesser Plate knockout tree. A champion is crowned and gets some nice in-game rewards, while those knocked out can still watch later matches. When you also consider that MK8 tournaments are all given their own individual Miiverse communities, setting deadlines and gently teasing rivals on the social platform would also be a fun extra. Alternatives could be to set up leagues where fixtures are pre-planned, or just jump straight into knockout matches; it would add a little edge to online matches.
Official Online Tournaments
As a follow-up to that last point, Nintendo should take the success of its E3 Invitational and subsequent events and continue to build the competitive scene. Not all of us can fight and survive against the pros, of course, but a range of official tournaments with exciting prizes (like eShop credit, or just in-game rewards) would — like the tournaments idea above — get players online and keep them coming back. The idea's not new, as it's been utilised extensively in 3DS title Mario Golf: World Tour. There's also scope to blend official online tournaments with physical events; again, this isn't new, with Nintendo of America utilising that idea with Mario Kart 8 at an expo event earlier this year.
Eight Player Matches
This has been rumoured in recent times, and would undoubtedly be an exciting announcement. With large stages and decent-sized TVs eight player brawls could be chaotic but entirely feasible; in terms of online it'd play nicely into For Fun mode, in particular, and could also be a rather enjoyable option for those customisable tournaments we're suggesting.
In addition, there's certainly scope for eight player local action, with the confirmation that 3DS systems can be used as controllers allowing a variety of options when handing out Remotes, Pro Controllers, Classic controllers and that one GamePad to friends.
DLC
Recent rummaging within the 3DS game's code has brought back rumours of DLC for these games, and considering Nintendo's recent enthusiasm in major releases it would come as absolutely no surprise. It's potentially a stretch that this would be announced in the upcoming Nintendo Direct; it's dependent on whether Nintendo opts for a delay as per Mario Kart 8's extra content, or the Koei Tecmo approach of hyping DLC pre-release with Hyrule Warriors.
If it is announced, what could this extra content be? Following the MK8 model wouldn't be the worst idea, with packs that incorporate new stages, perhaps a character or two and special modes. It's tough to predict when Masahiro Sakurai is involved, as he tends to pursue his own agendas and pack his games with a lot of content in the first place; we wouldn't say no to reasonably priced extras, in any case, and DLC could join amiibo in helping Nintendo make the best possible return on one of the year's biggest releases. Talking of amiibo...
More amiibo
Nintendo's launch range of 12 amiibo toys has already been expanded by a second wave of six figures that'll arrive before the end of the year. That'll likely be it for 2014, but we hope another wave or two will be announced for early 2015, perhaps incorporating some of the rather fun 'secret characters' that are well known from the 3DS roster and will, no doubt, be shown off in the Direct broadcast.
We can't afford all of them, but more even more choice is welcome, while Nintendo needs to push amiibo as far as possible.
---
Those are five key areas we'd like to be covered in the Nintendo Direct. What do you think? Share your views on these and pitch your own Smash Bros. dreams in the comments below.
Which of these Super Smash Bros. 'New Things' do you most want to see? (426 votes)
Online tournament modes
13%
Official online tournaments
8%
Please login to vote in this poll.